Cryptozoology and Strange Beasties
Another one of "those" days. Saskia the intern is off sick. Graham has knackered the front wheel of his car. And we still have no internet. On the plus side, Shoshy (my stepdaughter) and Gavin (my son-in-law) arrived late last night, belated Christmas presents were exchanged, and a lovely and emotionally charged evening took place. THE GONZO TRACK OF THE DAY: Joey Molland, Mark Hudson...http://gonzo-multimedia.blogspot.com/2014/01/the-gonzo-track-of-day-joey-molland_14.html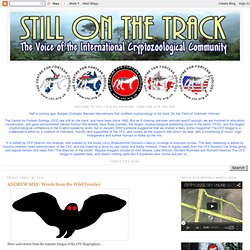 Bigfoot researcher and biologist John Bindernagel claims his research group has found evidence that the Yeti (a Russian "cousin" of the American Bigfoot) not only exists, but builds nests and shelters by twisting tree branches together. "We didn't feel like the trees we saw in Siberia had been done by a man or another mammal.... Twisted trees like this have also been observed in North America and they could fit with the theory that Bigfoot makes nests. The nests we have looked at are built around trees twisted together into an arch shape," Bindernagel told the British tabloid The Sun. Bindernagel was part of a small group of scientists who visited western Siberia to examine evidence of the Yeti in October. That group made headlines around the world for issuing a statement that they had "indisputable proof" of the Yeti and were 95 percent sure it existed based on the evidence – a few strands of hair – they found.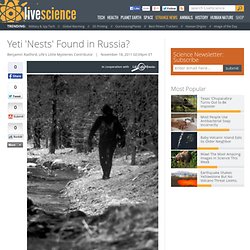 Yeti 'Nests' Found in Russia? | Yeti, Bigfoot Evidence | Weird News | LiveScience
Lair of Ancient 'Kraken' Sea Monster Possibly Discovered | Ancient Sea Monsters & Ichthyosaurs | Mythological Beasts | Deadly Sea Creatures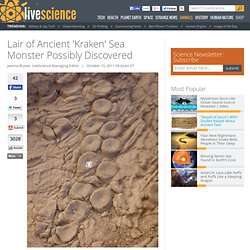 This article was updated on Oct. 11 at 10:42 a.m. ET A giant sea monster, the likes of the mythological kraken, may have swum Earth's ancient oceans, snagging what was thought to be the sea's top predators — school bus-size ichthyosaurs with fearsome teeth.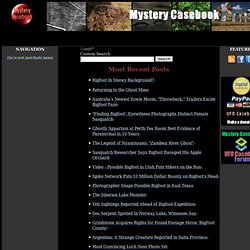 Fair Use Notice: This web site contains some copyrighted material whose use has not been authorized by the copyright owners. We believe that this not-for-profit, educational use on the Web constitutes a fair use of the copyrighted material (as provided for in section 107 of the US Copyright Law.) If you wish to use this copyrighted material for purposes that go beyond fair use, you must obtain permission from the copyright owner. Fair Use notwithstanding, we will immediately comply with any copyright owner who wants their material removed or modified. All articles and images contained on the Mystery Casebook which are not created by the UFO Casebook are attributed to the original owner/creator.
THE WENDIGO OF THE NORTH WOODS
Florida Skunk Ape | Florida's Bigfoot. The Southernmost Bigfoot In The U.S.A.
Latest [Read: The Officially Orginal Loch Ness Monster Blog] [A renowned Loch Ness researcher answers your questions: Professor Kettle PHd MGhPPk] [Loch Ness Personalities: short profiles of famous and infamous alike]
Nessie on the Net! The Ultimate Loch Ness Monster Live Cam, Scotland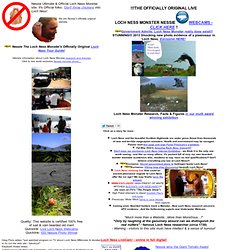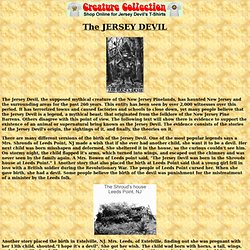 The Jersey Devil, the supposed mythical creature of the New Jersey Pinelands, has haunted New Jersey and the surrounding areas for the past 260 years. This entity has been seen by over 2,000 witnesses over this period. It has terrorized towns and caused factories and schools to close down, yet many people believe that the Jersey Devil is a legend, a mythical beast, that originated from the folklore of the New Jersey Pine Barrens. Others disagree with this point of view.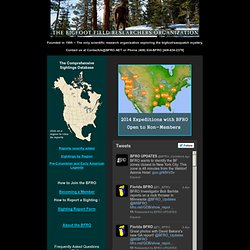 What are the undisputed facts about the bigfoot / sasquatch mystery? It's a fact that for more than 400 years people have reported seeing large, hair-covered, man-like animals in the wilderness areas of North America. It is a fact that sightings of these animals continue today. Real or not, these reports are often made by people of unimpeachable character.
Beastwatch UK
If you have a passion for monsters, you come to the right place. Monstrous.com is the largest network of websites about monsters and our content focused on mythical and supernatural creatures has grown to thousands of articles, pictures and videos since we appeared in 1998. Today, we are proud to welcome every month on our network more than one million visitors from all the planet and beyond. We have a forum where you can share your interests with other members across the world, a gallery where you can upload and mail pictures and last but not least a wiki to manage our database of the existing and known monsters in myth, legends and arts. You want to write about monsters ?, get in touch with the editorial team.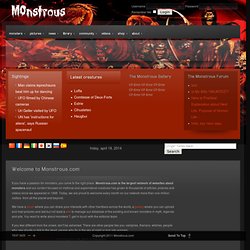 Cryptozoology and Strange Beasties