Childrens Music Sometimes Adults Also
Welcome to the team.
The other day I was thinking about a tune from childhood and the good memories. So I looked it up on youtube and found other tunes. That was the start of this music tree. Feel free to add more tunes even web pages with information or lyrics are welcome.
If we get enough pearls we can sort them into parent groups. Happy Pearling .
Other Stuff
Sesame Street. Katy Perry sings "Hot N Cold" with Elmo on Sesame Street! Celebrity Lullabies. Sesame Street: I Am Your Friend. Baby Bear's Bath Song. Sesame Street: Outdoors with Jason Mraz. Little Butterfly Friend. Sesame Street: What Is A Friend? Sesame Street: Song: 9 Pigeons. Sesame Street: Will.i.am Sings "What I Am" Sesame Street: A Song About Elmo. Sesame Street: Bruno Mars: Don't Give Up.
The Muppets. The Muppets: Habanera. You Are My Sunshine. Alice Cooper - Welcome to my nightmare (On Muppet Show) Muppet Show - Mahna Mahna. Miss Piggy's Fantasy - The Great Muppet Caper. Swedish Chef - Hot Sauce. The Muppets - Bohemian Rhapsody. The Muppets: Pöpcørn. The Muppets: Beaker's Ballad. The Muppets: Ringing of the Bells. レゴでデフォルメ初音ミク - Lego Block Miku sings. VIDEO: Fan-Created Hatsune Miku LEGO Shows Her Cuteness. Cuusoo is a Japanese partner of the LEGO Group.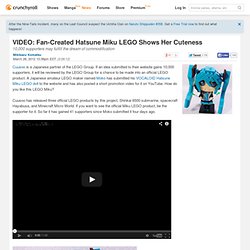 If an idea submitted to their website gains 10,000 supporters, it will be reviewed by the LEGO Group for a chance to be made into an official LEGO product. A Japanese amateur LEGO maker named Moko has submitted his VOCALOID Hatsune Miku LEGO doll to the website and has also posted a short promotion video for it on YouTube. Ketchup song original and full. Prince kiss happy feet. Popeye - Sweethaven. Lisa Simpson Tribute ~ Ich bin Ich I am I. German → English Ich bin ich lyrics - Rosenstolz lyrics translations. German Ich bin ich (Wir sind wir) Gehör ich hier denn noch dazu Oder bin ich längst schon draussen?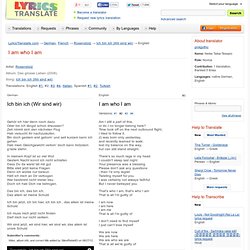 Zeit nimmt sich den nächsten Flug Hab versucht ihr nachzulaufen. Bin doch gestern erst geborn' und seit kurzem kann ich gehen Hab mein Gleichgewicht verlorn' doch kann trotzdem g'rade stehn. Xuxa - Croki croki (en español) Alvin and The Chipmunks - Gummy Bear. The Three Stooges: Moe larry curly "Swinging the Alphabet" Dinah won't you blow. Childrens songs.
Acoustic Music (Instuments)
Re: Jimmy on the Calliope. I've Been Workin on the Railroad cover (LiliAna Rose) Classic Childrens Songs. Supercalifragilisticexpialidocious (Sing Along Songs) I Love To Laugh (Sing Along Songs) THE UGLY BUG BALL. Zip-A-Dee-Doo-Dah. Bing Crosby When The Red Red Robin Comes Bob Bob Bobbin' Along. Pig Foot Pete 1940's Big Band Soundie. Andrews Sisters' "Boogie Woogie Bugle Boy Of Company B". Doris Day- When the Red, Red Robin Comes Bob, Bob, Bobbing Along. Vocaloids. Vocaloids Songs & Music.
Cartoons & Music
Hakuna Matata Sing Along. Forget About Love - Sing A Long Song. The Hokey Pokey Song With Lyrics. Once Upon a Dream - Sleeping Beauty (1959) Hakuna Matata - El Rey León (Latino) Edición Especial DVD Rip. I Just Can't Wait To Be King Sing Along. The Wonderful Thing About Tiggers (Sing Along Songs) I Won't Say I'm In Love (Sing-Along)
I Wanna Be Like You (Sing Along Songs) Thumbelina- Let Me Be Your Wings. Thumbelina HD Part 3. Bare Necessities Sing Along Songs (Original) The Smallest Music Instrument is Important. Spirit- I will survive. Spongebob Sings Baby (Justin Bieber) English Time Songs, Kids Songs, What Time Is It? Shannon Saunders - The Glow. The Monk and the Fish.
---
electronics Oct 26 2011

I try and order things by mind mapping--but everyone produces their own mind map styles. I think kids can think in this way because it also involves pictures to get around the mind map.

electronics Oct 23 2011

Feel free to make a pearltree called vocaloids if you want my vocaloid stuff to end up to one side.
---