Services
Outils et ressources cartographiques. Retour à la page d'accueil de la veille Logiciels de cartographie Outils de création cartographique en ligne Ressources cartographiques Cartes et atlas thématiques La cartothèque de Sciences Po.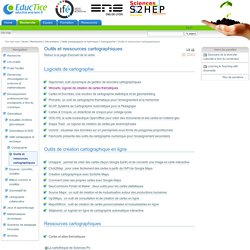 VeloViewer - Road Orientation Distributions. OSM Tchoutchou - Raildar with Open Street Map. 10 km Leaflet | Map data © OpenStreetMap contributors, CC-BY-SA, Imagery © Mapquest OSM Tchoutchou.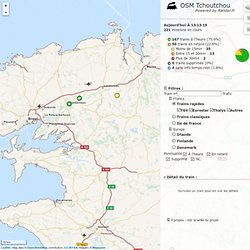 Map Compare | Geofabrik Tools. Tracés de GPS, parcours pour GPS, convertisseur GPS. GPSies is my hobby website and is funded by advertising.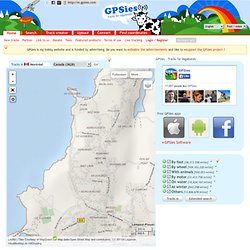 Do you want to disable the advertisements and like to support the GPSies project ? FullscreenMore... OSM Quality Assurance application on QualityStreetMap.org. OpenMap Cartographie Participative. Liste des projets. CLAMEURS est le média audio, géolocalisé et participatif. ITO - OSM Mapper. OpenLayers: Home. Welcome. Ushahidi. TileMill | Fast and beautiful maps.
Big changes for OpenStreetMap editing in Pushpin 1.1. Since we released the initial version of Pushpin back in October, we've seen dozens and dozens of feature requests and a lot of input from the awesome OpenStreetMap community.
It's clear that there's a need for simplicity and user-friendliness in the OSM editor space, and users from all over the globe have downloaded the app and made edits. So in spare time over the last couple of months, Zac has cranked out a pretty substantial update to Pushpin , our OpenStreetMap editor for iPhone and iPad. The biggest new feature in the update is the ability to edit tags on polygon features, things like buildings, parks, lakes, and others (even relations ). Traced but untagged building outlines can be downloaded to Pushpin, edited, and saved back to OSM. Keep right! MapBox | Fast and beautiful maps. MapOSMatic [DEV]: Welcome! Scribble Maps - Draw on google maps with scribblings and more! La solution géoweb professionnelle, création de cartes interactives Google Maps.
Concevez et publiez vos cartes sur Internet gratuitement L'éditeur de cartes Click2Map est une application riche sur Internet (RIA) totalement gratuite.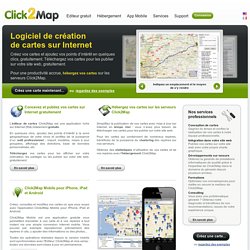 En quelques clics, ajoutez des points d'intérêt à la zone géographique de votre choix et profitez de la puissance d'un outil professionnel : import, modèles, mises à jour groupées, affichage des directions, base de données personnalisée, etc. Téléchargez vos cartes pour les afficher sur votre ordinateur, les partager ou les publier sur votre site web, gratuitement. PlanoRandO : Cartes Partagées. Scribble Maps - Draw on google maps with scribblings and more! Create your own map, build interactive maps, place photos, videos on a map. Lyon sous-surveillance - Cartographie collaborative et ressources sur la vidéo-surveillance. Cartes et plans libres pour sites web. 1Positionnez la carte sur votre adresse ou l'endroit à désigner 2Recopiez le code HTML de l'Iframe qui s'affiche à droite de la carte 3Insérez le code dans la page web de votre site, vous avez une carte libre.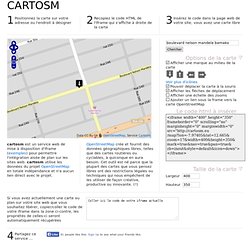 Geoloqi - Geoloqi - A powerful platform for mobile location, messaging, and analytics. CartoDB. Maperitive. Foursquare. Quantum GIS. 3Liz - Accueil. OSGeo.org | Your Open Source Compass.
Décrivons le monde entier !
---