Candy
Get flash to fully experience Pearltrees
In this recipe for sugar corkscrews, sugar is cooked until deeply caramelized and then spiraled to form these decorative corkscrew curls. Sugar Corkscrews add beauty and sophistication to any dessert. Do not try to make these or any other sugar decorations on a humid day, as the moisture in the air will make it extremely difficult to produce good results! This recipe yields enough sugar for several dozen corkscrew curls, so if you only need a few, you can easily half the recipe. Don't miss the step-by-step photo tutorial showing how to make sugar corkscrews , and the accompanying video on making sugar corkscrews ! Ingredients:
Bubble sugar is an easy decoration made from cooked sugar that adds a beautiful touch to cakes, cupcakes, and pastries. You can add coloring and flavoring to make this elegant lace decoration match your desserts. Don't miss the tutorial with step-by-step illustrations showing how to make bubble sugar ! This recipe calls for clear alcohol, but you can substitute clear alcohol-based extracts instead if you are worried about some guests consuming a small amount of alcohol. The resulting bubble sugar will taste fairly strongly of whatever flavoring you use, so take that into account when making the substitution.
....so after posting the lego dude valentines and the lego dude cupcakes .....i've gotten quite a few comments or emails about how to make them.....so here you go....my first "official" tutorial....(although i usually include how i do stuff in all my posts).... ....start with a lego minifigure ice cube mold ....i got mine from an official lego store (for some reason my boys including the 41 year old seem to love that place...!)...but you can find them other places online or ebay probably has them too..... ....and you need candy melts of course...i use wilton but whatever kind you like and colors you want your dudes....for these i went with the traditional yellow, red, and blue.....i add mine to regular zip lock bags...and nuke them in the microwave until just melted...
I found this easy yet yummy looking recipe here . How awesome to be able to make these delicious roasted almonds yourself, instead of paying outrageous amounts of money at the fair. Cinnamon Roasted Almonds 1 egg white 1 tsp. vanilla 3 cups whole almonds 1/2 cup sugar 1/2 cup brown sugar 1 1/2 tsp. cinnamon 1/4 tsp. salt Preheat oven to 250 degrees.
Posted May 8th, 2012 by SandiArata Serve up a yummy treat in a handmade, edible dessert cup. And, for a sweet twist on the traditional Mother's Day bouquet, use edible flowers as an extra special topper. You'll love how easy this is! Plus, edible cups are like two desserts in one—and double dessert is definitely not a bad thing!
Well the boys are back to school and Bella and I are finding plenty to do! Yesterday — homemade gummi bears! All we needed was 1 -3 oz box of flavored gelatin and 2 – 1/4 oz packages of unflavored gelatin, water and candy molds. (we used two candy molds) Place 1/3 cup water in a small sauce pan. Sprinkle the Jello and unflavored gelatin over the water.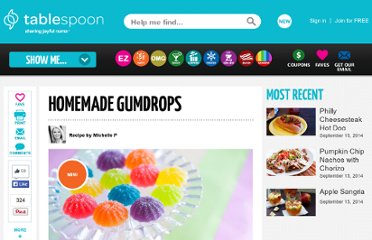 And you wouldn't believe how easy it is to make them—if you can make jello, you can make homemade gumdrops ! A quick search of the Interwebs yielded many different recipes. Some with flavored gelatin and others with, oddly enough, applesauce. Variations of this recipe abound, and I love it both for its simplicity as well as its adaptability to any flavor or any color in the rainbow! So, let's get to it.
"Copycat Candy Recipes" is your backstage pass to famous brand-name candies! You've grown up eating these classic brand name candies, now you can recreate them at home. These Copycat Candy Recipes are sure to be just as good as the originals - if not better!!
I fell in love with making homemade caramels last fall when I found and re-created the Ale and Pretzel Soft Caramels . Those babies are incredibly addicting! I'm not sure how I stumbled upon Shawna's recipe for these sea salt caramels recently, but I'm so glad that I found them.
Chocolate Chip Cookie Dough Truffles I've never liked chocolate chip cookies. Go ahead and throw tomatoes at me if you'd like, but I don't like 'em. They're just a plain old cookie, after all, with a few studs of chocolate chips in them.