Candy
Soft Caramels Tutorial (regular, cinnamon and licorice recipe) | Oh So Delicioso. Here is a secret about me: I do not love chocolate.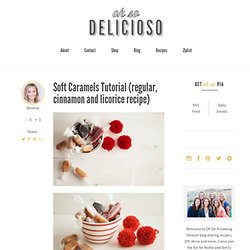 *gasp* If I'm in the mood, I like it, and I will devour it…But typically I choose chewy candy, caramels or salt snacks over chocolate. In High School my best friend's family made the best caramels in the world. I loved going to her house and eating till my stomach hurt. Homemade Tootsie Rolls. Every week, a DIY expert spares us a trip to the grocery store and shows us how to make small batches of great foods at home.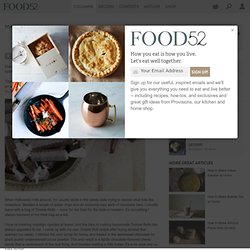 Today, Heather Baird, the photographer and blogger behind Sprinkle Bakes, shows how to make an at-home version of Tootsie Rolls. Heather is the author of SprinkleBakes: Dessert Recipes to Inspire Your Inner Artist. When Halloween rolls around, I'm usually stuck in the candy aisle trying to decide what kids like nowadays. Besides a tangle of spider rings and an economy-size sack of chocolate bars, I usually leave with a bag of Tootsie Rolls -- more for me than for the trick-or-treaters. It's something I always received in my treat bag as a kid. Soft Apple Cider Caramels.
When a friend hands you a copy of Food and Wine Magazine(December issue, 2012) with already marked pages of recipes for you to make, you don't hesitate.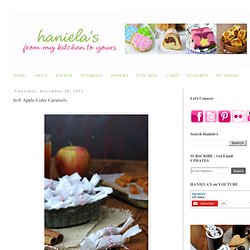 You grab the magazine and you run. So I did. I ran to my kitchen. These caramels were made with a deliciously addictive apple cider from local Solebury Orchards. Haniela's: ~Chai Marshmallows~ Remember the Chai Latte Concentrate from last week?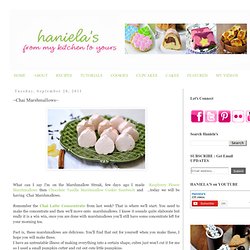 That is where we'll start. You need to make the concentrate and then we'll move onto marshmallows. I know it sounds quite elaborate but really it is a win win, once you are done with marshmallows you'll still have some concentrate left for your morning tea. Fact is, these marshmallows are delicious. Amaretto Marshmallows, and yes, Amaretto S'mores. You're Welcome. Up until a few months ago, marshmallows were one of those things I could take or leave.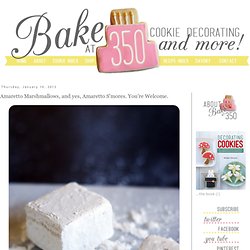 The bag would sit in my pantry...and I was totally not tempted to eat them. "I really don't like marshmallows," I thought. Raspberry Truffle Dust. You're not ready for this.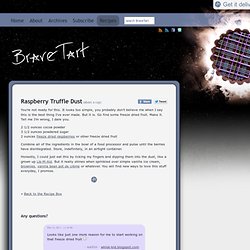 It looks too simple, you probably don't believe me when I say this is the best thing I've ever made. But it is. Go find some freeze dried fruit. Make it. Tell me I'm wrong, I dare you. Vanilla Bean Marshmallows. Nothing completes a mug of Hot Cocoa or luxurious Hot Chocolate quite like a homemade marshmallow.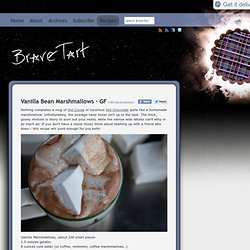 Unfortunately, the average hand mixer isn't up to the task. The thick, gooey mixture is likely to burn out your motor, while the narrow wire whisks can't whip in as much air. Salted Butter Caramels. I had a wee bit of a dilemma recently.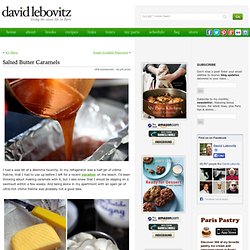 In my refrigerator was a half-jar of crème fraîche, that I had to use up before I left for a recent vacation on the beach. I'd been thinking about making caramels with it, but I also knew that I would be slipping on a swimsuit within a few weeks. And being alone in my apartment with an open jar of ultra-rich crème fraîche was probably not a good idea. Cannabis Caramels Recipe. This Cannabis Caramel recipe came from one of our readers, Kat.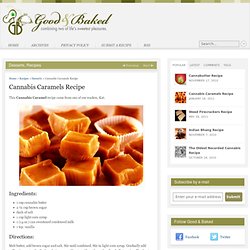 Ingredients: 1 cup cannabis butter2 ¼ cup brown sugardash of salt1 cup light corn syrup1 (14 oz.) can sweetened condensed milk1 tsp. vanilla Directions: Utah Deal Diva: Helping Utah families live on less!: Holiday Baking: Homemade Caramels. Cacao Nib Caramel Corn Recipe. Preheat the oven to 250 degrees F.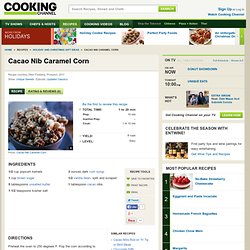 Pop the corn according to package directions and transfer to a large bowl. Set aside. In a medium saucepan, combine the sugar, butter, salt, corn syrup, vanilla bean and cacao nibs. Bring to a boil, stirring occasionally, over medium heat. Pour the caramel over the popcorn, tossing to coat evenly. Sea Salt Caramels Recipe. Candied Orange Recipe : Food Network Kitchens. Homemade Marshmallows Recipe. Homemade Marshmallows: Lightly butter, or spray with a non stick vegetable spray, the bottom of a 13x9x2-inch (33x23x5-cm) baking pan. Line the bottom of the pan with parchment paper. Then sift about 3 tablespoons of confectioners' (powdered or icing) sugar onto the bottom of the pan (this will help release the set marshmallow from the paper).
Place 1/2 cup (120 ml) cold water into the bowl of your electric mixer that is fitted with a whisk attachment. Caramels Recipe. Caramels: Line an 8 inch (20 cm) square baking pan with aluminum foil and then lightly butter the foil. In a heavy medium sized saucepan, stir together the cream, sugars, and corn syrup.
Place the saucepan over medium high heat and bring to a boil, stirring constantly with a wooden spoon. Once the mixture boils, with a heatproof pastry brush that has been dipped in warm water, wash down the sides of the saucepan to remove any sugar crystals that may have formed. Isglass och isdrink. I Man kan göra isglass genom att blanda saft, is, frukt och litet annat. Här får du tips på en variant: Lägg 1 tsk basilikafrö i 1 dl vatten och låt det svälla ca 3 minuter och lägg åt sidan.
Ta en burk Grass Jelly, skär gelén i små kuber och lägg dem i en skål tillsammans med avrunna konserverade palm´s seeds (man kan byta palm´s seeds mot t.ex. konserverad rambutan, longan, lychee mm).
---