Bracelets
DIY Gold Tube Bracelets. I have very vivid memories of walking into a bead store for the first time, almost 15 years ago, and being overwhelmed by the million and ten ideas that filled my mind.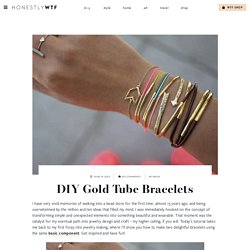 I was immediately hooked on the concept of transforming simple and unexpected elements into something beautiful and wearable. That moment was the catalyst for my eventual path into jewelry design and craft – my higher calling, if you will. Today's tutorial takes me back to my first foray into jewelry making, where I'll show you how to make two delightful bracelets using the same basic component.
DIY Anklet. These days we're all for reincorporating the anklet back into our accessory repertoire.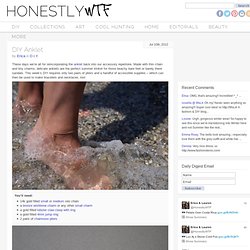 Made with thin chain and tiny charms, delicate anklets are the perfect summer trinket for those beachy bare feet or barely there sandals. This week's DIY requires only two pairs of pliers and a handful of accessible supplies – which can then be used to make bracelets and necklaces, too! Cut the chain to length by measuring it around the ankle. Using the pliers in a back and forth motion, open the jump ring that is attached to the lobster clasp.
TUBULAR BRACELET. My line-up of DIY projects was put on hold last week when a friend's grandfather passed away.
She asked if I could make her and her family a series of red, tubular embroidery thread bracelets to wear during the mourning period. And so back into the friendship-making mindset I went! Given that this woman not only threw me a whale of a baby shower, sewed the cover for the girls' loveseat, knit Sunny the most adorable sock monkey stuffed animal, and hemmed fabric for a project I will unveil in the coming weeks, I dove right in. Pulseras de cuero e hilo de colores. Es uno de mis modelos de pulsera favorita porque te permite jugar con el color.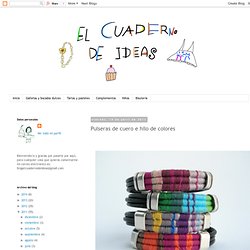 Es sencilla de realizar, combina cuero e hilos de colores, yo he usado hilo de bordar cuyos colores son luminosos y el colorido es muy variado. Inspirándonos en los cartoncillos de los hilos, los peques han hecho las etiquetas. Es para un regalo especial que vamos a hacer hoy, la destinataria tendrá que escoger una bolsita con la pista de la etiqueta. Morse Code Wrap Bracelet. My obsession with these wrap bracelets came just in time for this season of gift giving.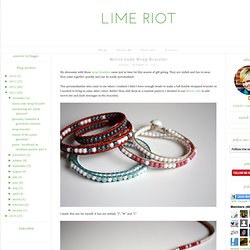 They are stylish and fun to wear, they come together quickly and can be easily personalized. This personalization idea came to me when I realized I didn't have enough beads to make a full double-wrapped bracelet so I needed to bring in some other colors. Cassette Tape Bracelet. I designed this bracelet with my friend Greta when we were still studying in 2009.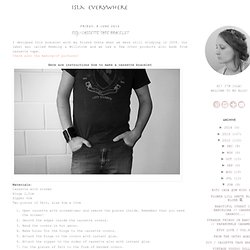 Our label was called Hemming & Willström and we had a few other products also made from cassette tape. Check also the making-of pictures! Here are instructions how to make a cassette bracelet. Braided Hex Nut Bracelet. We're nuts for nuts.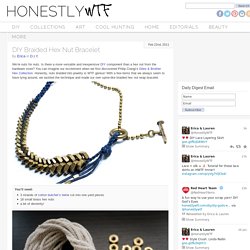 Is there a more versatile and inexpensive DIY component than a hex nut from the hardware store? You can imagine our excitement when we first discovered Philip Crangi's Giles & Brother Hex Collection. Honestly, nuts braided into jewelry is WTF genius! With a few items that we always seem to have lying around, we tackled the technique and made our own spine-like braided hex nut wrap bracelet. Macramé Washer & Wingnut Bracelet. By Kate on October 25, 2011 Hello there!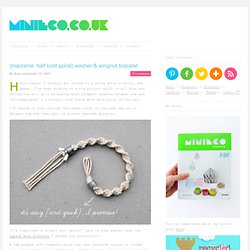 I finally got around to posting after a hectic few weeks. Macramé String & Hexnut Bracelet. By Kate on September 13, 2011 This bracelet has been inspired by this really wonderful "Braided Hex-nut Bracelet" tutorial which I pinned on Pinterest a while back.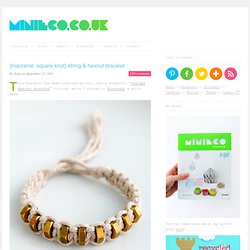 Two things I absolutely love about this project are: 1) It's cheap as chips: I already had string in the cupboard and the brass hexnuts were 3p each from the hardware shop. 2) It's my kind of jewellery: I'm not really a girly girl IYKWIM! The bracelet I made is a bit different to the 'braided hex-nut bracelet' and uses macrame instead, which is great, because I promised some tutorials a while back and felt a bit bad that I hadn't written any yet! Washer & Macramé Bracelet. This week's diy is inspired by the twosome bracelet from anthro, the one with flat discs. it is a super simple bracelet to make and it cost me maybe 3 to 5 dollars to make total. full on diy after le-jump. supplies i used: glue, i love 527 glue & use it often. i already had this in my supply box, but i suppose krazy glue or some other type would work just fine. washers. i bought a little box from home depot. i didn't get the smallest size, which resulted in a chunkier bracelet. there are tiny washers out there if you want a daintier bracelet. waxed cotton cord. i had chocolate brown in my arsenal, but i really love bold colors too. pick whatever size you think would compliment your washers. you only need two strands to fit through the washers, if that helps. hemp, linen, or bamboo cord would work well too. oh, & scissors.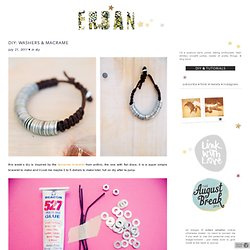 Beaded Leather Bracelet. Paracord bracelet with a side release buckle. Double Braided Chain-Bracelet. I've been itching to make myself some jewelry inspired by Aurélie Bidermann's "Do Brasil" line. Since I don't have 300 Euros lying around, this looked like a design I could recreate on my own. I was primed to put together a DIY Tutorial for you all when I discovered that Honestly WTF had already done the honors. I picked up the gold necklace and the two bracelet chains from an antique shop for $5 a piece, and had the embroidery thread on hand. I only needed scissors and two bobby pins to see this project through. Pretty amazing results, no? Coin Charm Bracelet. Cut Here Bracelet. Leather Cuff Bracelet. March 23, 20114:07 amGuest Blogger closeAuthor: Guest Blogger Name: Guest BloggerSite: About: Interested in Guest Blogging? Got a project idea you would like to share?
A craft tip to tell us about? Then sign up to be a Think Crafts Guest Blogger! If you are interested, simply email us at info@thinkcrafts.com with your blog post title, text and attach any pictures. Baseball Bracelet. A Simple Bracelet Trio. September 30, 2011 6:30 am I'm a bracelet hound. I wear too many at once. But I love them all. Sometimes I want something really sweet and simple, so I came up with this sweet trio. I used a cream colored string for all of them. Wooden Circle Bracelet. Leather Watchstrap.
---