Reading Lists
Sci Fi - Science Fiction - Free Ebook Downloads. The 10 Best Nonfiction Books of 2014 So Far. It's heartening to realize that there's a surplus of elegantly written nonfiction books these days — books that can take you to another time, place, and location, and even cause a revolution in your mind.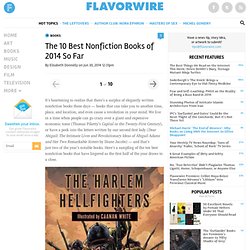 We live in a time when people can go crazy over a giant and expensive economic tome (Thomas Piketty's Capital in the Twenty-First Century), or have a peek into the letters written by our second first lady (Dear Abigail: The Intimate Lives and Revolutionary Ideas of Abigail Adams and Her Two Remarkable Sisters by Diane Jacobs) — and that's just two of the year's notable books. Here's a sampling of the ten best nonfiction books that have lingered as the first half of the year draws to a close. 10. The Harlem Hellfighters by Max Brooks, illustrated by Canaan White. Best Graphic Novels.
Long dismissed as a less serious art form, graphic novels have finally started to gain more mainstream credibility over the last 20 years.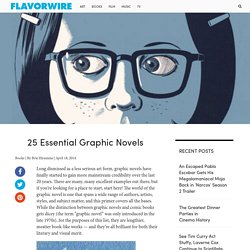 There are many, many excellent examples out there, but if you're looking for a place to start, start here! The world of the graphic novel is one that spans a wide range of authors, artists, styles, and subject matter, and this primer covers all the bases. While the distinction between graphic novels and comic books gets dicey (the term "graphic novel" was only introduced in the late 1970s), for the purposes of this list, they are lengthier, meatier book-like works — and they're all brilliant for both their literary and visual merit. 2013 Best Books Lists. Welcome to the time of year when Best Books lists start popping up left and right.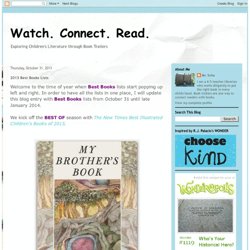 In order to have all the lists in one place, I will update this blog entry with Best Books lists from October 31 until late January 2014. We kick off the BEST OF season with The New Times Best Illustrated Children's Books of 2013. My Brother's Book by Maurice Sendak Jemmy Button by Jennifer Uman and Valerio Vidali. 14 Amazing YA Books With Inspirational Heroines. Time may be running short to find the perfect gift for your daughter, niece, or younger sister before Christmas, but fear not: Bookstores will never let you down.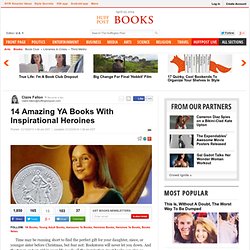 And the tween or teen girl in your life needs all the inspiration great books can give as much as ever, despite the world of smartphones and online games we live in. Girls growing up today may be given more opportunities than in the past, but the pressure is still on to be feminine, attractive, and demure - not the qualities a glass-ceiling-shattering career woman will need to cultivate. And it's not just Bratz dolls and pink onesies … it's YA shelves packed with characters like Bella from Twilight, the ostensible heroine of her series, but in reality a passive, lovelorn damsel in distress who could have been plucked directly from the Dark Ages.
14 Amazing YA Books With Inspirational Heroines. Review Index | Fantasy Cafe | Reviews of Fantasy and Science Fiction Books. Reviews by title | Reviews by author Last Updated March 26, 2014 Reviews by title The Queen of Attolia (The Queen's Thief #2) – Megan Whalen Turner May 20, 2010 Zenn Scarlett – Christian Schoon Jun 26, 2013 Reviews by author.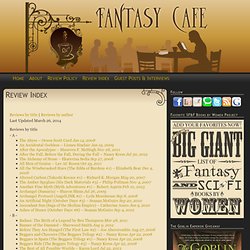 55 great books under 200 pages. You think you won't be able to finish that novel be the end of your holidays?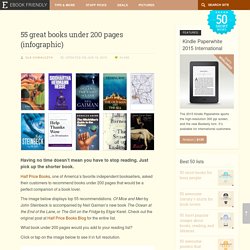 Why not trying to read something shorter? Half Price Books, one of America's favorite independent booksellers, asked their customers to recommend books under 200 pages that would be a perfect companion of a booklover. The image below displays top 55 recommendations. 25 Adult Books For Fans Of YA | Blog. Full List | All-TIME 100 Novels. The Best Books: The Top 100 Novels of All Time - Listmuse.com. A contemporary list, with an international flavour and a respect for the classics, The Best Books: Top 100 Novels of All Time list contains many of the great works of fiction you'd expect, but with a few surprises to add a little spice to the collection.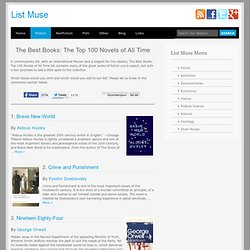 Which books would you omit and which would you add to our list? Please let us know in the comments section below. 1. NPR's Top 100 Science-Fiction & Fantasy Books. More than 5,000 of you nominated.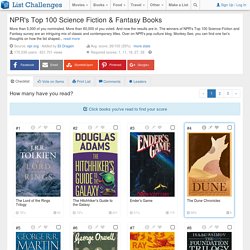 More than 60,000 of you voted. And now the results are in. The winners of NPR's Top 100 Science-Fiction and Fantasy survey are an intriguing mix of classic and contemporary titles. Your mega summer reading list: 200 books recommended by TEDsters. A look at the famous TED Bookstore at TED2013.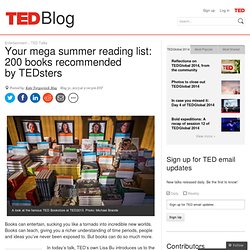 Photo: Michael Brands Books can entertain, sucking you like a tornado into incredible new worlds. Books can teach, giving you a richer understanding of time periods, people and ideas you've never been exposed to. But books can do so much more. Lisa Bu: How books can open your mindIn today's talk, TED's own Lisa Bu introduces us to the concept of "comparative reading," the practice of reading books in pairs, to give deeper context and reveal new insights. Beehive Husk. Locations Edit Sold by Alchemy Merchants.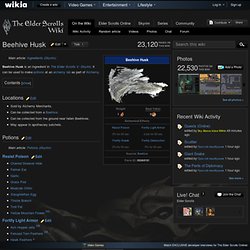 Can be collected from a Beehive. Beehive Husk. 12 book series that are the sci-fi equivalent of A Game of Thrones. Wondering what to do while you're waiting for the rest of George R.R. Martin's saga? We've got nearly a year to wait until the fourth season of Game of Thrones hits HBO, and who knows how long until the sixth book in Martin's A Song of Ice and Fire series is released, so we have to do something to fill the void.
And over at Reddit, a lot of people offered their suggestions on exactly what, from which we've culled a dozen of the best. Obviously there are loads of other brilliant epic fantasy series out there to devour, but what if you want a change of pace? What if you'd like to trade in those castles for space stations, or those other realms for other planets? 100 Sci-Fi/Fantasy Novels to Geek Out Over - Half Price Books Blog - HPB.com. If your answer to every question is 42. If you can quote the three laws of Robotics. If you want to say "my precious" every time you see a gold band. Then this list is for you. We asked our 3,000 bibliomaniacs what their favorite SciFi/Fantasy novels were, and here are their top 100 answers.
Keeping the Castle by Patrice Kindl - Reviews, Discussion, Bookclubs, Lists. 10 Great Fantasy Series to Read While You're Waiting for George R.R. Martin's Next Book. Marykate, Charlie, you've totally won my love and neverending devotion for including The Farseer in this list. There's a part of me that wants to say it's one of the most under-appreciated fantasy series of all time. If I can throw out some of my recommendations: Melanie Rawn's Sunrunner trilogies (six thick books full of magic, intrigue, romance, and a preponderance of twins, which seems to be some weird fetish of Rawn's. The books cover the struggle for power over a beautiful fantasy land, with an awesome sunlight- and moonlight-based magic system and plenty of symbolism.) 10 Science Fiction Novels You Pretend to Have Read (And Why You Should Actually Read Them) Gravity's Rainbow is SF? Infinite Jest is not SF and neither is Jonathan Strange & Mr.
Norrell (I gave this to a person I didn't much like for Xmas one year). Aside from those I've read all except Starmaker (started it recently but couldn't finish it. I loved LaFM when I read it years ago but now I'm too scared to revisit it), The Long Tomorrow (had not heard of it until now) and Dhalgren (couldn't finish it). Medieval Studies » mcfarlandpub.com. What Would a Rational Gryffindor Read? | Measure of Doubt. 10 Book Series So Addictive, You Never Want Them to End.
A Brilliant List of Science Books for People Who Want Their Minds Blown. Sharon Gosling's top 10 children's steampunk books | Children's books. 10 Novels That Are Scarier Than Most Horror Movies. Top Fantasy Books and Series : Sword Blog. Teen Book Lists - Greenfield Public Library. Fantasy - A Nerd's Guide to Reading.
Rec Generator
The 10 Greatest Fantasy Series Of All Time. Classics - A Nerd's Guide to Reading. Well, At Least There Was Good Stuff to Read: The Books of the Decade | Books. Copy of Mensa Reading List. UnSuggester | Don't read THIS. Setting book lists. Best Utopian and Dystopian Fiction. Free Reading. 74 Books to Read if You Love the Hunger Games. 101 Books To Read This Summer Instead of '50 Shades of Grey' Best Places to Get Free Books – The Ultimate Guide. 10 Essential Books for Book Nerds. Never Let Me Go | Top 10 Novels of the 2000s. Science Fiction - A Nerd's Guide to Reading. The Best Science Fiction Books (According to Reddit) Sci-Fi Lists - Top 100 Sci-Fi Books. Books that will induce a mindfuck. Young adult continues to be the literary world's fastest-growing genre - Summify.
27 Amazing Graphic Novels For Readers New To The Genre. Authors Say Agents Try to "Straighten" Gay Characters in YA « Genreville. Epic Journeys: Fantasy Makes a Comeback, SF Searches for a Renaissance | Cover Story. 30 Very Funny Books--Seriously. The 15 Books You Must Read in 2010 - Education. The best zombie books you've probably never heard of - Denver Zombie.
More of the best zombie books you've never read - Denver Zombie.
---