Sharing the Planet
Schools Science Clips - Plants and animals in the local environment. Schools Science Clips - Ourselves. Plants & Animals - Living Things. Plants & Animals Learn about plants & animals as you spot them in an outdoor scene, discover more about where plants and animals live as well as other interesting facts.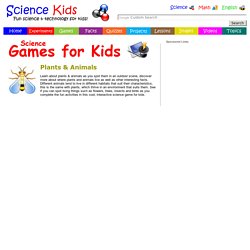 Different animals tend to live in different habitats that suit their characteristics, this is the same with plants, which thrive in an environment that suits them. See if you can spot living things such as flowers, trees, insects and birds as you complete the fun activities in this cool, interactive science game for kids.
Geometric Shape Games
BrainPop Links. The GREENS. WWF - Bycatch Bonanza. Switch 'em off. Earth Hour Game. Recycle City. Earth Day - Michael, Michael, Go Recycle! Earth Day - Free the Beach. Earth Day - Earth Day. Earth Day - Clean Up Your World.
---