Virus Malware
Comment rendre indétectable un malware sous OSX « Korben Korben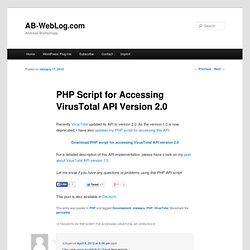 PHP Script for Accessing VirusTotal API Version 2.0 | AB-WebLog.com
Recently VirusTotal updated its API to version 2.0. As the version 1.0 is now deprecated, I have also updated my PHP script for accessing this API: Download PHP script for accessing VirusTotal API version 2.0 For a detailed description of this API implementation, please have a look on my post about VirusTotal API version 1.0.
Flame : le virus le plus puissant de l'histoire du cyber-espionnage ?
Se dirige-t-on vers une nouvelle affaire d'espionnage et de déstabilisation à grande échelle à travers un virus informatique ? Kaspersky vient en effet de mettre à jour au Proche-Orient un virus considéré comme la troisième arme informatique la plus sophistiquée après "Stuxnet" qui avait attaqué les installations nucléaire iraniennes en 2010. Baptisé Flame serait en activité depuis plus de cinq ans dans plusieurs milliers de PC Windows de la région, notamment en Iran et dans la région israélo-palestinienne et dans quelques machines en Amérique du Nord. Cyberguerre L'éditeur de sécurité russe souligne que le malware est extrêmement complexe et que son objectif reste inconnu. Il contiendrait 20 fois plus de lignes de code que Stuxnet, responsable de la panne de centrifugeuses nucléaires iraniennes, et 100 fois plus que n'importe quel logiciel pirate classique conçu pour subtiliser des données financières.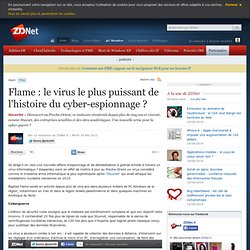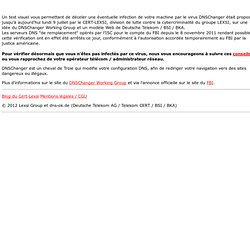 DNS-OK.fr : Vérifiez si vous êtes infectés par DNSChanger
Un test visuel vous permettant de déceler une éventuelle infection de votre machine par le virus DNSChanger était proposé jusqu'à aujourd'hui lundi 9 juillet par le CERT-LEXSI, division de lutte contre la cybercriminalité du groupe LEXSI, sur une idée du DNSChanger Working Group et un modèle Web de Deutsche Telekom / BSI / BKA. Les serveurs DNS "de remplacement" opérés par l'ISC pour le compte du FBI depuis le 8 novembre 2011 rendant possible cette vérification ont en effet été arrêtés ce jour, conformément à l'autorisation accordée temporairement au FBI par la justice américaine. Pour vérifier désormais que vous n'êtes pas infectés par ce virus, nous vous encourageons à suivre ces conseils ou vous rapprochez de votre opérateur télécom / administrateur réseau. DNSChanger est un cheval de Troie qui modifie votre configuration DNS, afin de rediriger votre navigation vers des sites dangereux ou illégaux.
ESET Nod32 Antivirus - ESET Smart Security - Achat et Téléchargement gratuit du logiciel ESET Nod32 antivirus
VirusTotal - Free Online Virus, Malware and URL Scanner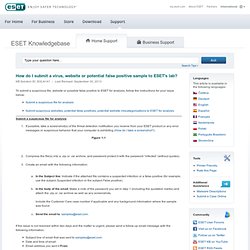 How do I submit a virus, website or potential false positive sample to ESET's lab? - ESET Knowledgebase
To submit a suspicious file, website or possible false positive to ESET for analysis, follow the instructions for your issue below: Submit a suspicious file for analysis If possible, take a screenshot(s) of the threat detection notification you receive from your ESET product or any error messages or suspicious behavior that your computer is exhibiting (How do I take a screenshot?). Figure 1-1 Compress the file(s) into a .zip or .rar archive, and password protect it with the password "infected" (without quotes).
Update 09/07/2012 : Test dns-ok beëindigd De testperiode om uw computer te checken op het virus DNSChanger is voorbij. Kan u na 9 juli 2012 toch niet meer op internet, contacteer dan uw internetleverancier.
CERT.be / DNS-OK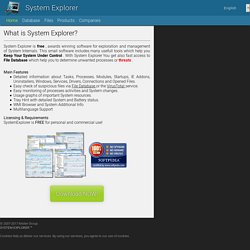 System Explorer is free , awards winning software for exploration and management of System Internals. This small software includes many usefull tools which help you Keep Your System Under Control . With System Explorer You get also fast access to File Database which help you to determine unwanted processes or threats . System Explorer is translated into 29 languages and is available for download in installer and portable version. Main Features Detailed information about Tasks, Processes, Modules, Startups, IE Addons, Uninstallers, Windows, Services, Drivers, Connections and Opened Files.
System Explorer - Keep Your System Under Control
Svchost Process Analyzer - a svchost.exe file checker
Svchost.exe is the most mysterious process in Windows 8/7/XP/Vista. Svchost.exe is a generic host process name for services that run from dynamic-link libraries (DLLs). The authentic svchost.exe file is located in , but numerous viruses and trojans use the same file and process name to hide their activities. The free Svchost Process Analyzer lists all svchost instances and checks the services they contain.