Diet
Simple Till Six Weight Loss Diet: An Eating Plan for Busy People. Health | Running 'can slow ageing process' Running on a regular basis can slow the effects of ageing, a study by US researchers shows.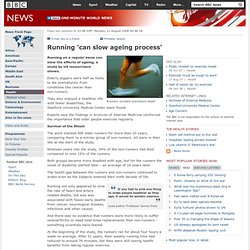 Elderly joggers were half as likely to die prematurely from conditions like cancer than non-runners. They also enjoyed a healthier life with fewer disabilities, the Stanford University Medical Center team found. How To Lose Belly Fat - Stepcase Lifehack. Spare TireLove HandlesMuffin TopPot Belly All somewhat comical terms for belly fat.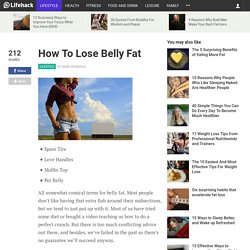 Most people don't like having that extra flab around their midsections, but we tend to just put up with it. Most of us have tried some diet or bought a video teaching us how to do a perfect crunch. Best Tips on Getting In Shape, In One Handy List | Zen Habits. I've written a bunch of articles about health, fitness, and the challenges of getting in shape, and I thought it would be useful to compile some of the best articles in one place.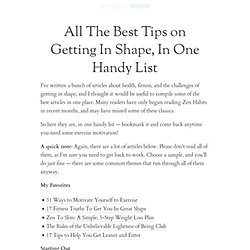 Many readers have only begun reading Zen Habits in recent months, and may have missed some of these classics. So here they are, in one handy list — bookmark it and come back anytime you need some exercise motivation! A quick note: Again, there are a lot of articles below. Please don't read all of them, as I'm sure you need to get back to work. How to Go From Sedentary to Running in Five Steps | Zen Habits. As a runner, there is almost nothing in this world that can take me to the places that running does.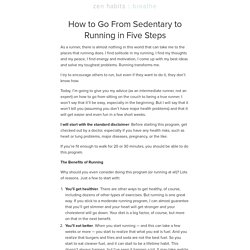 I find solitude in my running, I find my thoughts and my peace, I find energy and motivation, I come up with my best ideas and solve my toughest problems. Running transforms me. The 60-Second Guide to Healthy Living. Please join me on a quick 60-second journey as we look into what's possible for you and your health.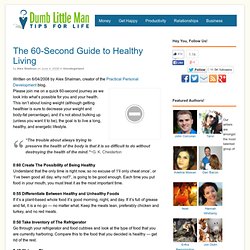 This isn't about losing weight (although getting healthier is sure to decrease your weight and body-fat percentage), and it's not about bulking up (unless you want it to be), the goal is to live a long, healthy, and energetic lifestyle. "The trouble about always trying to preserve the health of the body is that it is so difficult to do without destroying the health of the mind." How to Lose 20 lbs. of Fat in 30 Days… Without Doing Any Exercis.
Fat Loss via Better Science and Simplicity It is possible to lose 20 lbs. of bodyfat in 30 days by optimizing any of three factors: exercise, diet, or drug/supplement regimen.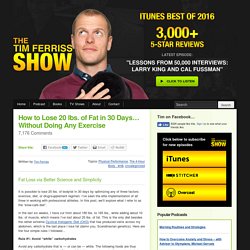 I've seen the elite implementation of all three in working with professional athletes. In this post, we'll explore what I refer to as the "slow-carb diet". ChiRunning. Beginner's Guide to Running | Zen Habits. Post written by Leo Babauta.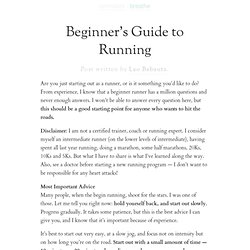 Are you just starting out as a runner, or is it something you'd like to do? From experience, I know that a beginner runner has a million questions and never enough answers. I won't be able to answer every question here, but this should be a good starting point for anyone who wants to hit the roads. 15 Best Diet Tips Ever. Experts share their top tips for weight loss success.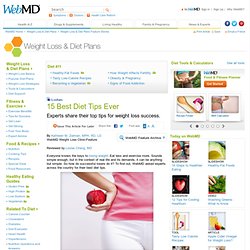 Why do I need to register or sign in for WebMD to save? We will provide you with a dropdown of all your saved articles when you are registered and signed in. Everyone knows the keys to losing weight: Eat less and exercise more. Sounds simple enough, but in the context of real life and its demands, it can be anything but simple. So how do successful losers do it?
---