Projekty i realizacje
Well-formed data | Elastic lists | Nobel prize winners demo
40 Maps They Didn't Teach You In School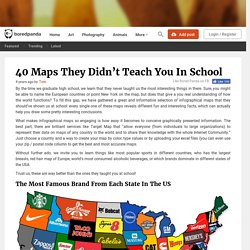 By the time we graduate high school, we learn that they never taught us the most interesting things in there. Sure, you might be able to name the European countries or point New York on the map, but does that give a you real understanding of how the world functions? To fill this gap, we have gathered a great and informative selection of infographical maps that they should've shown us at school: every single one of these maps reveals different fun and interesting facts, which can actually help you draw some pretty interesting conclusions. What makes infographical maps so engaging is how easy it becomes to conceive graphically presented information.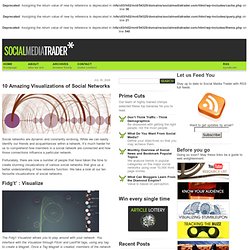 Social networks are dynamic and constantly evolving. While we can easily identify our friends and acquaintances within a network, it's much harder for us to comprehend how members in a social network are connected and how those connections influence a particular network. Fortunately, there are now a number of people that have taken the time to create stunning visualizations of various social networks that give us a better understanding of how networks function. We take a look at our ten favourite visualizations of social networks. Fidg't' : Visualize
10 Amazing Visualizations of Social Networks
A year of ships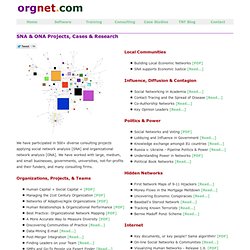 SNA & ONA Projects, Cases & Research by Orgnet, LLC
We have participated in 500+ diverse consulting projects applying social network analysis [SNA] and organizational network analysis [ONA]. We have worked with large, medium, and small businesses, governments, universities, not-for-profits and their funders, and many consulting firms. Organizations, Projects, & Teams Human Capital + Social Capital = [PDF] Managing the 21st Century Organization [PDF] Networks of Adaptive/Agile Organizations [PDF] Human Relationships & Organizational Performance [PDF] Best Practice: Organizational Network Mapping [PDF] A More Accurate Way to Measure Diversity [PDF]Discovering Communities of Practice [Read...] Data-Mining E-mail [Read...]
Code Imitating Art It's all well and good to love visualizations from the past, but it's another thing to bring them into the present. With the Ultimate Power of the Web! (and I'm not talking about A Handsome Atlas, either.) check it out Lapping Bar Graphs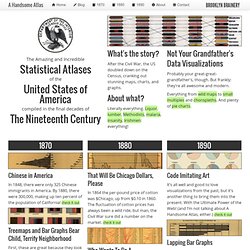 A Handsome Atlas: Wildly Awesome Data Visualizations from the Nineteenth Century
The clock is ticking. Every second, it seems, someone in the world takes on more debt. The idea of a debt clock for an individual nation is familiar to anyone who has been to Times Square in New York, where the American public shortfall is revealed.
World debt comparison: The global debt clock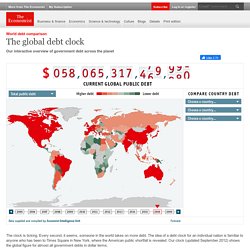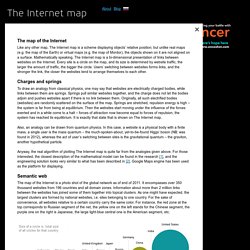 The Internet map
The map of the Internet Like any other map, The Internet map is a scheme displaying objects' relative position; but unlike real maps (e.g. the map of the Earth) or virtual maps (e.g. the map of Mordor), the objects shown on it are not aligned on a surface. Mathematically speaking, The Internet map is a bi-dimensional presentation of links between websites on the Internet. Every site is a circle on the map, and its size is determined by website traffic, the larger the amount of traffic, the bigger the circle.
Shape of Song--Method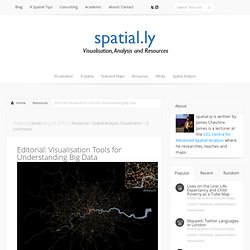 Editorial: Visualisation Tools for Understanding Big Data
I recently co-wrote an editorial (download the full version here) with Mike Batty (UCL CASA) in which we explored some of the current issues surrounding the visualisation of large urban datasets. We were inspired to write it following the CASA Smart Cities conference and we included a couple of visualisations I have blogged here. Much of the day was devoted to demonstrating the potential of data visualisation to help us better understand our cities.
Social Graphs in Movies + + + Moviegalaxies at visual.ly: Using Graphs to Visualize Movie Character Relationships + + + Most Clicked Recently Added From Our Blog Moviegalaxies Awarded
Welcome to Moviegalaxies - Moviegalaxies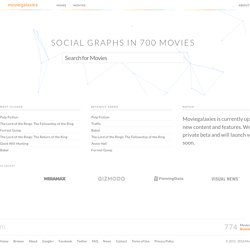 Worldmapper is a collection of world maps, where territories are re-sized on each map according to the subject of interest. There are now nearly 700 maps. Maps 1-366 are also available as PDF posters. Use the menu above to find a map of interest. In 2009 we added a series of maps of the world's population using a gridded cartogram approach: Worldmapper Population Atlas If you are interested in more background on map projections, read the short introductions about Worldmapper and map projections and gridded cartograms as a map projection. Find out more about the world's population in a new interactive map feature and our gridded country cartogram series:
Worldmapper: The world as you've never seen it before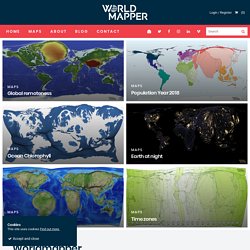 Earth Engine
Earth Engine Access Develop, access and run algorithms on the full Earth Engine data archive, all using Google's parallel processing platform. Access to Earth Engine is currently available as a limited release to a small group of partners. If you are interested in developing on the Earth Engine platform, let us know. Google Earth Engine brings together the world's satellite imagery — trillions of scientific measurements dating back almost 40 years — and makes it available online with tools for scientists, independent researchers, and nations to mine this massive warehouse of data to detect changes, map trends and quantify differences on the Earth's surface.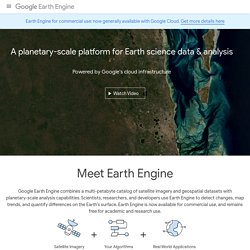 Lostalgic This project is based on the entire ABC's LOST TV show scripts, 115 episodes in 7 seasons, that I managed to parse from Lostpedia. I also parsed this page with additional information about hidden characters relations.
Lostalgic
Maps have always been a powerful way of highlighting London's social inequalities (Charles Booth's and John Snow's are the most iconic examples of this) and they continue to show how the richest and poorest Londoners often live side by side. As the BBC's "The Secret History of Our Streets" has demonstrated, stark inequalities in the wealth and health of Londoners have existed for centuries and, sadly, persist to the present day. A popular way of describing some of the inequalities is to use the analogy that a year in life expectancy is lost for every station eastbound on the Jubilee Line between Westminster and Canning Town. Since first hearing this a few years ago I have wanted to make a map for the rest of the Transport for London network. I have finally done this and you can view the interactive version here and read a more in depth article in the journal Environment and Planning A.
Lives on the Line: Life Expectancy and Child Poverty as a Tube Map
tenyearstenartists-01.jpg (Obrazek JPEG, 1130x1600 pikseli) - Skala (39
no upside
A map of American state stereotypes, generated by Google autocomplete. In the months before a US Presidential election, the quality of political discourse hits new lows. Blue State/Red State tropes dominate the news cycle as the media gins up outrage over perceived injustices in the culture wars.
Galerie de jose.duarte
Galerie de mkandlez
The Civil War
This data visualization was created in April 2012, by Eli Rosen, as the final project for Golan Levin's course Interactive Art and Computational Design at Carnegie Mellon University. Data was sourced from www.civilwar.com and wikipedia. The project was built using JavaScript as well as the Google Maps API. The visualization provides a visual interface for exploring the Civil War chronologically, geographically, and by the numbers.
Interactive Art and Computational Design, Spring 2012 » Eli Rosen – Final Project – Civil War
This interactive data visualization allows for self-directed exploration of the battles of the American Civil War. The aim was to facilitate an understanding of the conflict on multiple scales from the entire war to a single battle. The interactive data visualization is live at www.elibrosen.com/civilwar. Here are a few screenshots of the web application: Here is a video of the web application:
UsefulCharts.com | Cool Charts & Timelines
PathsofTimeTravelinFuturisticFilms_4f9fe540bfffb.jpg (Obrazek JPEG, 2000x1191 pikseli) - Skala (51
quakes
Gay rights in the US, state by state | World news
The UK Energy Consumption Guide from Evoenergy
OECD – Your Better Life Index
The Historical Evolution of Europe's Borders
The Civil War
Population - Estimations de population - Pyramide des âges régionales et départementales
Google Exodus - Passover movie
SFMOMA ArtScope
Victorian Infographics
reMap
Interactive Infographic of the World's Best Countries
peoplemovin - A visualization of migration flows
12. Koordinierte Bevölkerungsvorausberechnung
Welcome to the Anthropocene on Vimeo
15 Stunning Examples of Data Visualization
Information is Beautiful Challenge #3 - FilmStrips
Massive Health
The 21 Heroes of Data Visualization: Dave Bowker
Aaron Koblin - Flight Patterns
The Whale Hunt / A storytelling experiment / by Jonathan Harris
Pay Gap Between Women and Men
25 Best Infographics Of 2011 That Are Still Relevant Today
Intelligent Transportation Systems
LIVE Singapore!
A Time-Lapse Map of Every Nuclear Explosion Since 1945 - by Isao Hashimoto
unnamed pearl
Wind Map
Visualizing Data: Die Bürgschaft | Processing on Vimeo
50 Great Examples of Data Visualization
Google NGram Experiments
Web Trend Map 2007 Version 2.0
Moda na Sukces
EUA University Autonomy in Europe
Personal messages from Japan | Flickr : partage de photos !
Data Visualization: Journalism's Voyage West | Rural West Initiative
Posted: Visualizing US expansion through post offices. on Vimeo
research flow
A Day in the Life of NYTimes.com
Sightsmap
Hollywood Visualisation Challenge - Design shortlist
Hollywood Loves Action (launched)
Hollywood Cinemetrics (launched)
Hollywood Data 2007-2011 (launched)
Map your moves
A World of tweets (launched)
Main Page
DataMaps.eu » map your data | provided by open3.at
Exports Radar - Key figures
DataMaps.eu » map your data | provided by open3.at