Distributions Linux orientées MAO
Puredyne. Home Musix GNU+Linux. Audio Graphic Video Multimedia Linux. AndroidArt is the world's first website about Android applications for artists. www.androidart.org If you like ArtistX please consider making a small donation or visit our partners websites.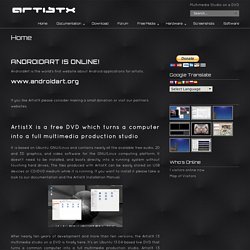 ArtistX is a free DVD which turns a computer into a full multimedia production studio. APODIO. D y n e : b o l i c -- a free multimedia studio in a GNU/Linux live CD. 64 Studio | Have GNU/Linux your way! Home | Ubuntu Studio.
---