Packaging / Retail
Boxed Water Is Better - Environment & Giving. Boxed Water. Part sustainable water company, part art project, part philanthropic project, and completely curious.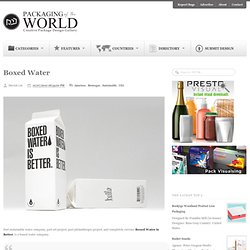 Boxed Water Is Better, is a boxed water company. Started with the simple idea of creating a new bottled water brand that is kinder to the environment and gives back a bit - we found that it shouldn't be bottled at all, but instead, boxed. So we looked to the past for inspiration in the century old beverage container and decided to keep things simple, sustainable, and beautiful.
Safe Launches New Sustainable Packaging Designed by Yves Behar | PUMA Vision. Puma Clever Little Bag. In partnering with PUMA, a leader in sportswear, shoes and products, we looked to create a game changing packaging system that would greatly reduce their footprint and build on their initiatives toward cleaner, greener, and safer practices contributing to a better world around us.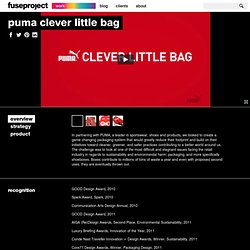 The challenge was to look at one of the most difficult and stagnant issues facing the retail industry in regards to sustainability and environmental harm: packaging, and more specifically shoeboxes. Boxes contribute to millions of tons of waste a year and even with proposed second uses, they are eventually thrown out. Already known as a company willing to take risks and push boundaries, Puma approached fuseproject to see what improvements could be made in the way its shoes and apparel are packaged and shipped worldwide. Puma Clever Little Bag.
Puma – Clever Little Bag. April 14, 2010 | 22 Comments Designed by Yves Behar of Fuseproject | Country: United States "For the last 21 months we have been thinking about shoeboxes: how to fold them, how to ship them and how to reduce them.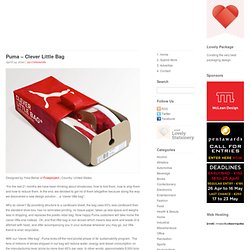 In the end, we decided to get rid of them altogether because along the way we discovered a new design solution….a "clever little bag". Yves Behar Clever Little Bag for Puma.
---