Corporate identity
18 Of Canada's Best Logos. The Swiss get a lot of credit for their graphic design.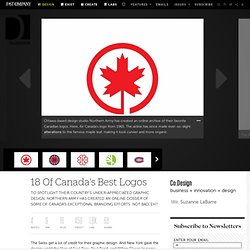 And New York gave the design world the likes of Saul Bass, Paul Rand, and Milton Glaser, to name just a few. But Canada's legions of graphic designers seem to go somewhat uncelebrated, which is a shame: A scroll through this new online register of the country's logos reveals that our northern neighbors have long had a capacity for tasteful and minimal branding. The Northern Army Preservation Society of Canada, as it's called, is an online dossier of Canada's best logos, curated by Ottawa-based design studio Northern Army. Rene Antunes, cofounder of Northern Army, says it started as a personal pet project: "We wanted to collect the logos we grew up with and are still inspired by in one place," he says.
The "preservation" part refers to what Antunes calls the "retro and vintage slant to many of these logos," since many have been outmoded and replaced by design updates. Medium Brand Development on Behance. 7 | Branding Mozilla's New Mobile OS By Setting The Firefox Free. No matter where your allegiance in the browser wars lies, you have to admit that the House of Firefox flies the best banner.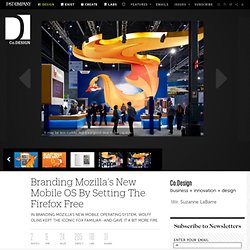 The browser's logo--a vibrant orange fox curled up around a blue globe--is playful and peppy and instantly recognizable. It's a mark with personality, certainly more so than Safari's cartoony compass or Chrome's colorful whatsit, and it's probably the only icon on your desktop that could lend itself to a Halloween costume. So when Wolff Olins was tapped by Mozilla to develop a brand for the company's latest initiative--the recently debuted Firefox mobile operating system--the direction, in some ways, was clear: Let the fox stretch its legs a bit.
According to Mary Ellen Muckerman, head of strategy at Wolff Olins, the Firefox logo boasts nearly 90% awareness in markets worldwide. About this project « A Brand for London. London is having an identity crisis.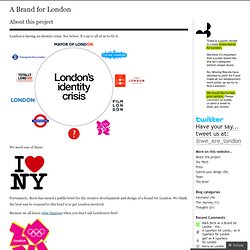 See below. It's up to all of us to fix it. We need one of these: Fortunately, Boris has issued a public brief for the creative development and design of a brand for London. More4 Rebrand | Projects | ManvsMachine. After winning a competitive pitch, Channel 4 commissioned ManvsMachine to create a new brand identity and on-air look for More4.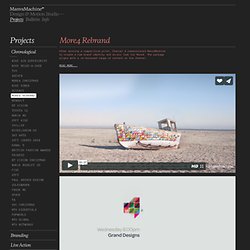 The package aligns with a re-focussed range of content on the channel. The re-brand is centred round a bold, flexible logo that morphs through a series of flips, folds and reveals. The colour palette reflects the vibrant nature of interiors, food culture, fashion and other contemporary lifestyle programming. More4. D-zign & Foto.
Authenticity Is King Because Branding Bores Everyone | Co.Design. Today, any brand has a potential army of credible, unpaid spokespeople that are willing to work on its behalf.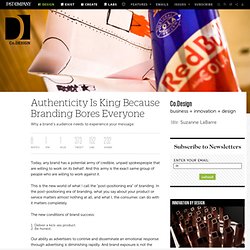 And this army is the exact same group of people who are willing to work against it. This is the new world of what I call the "post-positioning era" of branding. In the post-positioning era of branding, what you say about your product or service matters almost nothing at all, and what I, the consumer, can do with it matters completely.
The new conditions of brand success: 1.
13 Branded Apps That Got it Right. Creating a branded app seems like an obvious move towards engaging potential customers.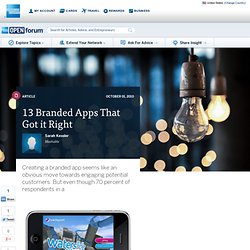 But even though 70 percent of respondents in a October 01, 2010 Creating a branded app seems like an obvious move towards engaging potential customers. But even though 70 percent of respondents in a 2009 survey said that they downloaded branded apps, it's often unclear how effective those apps really are at driving purchases. And there's always a fear that too few people will download the app to make it worth this risk.
Blog Archive » Wikipedia in 3D. (Update: We've received a lot of feedback about how the new Wikipedia identity functions in different browsers, and we're working on some minor improvements over the next few days.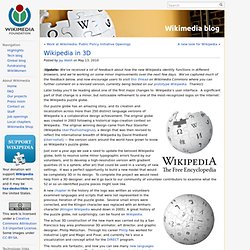 We've captured much of the feedback below, and now encourage users to visit this thread on Wikimedia Commons where you can further comment on a revised version, currently being tested on our prototype Wikipedia. Thanks!) Later today you'll be reading about one of the first major changes to Wikipedia's user interface. A significant part of that change is a minor, but noticeable refinement to one of the most-recognized logos on the internet: the Wikipedia puzzle globe. Our puzzle globe has an amazing story, and its creation and localization across more than 250 distinct language versions of Wikipedia is a collaborative design achievement. Boring Green Logo Redesigns Are a Color Cliche « Merriam Associates, Inc. Brand Strategies. Green–it's the new blue.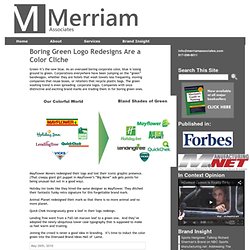 As an overused boring corporate color, blue is losing ground to green. Corporations everywhere have been jumping on the "green" bandwagon, whether they are hotels that wash towels less frequently, moving companies that reuse boxes, or retailers that recycle plastic bags. The green washing trend is even spreading corporate logos. Companies with once distinctive and exciting brand marks are trading them in for boring green ones. Mayflower Movers redesigned their logo and lost their iconic graphic presence. Opinions on Corporate and Brand Identity Work.
Online FPO (For Print Only) / Celebrating the reality that print is not dead by showcasing the most compelling printed projects.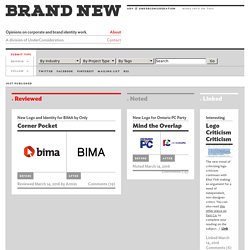 Art of the Menu / Cataloguing the underrated creativity of menus from around the world. Quipsologies / Chronicling the most curious, creative, and notable projects, stories, and events of the graphic design industry on a daily basis. Speak Up (2002 – 2009) / Discussing, and looking for, what is relevant in, and the relevance of, graphic design. Archives Only. Branding firefox. Shortly before Christmas, I had an email from a chap called Steven Garrity, who works for Silverorange, and runs a blog called 'Acts of Volition', in which he publishes a radio show on regular basis.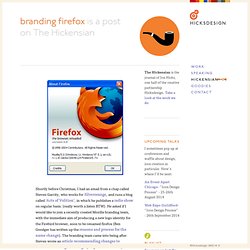 (really worth a listen BTW). He asked if I would like to join a recently created Mozilla branding team, with the immediate aim of producing a new logo identity for the Firebird browser, soon to be renamed firefox (Ben Goodger has written up the reasons and process for the name change). The branding team came into being after Steven wrote an article recommending changes to Mozilla's existing branding. I jumped at the chance, and today Firefox 0.8 is finally released, and the work is no longer confidential. Over Christmas (thanks Steven!) City of Melbourne on the Behance Network. Creating a Corporate Identity: Virgin`s Branding Strategy. Have Their Story be Your Story. Recently I came across this short but interesting article: What Does Storytelling Have to Do with Business?. The idea of storytelling as it applies to business isn't about spinning a yarn or fairytale.
Rather, it's about how your business (or its products or services) exist in the real world: how people use your products—how they add value to people's lives, ease their troubles, help shoulder their burdens, and meet their needs. Someone in the comments says People respond to great stories - and links to this video: Insignias y Uniformes del Narco. Luke Elliott. Nation Branding » Australia launches new 'Brand Australia' concept.
First of all, let's do some recap. On July 2009 we reported that several relevant voices in the Australian business space were demanding a Brand Australia Council to refresh the country's international image and extend the already positive image Australia had on tourist aspects to the other dimensions of the country's nation brand. On September 2009, we reported that the Australian government was planning to launch a new 'Brand Australia' strategy and was allocating $20 million to deliver a new international "brand" for the country, and that a tender for competing agencies had also been announced. According to Austrade figures, 60 submissions were received and four agencies were shortlisted.
Eight concepts were tested in 14 countries, including Australia, with about 1000 consumer interviews in each country. New Microsoft brand logos, company tagline revealed at MGX event? (update: no new logos, tagline is a go) It looks like Microsoft may have revealed something big at its annual MGX (Microsoft Global Exchange) event, namely... new logos for its main brands and a fresh brand motto. "Be What's Next" touts a teaser which has been posted on YouTube, along with a fast moving sequence of morphing logos, shuffling from Windows, to Windows Phone, Xbox, Bing, and finally the familiar Office logo that's been kicking around for a little longer. It's unclear if these are just treatments used for a promo at the event, or if this is a signal that Redmond is dumping its familiar (and frankly dated) iconography for something a little looser, leaner, and hipper, but we can't say it would be a bad thing.
It would certainly make sense against a backdrop of potential comeback in the mobile space, gains in search, and the seemingly successful (or at least satisfying) Windows 7 launch. Museum of Arts and Design | New at Pentagram | Pentagram. Go MAD. This weekend the Museum of Arts and Design opens the doors of its new home at 2 Columbus Circle following an extensive redesign of the building by Brad Cloepfil of Allied Works Architecture. The museum's new graphic identity can already be seen throughout the city, on the sides of buses, on street banners, in print ads and in the subways. One Laptop per Child (OLPC): Video > Brand. Paula Scher + Dana Arnett. San Diego Zoo Gets Funky. The Brand Gap. The Meaning of Colour in Web Design. Walter Landor on design, branding, and Landor (1977) ÉñÂí¶¼ÊǸ¡ÔÆ£¡ÉîÛÚ×î¸øÁ¦µÄ´´ÒâºÍÉè¼Æ°¸Àý-ad110¡¤aLife.
---