Digital Identity
#UPLOAD12 - Your Digital Footprint. Is your digital footprint ready for teaching. Am in the process of creating a new blog to be called "Is my digital footprint ready for teaching?".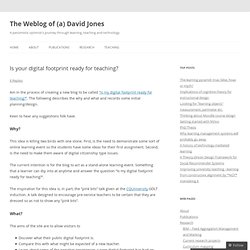 The following describes the why and what and records some initial planning/design. Keen to hear any suggestions folk have. Study: Your Facebook Personality Is The Real You. If you think you're different on Facebook than you are in real life, you've got some explaining to do.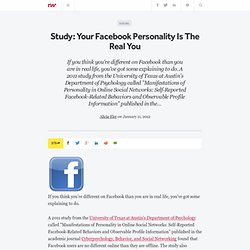 A 2011 study from the University of Texas at Austin's Department of Psychology called "Manifestations of Personality in Online Social Networks: Self-Reported Facebook-Related Behaviors and Observable Profile Information" published in the academic journal Cyberpsychology, Behavior, and Social Networking found that Facebook users are no different online than they are offline. The study also revealed strong connections between real personality and Facebook-related behavior.
Social and personality processes, the study says, accurately mirror non-virtual environments. Looking at the big five personality traits - openness, conscientiousness, extraversion, agreeableness and neuroticism - Professor Samuel D. Gosling and his colleagues found that self-reported personality traits are accurately reflected in online social networks such as Facebook. Is that me? Raising undergraduate students awareness of their digit...
How Students View Digital Citizenship. Students (and everyone else) spend a vast amount of time online.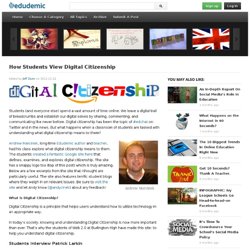 We leave a digital trail of breadcrumbs and establish our digital selves by sharing, commenting, and communicating like never before. Digital citizenship has been the topic of #edchat on Twitter and in the news. But what happens when a classroom of students are tasked with understanding what digital citizenship means to them? Andrew Marcinek Andrew Marcinek , long-time Edudemic author and teacher , had his class explore what digital citizenship means to them.
Double or quits. Introducing the Digital Learning Quadrants. This is the follow-up post and answer to "The Fallacy of Digital Natives".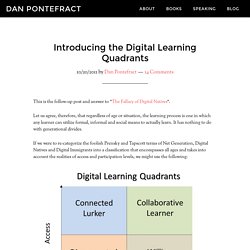 Let us agree, therefore, that regardless of age or situation, the learning process is one in which any learner can utilize formal, informal and social means to actually learn. It has nothing to do with generational divides. The natives are revolting. On Digital Natives, Immigrants, Residents and Visitors - and implementing technology? | Brains. Dave White wrote about his Digital Resident/Visitor model on the TALL blog back in 2008 ( and it has been well received.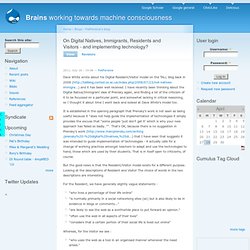 I have recently been thinking about the Digital Native/Immigrant idea of Prensky again, and finding a lot of the criticism of it to be focussed on a particular point, and somewhat lacking in critical reasoning, so I thought it about time I went back and looked at Dave White's model too. It is established in the opening paragraph that Prensky's work is not seen as being useful because it "does not help guide the implementation of technologies it simply provides the excuse that "some people 'just don't get it' which is why your new approach has failed so badly…"".
The Fallacy of Digital Natives. I have a problem with both the term digital native and how it has been manufactured into one of society's greatest myths.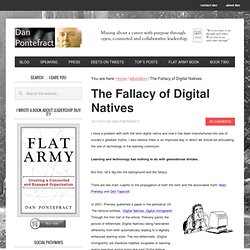 I also believe there is an improved way in which we should be articulating the use of technology in the learning continuum. Learning and technology has nothing to do with generational divides. But first, let's dig into the background and the fallacy. There are two main culprits to the propagation of both the term and the associated myth; Marc Prensky and Don Tapscott. The Dark Sides of Our Digital Self. I recently picked up a copy of Virtually You: The Dangerous Powers of the E-Personality at my local library.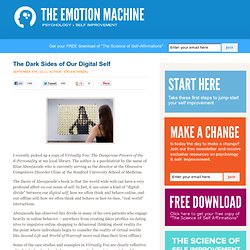 The author is a psychiatrist by the name of Elias Aboujaoude who is currently serving as the director at the Obsessive Compulsive Disorder Clinic at the Stanford University School of Medicine. The thesis of Aboujaoude's book is that the world wide web can have a very profound affect on our sense of self. In fact, it can cause a kind of "digital divide" between our digital self, how we often think and behave online, and our offline self, how we often think and behave in face-to-face, "real world" interactions. A Collection of Digital Citizenship Resources.
This Is Me: This Is Me Introduction. The JISC funded Digitally Ready project, part of the Developing Digital Literacies programme has enabled us to further the work done on the Eduserv funded This Is Me project.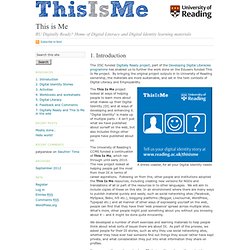 By bringing the original project outputs in to University of Reading ownership, the materials are more sustainable, and set in the twin contexts of Digital Literacy and Employability. A drinks coaster, for all your Digital Identity needs The This Is Me project looked at ways of helping people to learn more about what makes up their Digital Identity (DI) and at ways of developing and enhancing it. "Digital Identity" is made up of multiple parts – it isn't just what we have published about ourself on the web, but also includes things other people have published about us.
---