Google-corporate
Google Acquires Channel Intelligence For $125M To Boost Product Referrals And E-Commerce With Users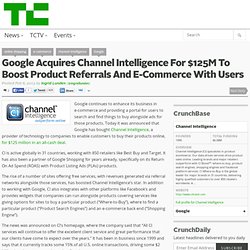 Google continues to enhance its business in e-commerce and providing a portal for users to search and find things to buy alongside ads for those products. Today it was announced that Google has bought Channel Intelligence , a provider of technology to companies to enable customers to buy their products online, for $125 million in an all-cash deal . CI is active globally in 31 countries, working with 850 retailers like Best Buy and Target. It has also been a partner of Google Shopping for years already, specifically on its Return On Ad Spend (ROAS) with Product Listing Ads (PLAs) products. The rise of a number of sites offering free services, with revenues generated via referral networks alongside those services, has boosted Channel Intelligence's star.
Google saura où vous allez
Google a fait un dépôt de brevet plutôt "intéressant" (qui a dit inquiétant ?). Il est ici question d'implanter dans nos smartphones un système capable de savoir où son propriétaire se rend. Finis ainsi les oublis de passage chez le teinturier en allant chercher le pain… C'est grâce au rachat de Motorola que ce brevet a pu voir le jour. Google utilise le GPS, d'anciennes données ainsi que les habitudes de déplacement de l'utilisateur pour proposer une liste de destinations probables selon sa position actuelle.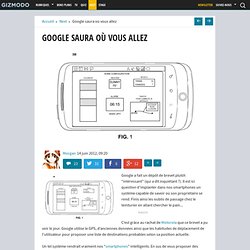 FACEBOOK FALLOUT: Suddenly It Feels Like Google Is Actually Going To Buy Twitter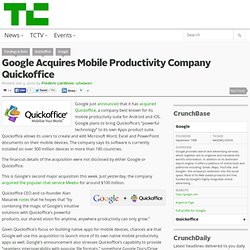 Google just announced that it has acquired Quickoffice , a company best known for its mobile productivity suite for Android and iOS. Google plans to bring Quickoffice's "powerful technology" to its own Apps product suite. Quickoffice allows its users to create and edit Microsoft Word, Excel and PowerPoint documents on their mobile devices. The company says its software is currently installed on over 300 million devices in more than 180 countries. The financial details of the acquisition were not disclosed by either Google or Quickoffice. This is Google's second major acquisition this week.
Google Acquires Mobile Productivity Company Quickoffice
More On Meebo: Price Is Around $100M, Product Team To Work On Google+ Publisher Tools, Layoffs Hit Sales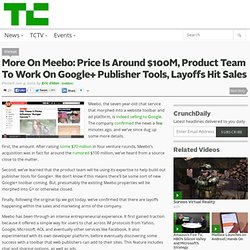 Meebo, the seven year-old chat service that morphed into a website toolbar and ad platform, is indeed selling to Google . The company confirmed the news a few minutes ago, and we've since dug up some more details. First, the amount.
Today, the Internet Corporation for Assigned Names and Numbers (ICANN) closed its window for new generic top-level domain name applications . ICANN will publish a list of all the applied-for strings in two weeks, but Google today already announced some of the names it applied for. Among these are, as expected, .google and .youtube. According to Google's chief Internet evangelist and "father of the Internet" Vint Cerf, however, the company also applied for domains it thinks " have interesting and creative potential," including .lol.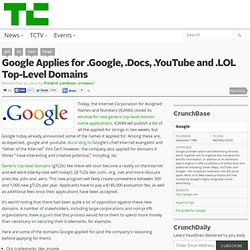 Google Applies for .Google, .Docs, .YouTube and .LOL Top-Level Domains
According to Robert Levine, the author of the just published Free Ride: How Digital Parasites Are Destroying the Culture Business, and How the Culture Business Can Fight Back, the Internet is destroying the market for high quality culture. Blaming both the ideology of free culture and online piracy, Levine argues that the digital world is making it increasingly hard for professional writers, journalists, musicians and film makers to make a living selling their content. Levine, the former executive editor of Billboard magazine, isn't necessarily the first to make this argument – but Free Ride is probably the most credible and coherent book to date on the impact of the Internet on our culture. Free Ride has already ignited controversy for its portrayal of Google's central role in the free culture movement.
Keen On… Robert Levine: Is Google Killing Our Culture? (TCTV)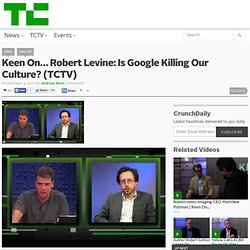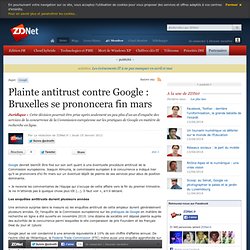 Google devrait bientôt être fixé sur son sort quant à une éventuelle procédure antitrust de la Commission européenne. Joaquin Almunia, le commissaire européen à la concurrence a indiqué hier qu'il se prononcera d'ici fin mars sur un éventuel dépôt de plainte de ses services pour abus de position dominante. « Je recevrai les commentaires de l'équipe qui s'occupe de cette affaire vers la fin du premier trimestre. Je ne m'attends pas à quelque chose plus tôt (...). Il faut voir », a-t-il déclaré. Les enquêtes antitrusts durent plusieurs années
Plainte antitrust contre Google : Bruxelles se prononcera fin mars
Google co-founders Larry Page and Sergei Brin, and chairman Eric Schmidt have given their full support to the restoration to one of California's most iconic structures, Hanger One, in return for a long term lease of the hangar that would store the leaders' eight private jets. Mountain View Voice reports that requests made to NASA to restore the hangar fell upon deaf ears at Congress, despite support from NASA Ames Research Center where Hangar One is located, with similar results at the space agency's headquarters in Washington. With the Navy stripping the toxic siding from the 200-foot-tall 1933 structure, it was announced on Thursday that Google chiefs would step in and pay 100% of cost to restore the hangar and shell. In return, the executives would acquire the long term lease for Hangar One, allowing them to store the eight planes (including two jumbo jets and several Gulfstream jets) within the structure.
Google Execs Pay $32m to Restore Iconic Hanger One Building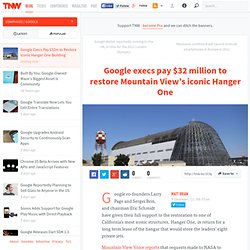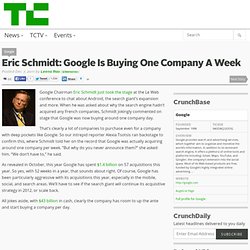 Eric Schmidt: Google Is Buying One Company A Week
Google Chairman Eric Schmidt just took the stage at the Le Web conference to chat about Android, the search giant's expansion and more. When he was asked about why the search engine hadn't acquired any French companies, Schmidt jokingly commented on stage that Google was now buying around one company day. That's clearly a lot of companies to purchase even for a company with deep pockets like Google. So our intrepid reporter Alexia Tsotsis ran backstage to confirm this, where Schmidt told her on the record that Google was actually acquiring around one company per week. "But why do you never announce them?" she asked him.
Google's sale of a previously purchased arm of the company this morning, 3D modeling software SketchUp, to Trimble , is its first divestment in years, and according to sources the search giant made a profit, as it sold SketchUp for more than it bought it for back in 2006. This could signal a sea change in how Larry Page executes his vision for a leaner, more focused Google. The company frequently shuts down extraneous products , but that requires redistribution of their team members internally. If it's now willing to sell them instead, Google could streamline around the theme of making user's lives more convenient, while making some money at the same time. It wasn't that SketchUp wasn't working. It had 30 million activations since joining Google as part of @Last Software in March 2006.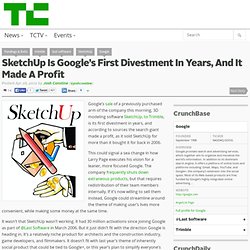 SketchUp Is Google's First Divestment Ever, And It Made A Profit