General...
Art cyclopedia: The Fine Art Search Engine
Art.com - Posters, Art Prints, and Framed Art Leader.
Pictures Of Walls
Web Gallery of Art, image collection, virtual museum, searchable database of European fine arts (1000-1850)
art & new media.jpg (1972x1130)
Histoire des arts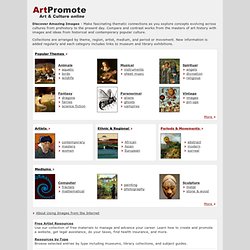 Discover Amazing Images - Make fascinating thematic connections as you explore concepts evolving across cultures from prehistory to the present day. Compare and contrast works from the masters of art history with images and ideas from historical and contemporary popular culture. Collections are arranged by theme, region, artist, medium, and period or movement.
Art & Culture Online
Art-Spire, Source d'inspiration artistique /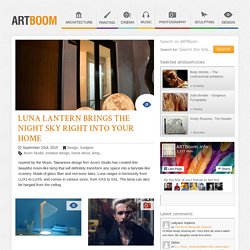 Unusual and surreal, the latest series from Fabienne Rivory entitled "Miroir" explores the unique interaction between painting and photography, revealing the fine line that links reality and imagination. The photographs are from the artists personal collection, and the painting is made with gouache or inks, which are later combined in an digital environment, where textures, splatters and... Nature is an endless source of inspiration for any artist, and in any form of art. Belarusian artist Anastasia Kovaleva uses found organic material to create her imaginative and intricate collages. From dreamy landscapes, to cards and decorative objects, Today I am so siked and extremely proud to present the amazing art of one my fellow citizens, Marinela Boicu.
ARTBoom.info | The World of the Seven Arts
Art Project, powered by Google
Yesterday we featured the National Gallery of Art's site NGA Images, where you can download 25,000 high-quality digital images of that museum's works of art. Today, why not have a look at Google Art Project? Though we've posted about it before, you'll want to check out its slick new redesign — not to mention its expanded collection, which now includes more than 40,000 works of art from over 250 museums.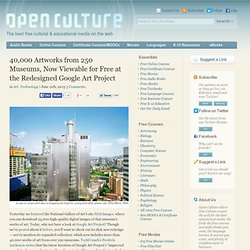 40,000 Artworks from 250 Museums, Now Viewable for Free at the Redesigned Google Art Project
Portal:Arts
The Creative Finder: Find Anyone from Anywhere on The Search Engine for Creatives
A few weeks back we posted about Filip Dujardin's digitally manipulated buildings, which gave buildings found in and around Ghent, Belgium an Escherian spin. And since then we've come across another photographer, Victor Enrich, who likes to bend reality by turning architecture into surreal playgrounds by forming buildings that, while fiction, are sometimes reminiscent of Frank Gehry's iconic, if controversial, designs. Where Filip Dujardin's manipulations were subtle and implausible in their re-imaginings, the images below are far more outlandish. Buildings are bent over like a concertina or plonked down on the beach, stairways lead off into the sky, high-rise apartments have grown bull horns, and houses are completely tipped over with roofs sitting at ground level.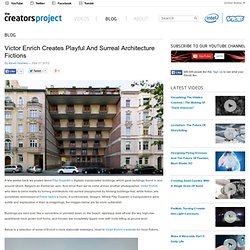 Victor Enrich Creates Playful And Surreal Architecture Fictions
Community timeline Invitation to Intercultural online Visual Arts Exhibition Dear!! I would like to invite you to participate to the Edition 2014 of the: "A Creative Wall Voices" It is an Cross-Cultural, virtual Exhibition and contest... To see How to participate, go to: http://www.kiltiris.com/ Or Visit the following link for more info: http://kiltiris.org/groups/a-creative-wall-voices The Top 5 artists will be primed!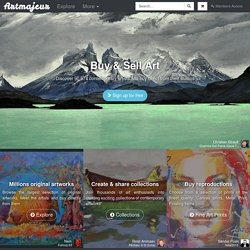 Artmajeur Galerie d'Art en ligne : 1 Million d'Oeuvres d'Art originales à vendre ou découvrir
Yanko Design - Modern Industrial Design News
Ever wonder why there are different glasses for different wines? The idea is that each wine deserves its own type of glass to enhance its unique flavor, aroma and color. It's an often overlooked part of the experience that every vino-enthusiast has come to appreciate. Inspired by this concept, the Doublet incorporates not one, but two of the more common types into one beautiful, seamless, stemless piece.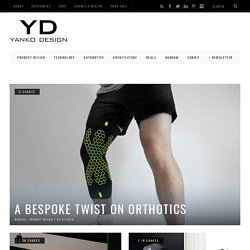 Ben Aqua, NEVER LOG OFF, 2013 (Limited edition t-shirt designed for #FEELINGS)We are no longer mostly dealing with information that is transmitted form a source to a receiver, but increasingly also with informational dynamics—that is with the relation between noise and signal, including fluctuations and microvariations, entropic emergences and negentropic emergences, positive feedback and chaotic processes. If there is an informational quality to contemporary culture, then it might be not so much because we exchange more information than before, or even because we buy, sell or copy informational commodities, but because cultural processes are taking on the attributes of information—they are increasingly grasped and conceived in terms of their informational dynamics.- Tiziana Terranova, Network Culture: Politics for the Information Age
Rhizome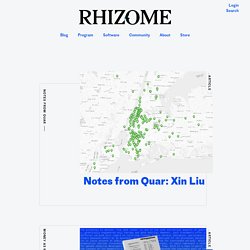 Panorama de l'art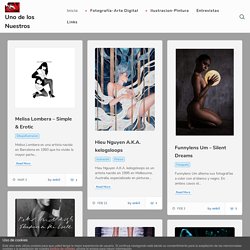 Gina Higgins© – Truckstop Angel Gina Higgins es una artista nacida en Nueva Orleans y criada en Hollywood Hills, al norte de Mulholland Drive. Desarrolla su pasión por el arte desde muy joven, reconociendo sus habilidades artísticas por el ambiente en el que se crió. Su madre era concertista de piano y cantante que realizó un disco de cierto éxito en Italia a finales de los 70. Su padre era un arquitecto y fotógrafo que documentó los emblemáticos rascacielos en el centro de Los Ángeles, y un primo suyo fue un destacado artista contemporáneo del noroeste.
Uno de los nuestros
TheFWA
Collaborative Arts Community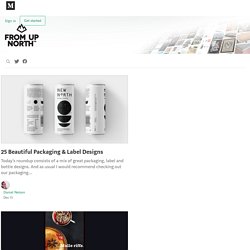 April 17, 2014 8 Likes User interface inspiration | #963 In our UI galleries we're presenting our latest findings of the most stunning menus, buttons and other interface elements from mobile apps, applications and webpages. For more great inspiration of this kind, check out our board on Pinterest: http://pinterest.com/fromupnorth/gui/. If you would like to send us suggestions for these galleries, please click on the button […]
From up North - High quality design inspiration
illegal-art.org :: a project of Stay Free! magazine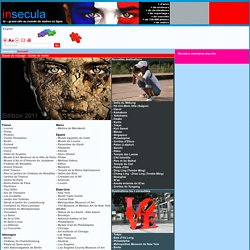 Insecula.com
Maroc - Médina de Marrakech - Mosquée Hassan II - Volubilis Egypte - Musée égyptien du Caire - Musée de Louxor - Pyramides de Gizeh - Saqqarah - Karnak - Abou Simbel - Philae - Médinet Habou - Edfou - Memphis - Temple de la Reine Hatchepsout - Vallée des Rois - Croisière sur le Nil - Assouan - Louxor Etats-Unis New York - New York - World Trade Center - Central Park - Metropolitan Museum of Art - The Museum of Modern Art de New York (MoMA) - Statue de la Liberté - Ellis Island - Brooklyn Washington - National Gallery of Art Philadelphie - Philadelphie - Musée d'art de Philadelphie Chicago - Chicago - Art Institute of Chicago Las Vegas - Las Vegas San Francisco - San Francisco - Alcatraz - Palais californien de la Légion d'Honneur - The Museum of Modern Art de San Francisco (SFMoMA) - Musée des Arts Asiatiques de San Francisco (Asian Art Museum) Los Angeles - Los Angeles - Los Angeles County Museum of Art - J.
Hyperspace Studios
The Latest Ask Guy Column: What About My Sore, Tired Back? Over the course of 25 years of tattooing I've encountered my physical limits a few times; I've had my back lock up on me, along with some pretty frightening hand and wrist issues that I could only resolve through making lifestyle changes, which fortunately seems to have resolved the problem. This is an issue that many tattooists face at one point or another, sitting for long hours day after day across the years in less-than-ideal body positions... eventually it all catches up with you. I've always believed that surgery and that kind of invasive therapy can often be avoided by being more conscious of how you work and by making the right changes where needed. I still work long hours sometimes but have found other ways of pacing myself, and hope to be tattooing still another 25 years from now.
Blog creado por enkil - Barcelona Ilustración/Pintura 2010-2013 Danilo Martinis Harold Muñoz
Todo Enlaces – Links
Heath West Heath West <-- Born in Houston, Texas; Lives and works in Houston; Education: 2008-2009 Master of Science in Advanced Architectural Design Columbia University, Graduate School of Architecture, Planning, and Preservation, New York, NY; 2006-2007 Visiting Student, Studio Wolf D. Prix University of Applied Arts, Vienna, Austria; 2004-2007 Master of Architecture University of Houston, Gerald D. Hines College of Architecture Jon Foster Jon Foster graduated from Rhode Island School of Design in 1989 with a BFA In illustration.
Sweet Station
d'ART - The Internet Art Database
ARTISTdirect Network
RAW:natural born artists
Ministère de la culture - Direction des musées de France - Base Joconde
Fine art
The Fantastic in Art and Fiction
the drawings of Leonardo da Vinci
Society6 | Affordable Art Prints, iPhone Cases and T-shirts
Universal Leonardo: Leonardo da Vinci online › Welcome to Universal Leonardo
Webexhibits
UbuWeb
Further Collective - Home
Draw As A Maniac
org - The First Art Newspaper on the Net
Home - Web gallery of art