Advertising my life !
Search No More: All the 2013 Super Bowl Spots in One Place | Special: Super Bowl. See Seth Rogen And Paul Rudd In Samsung Super Bowl Teaser. Samsung's next big thing is here and it's Seth Rogen and Paul Rudd doing a commercial for the Super Bowl.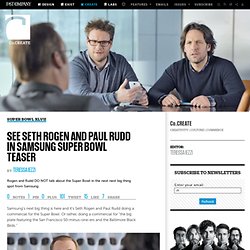 Or rather, doing a commercial for "the big plate featuring the San Francisco 50-minus-one-ers and the Baltimore Black Birds. " The 60-second teaser shows Rudd and Rogen pitching a Super Bowl spot idea to Bob Odenkirk, who is putting the kibosh on any talk of the actual Super Bowl or its participants, leaving the two actors to come up with some work-arounds. The full, two-minute spot, from Samsung agency 72andSunny and directed by Iron Man's Jon Favreau, will be released this week. Apple iPhone 5: Dream.
Don't Drink & Drive this New Year's Eve. Michurin: Selection. The past and the future of famous logos. We review the history and imagine how Apple and other famous logos will look like in the future.Update: I added 6 more predictions.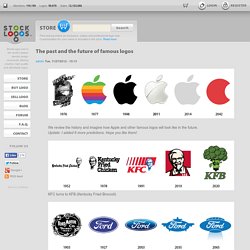 Hope you like them! KFC turns to KFB (Kentucky Fried Broccoli) Ford Shell will switch from fossil to solar energy. Conan Visits the Dublin Guinness Brewery Just to Get Free Beer. " Conan wants to skip the technical blah-blah-blah and get right to the free beer. " Late night talk show host Conan O'Brien recently visited the Guinness Brewery in Dublin, Ireland in the hopes of getting a pint of their famous beer for free.
As he found out, good things come to those who wait. Foot Locker: Week of Greatness featuring Kyrie Irving. What Marketing Execs Must Know About Making Commercials | Agency News. Obama Campaign: Wake the F**K Up. ESPN: Usain Bolt. Vending Machines Sells Unique Artworks [Pics] Advertising firm Wieden+Kennedy isn't just known for producing creative campaigns, but also for its active involvement in community projects.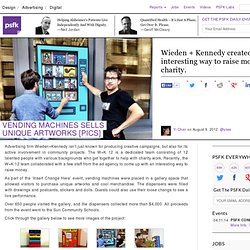 The W+K 12 is a dedicated team consisting of 12 talented people with various backgrounds who get together to help with charity work. Recently, the W+K 12 team collaborated with a few staff from the ad agency to come up with an interesting way to raise money. McDonald's: Heros. Toutes les publicités des Jeux Olympiques de Londres 2012 ! #JO2012. Nombreuses sont les marques à s'associer à de grands évènements sportifs, surtout lorsqu'ils ont un rayonnement mondial, comme le Super Bowl ou les Jeux Olympiques !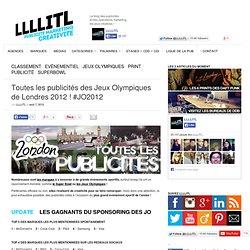 Partenaires officiels ou non, elles rivalisent de créativité pour se faire remarquer. Voici donc une sélection, la plus exhaustive possible, des publicités créés à l'occasion du plus grand évènement sportif de l'année ! Louis Vuitton – Dream. Vitaminwater piège les sportifs du dimanche. FRANCE – A l'heure des Jeux Olympiques de Londres, tous les athlètes ont droit à leur quart d'heure de gloire sportive.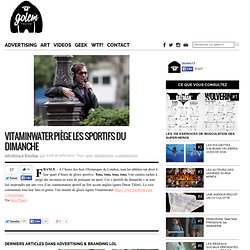 Tous, tous, tous, tous. Une caméra cachée à piégé des inconnus en train de pratiquer un sport. Jay-Z Stars in Duracell's Latest Campaign, 'Never Be Powerless' - AgencySpy. Les 20 publicités les plus vues de tous les temps sur YouTube. Nous nous plaignons des publicités subies avant les vidéos sur Internet, mais paradoxe : certaines publicités obtiennent, volontairement, plusieurs millions de vues !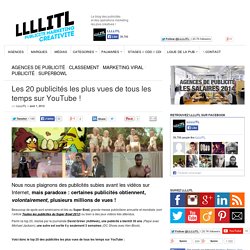 Beaucoup de spots sont américains et liés au Super Bowl, grande messe publicitaire annuelle et mondiale (voir l'article Toutes les publicités du Super Bowl 2012 ) ou bien à des jeux vidéos très attendus. Parmi ce top 20, réalisé par le journaliste David Griner (AdWeek), une publicité a bientôt 30 ans (Pepsi avec Michael Jackson), une autre est sortie il y seulement 3 semaines (DC Shoes avec Ken Block). Les personnages de Street Fighter en LEGO. Sprite's New Tagline: 'There's Nothing Soft About It' | News. Advertising news & advertising jobs - visit Campaign's website f.
CBNews : Actualité des médias, des marques, de la communication, ConseilsMarketing, blog de conseils marketing gratuit. Advertising Agency & Marketing Industry News. Veuve Clicquot Releases Champagne In A Sardine Can. To play tribute to the origins of the French champagne house, Veuve Clicquot, it has released a limited edition of its famous Brut Yellow Label in a bright-colored sardine tin.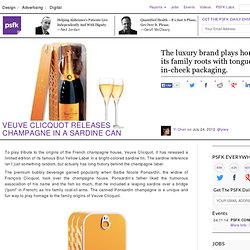 The sardine reference isn't just something random, but actually has long history behind the champagne label. The premium bubbly beverage gained popularity when Barbe Nicole Ponsardin, the widow of François Clicquot, took over the champagne house. Ponsardin's father liked the humorous association of his name and the fish so much, that he included a leaping sardine over a bridge ("pont" in French) as his family coat-of-arms. The canned Ponsardin champagne is a unique and fun way to play homage to the family origins of Veuve Clicquot. Veuve Clicquot. Colored Pencil Portraits of Television & Film Families by Kirk Demarais. Stratégies - Marketing, Communication, Médias, Marques, Conseils, Publicité.
---