Eat
Fruits + Vegetables | Rebel Dietitian, Dana McDonald, RD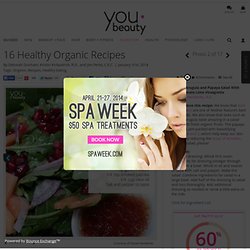 With so many store shelves brimming with organic foods—from produce to poultry—going organic is more popular than ever. And for good reason: Grown without chemical pesticides, fertilizers, antibiotics or hormones, organic foods are one way of limiting your exposure to toxins that have been linked to cancer. They can also help protect the environment by reducing pollution and conserving our natural resources. So now that you've loaded up your shopping cart with organic goodies, what should you do with them all? Try these 16 delicious, nutrient-rich recipes with organic ingredients—naturally. Organic Arugula and Papaya Salad With Pomegranate-Lime Vinaigretteby Diane Henderiks, R.D.
Healthy Organic Recipes
I started out with the intention of coming up with a recipe for a homemade version of the store bought energy drinks, but after doing some research and discovering how unhealthy they are for you, I decided instead to try and design a less sugar/caffeine fueled way to help myself through the workday afternoon sleepy slump. What I landed on was a system of three drinks and some energy boosting ideas that are going a long way to helping me keep my energy up all day long! Here's the good on the drinks: The Fire Hydrant (left) - 3-4 8oz glasses throughout the day filtered water 1 slice lemon 1 pinch cayenne pepper
Homemade Energy Drink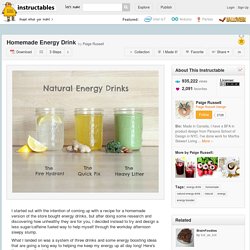 Has everyone seen the new cookie shot glasses that are making the blog rounds? It was announced recently by Dominique Ansel, who gave us the cronut in 2013. These have been seriously big news the last week.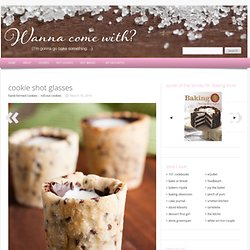 Homemade Cookie Shot Glasses | wanna come with?
most favorited last month
33 Genius Three-Ingredient Recipes |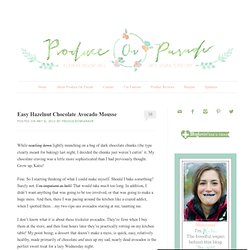 Easy Hazelnut Chocolate Avocado Mousse | Produce On Parade
While scarfing down lightly munching on a bag of dark chocolate chunks (the type clearly meant for baking) last night, I decided the chunks just weren't cuttin' it. My chocolate craving was a little more sophisticated than I had previously thought. Grow up, Katie! Fine.
29 Super-Easy Avocado Recipes
Food For Thought: The ultimate health food guide
100 Healthy, Delicious and Easy Lunchbox Snack Ideas on FamilyFreshCooking
One of the most important features successful lunchboxes have are the snacks you tuck inside. You need a main meal for lunch & to keep energy levels high throughout the day it's best to have well balanced, tasty and healthy snacks at the ready. Snacks don't have to be over thought, they just need to provide essential nutrients and calories to keep you going. Reaching for overly processed items in vending machines and the school cafeteria are costly, filled with sugars, salt, also empty calories.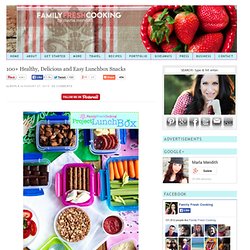 1. Banana Dog Bites Here's a reason to get excited about a classic-old combo: bananas — a darling energy-boosting carbohydrate — wrapped in wheat tortillas and peanut butter. Recipe here. 2. Mason Jar Hummus and Veggies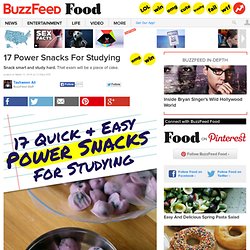 17 Power Snacks For Studying
Thai Shrimp Bisque Recipe
Roasted Squash Soup with Turkey Croquettes Recipe
Chicken Barley Soup with Walnut Pesto Recipe
Yes, I'm jumping on this bandwagon…weeeee! Cauliflower pizza crust has been around since 2009 when Your Lighter Side posted the original version. I had a hard time finding a recipe for it that… Didn't have added cheeseHeld together well enough to be picked upHas exact measurementsHas nutritional information
Personal Pan Cauliflower Pizza Crust (Dairy-Free)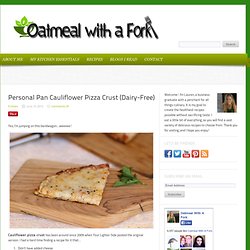 Winter is coming, the harvest is here, and if you want to pack your freezer full of ready to eat, or ready to cook foods, now is the time! We are big fans of freezing healthy food here. If you don't have extra room in your freezer, or have been wanting a deep freezer, check your local classified ads. I was able to pick up our deep freezer in our local classifieds for $40!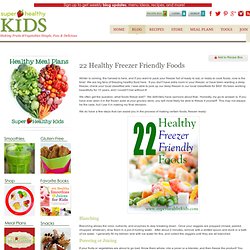 22 Healthy Freezer Friendly Foods | Healthy Ideas for Kids
Hot Cranberry Spinach Salad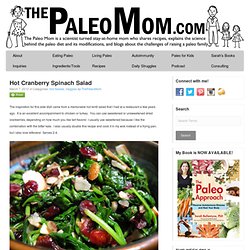 The inspiration for this side dish came from a memorable hot lentil salad that I had at a restaurant a few years ago. It is an excellent accompaniment to chicken or turkey. You can use sweetened or unsweetened dried cranberries, depending on how much you like tart flavors!
28 Simple & Natural Ways to Detox your Body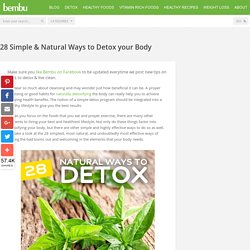 Make sure you like Bembu on Facebook to be updated everytime we post new tips on ways to detox & live clean. We hear so much about cleansing and may wonder just how beneficial it can be. A proper cleansing or good habits for naturally detoxifying the body can really help you to achieve amazing health benefits. The notion of a simple detox program should be integrated into a healthy lifestyle to give you the best results. Just as you focus on the foods that you eat and proper exercise, there are many other elements to living your best and healthiest lifestyle. Not only do these things factor into detoxifying your body, but there are other simple and highly effective ways to do so as well.
One thing I love: this dressing, which I am still licking off my fingers as I type this. TMI? One thing I Do Not Like: when I have to stay home alone. Example –> when Bjork goes on work trips. He got invited to go to an affiliate conference with a friend, so, you know, they spent a few days having nice dinners and shaking peoples' hands.
Rainbow Chicken Salad with Almond Honey Mustard Dressing
Salad Dressing | Rebel Dietitian, Dana McDonald, RDRebel Dietitian, Dana McDonald, RD
26 Food Swaps To Make You Healthier
1. Instead of a bagel, use an English muffin. Swap the 3½-inch bagel with 1 tablespoon each cream cheese and fruity jam for a whole-wheat English muffin topped with a tablespoon of peanut butter and fresh strawberry slices.
by Maria Popova "No one decides what you are going to have for dinner, what's your favorite ice cream, and what flavor fluoride you take at the dentist, so why would you let someone else tell you what to drink?" As a lover of activity books for grown-ups and all things Wendy MacNaughton, I was instantly smitten with The Essential Scratch and Sniff Guide to Becoming a Wine Expert (public library) — a delightful kid-style board book about a grown-up topic, written by expert winemaker Richard Betts, one of the world's fewer than 200 Master Sommeliers, illustrated by MacNaughton and designed by Crystal English Sacca. Unlike the air of snobbery that often surrounds vino culture, the approach Betts takes is all about swinging the cellar door open and inviting us to savor the everyday wonders of this beloved yet surprisingly unassuming beverage. The ability to do that, however, is a skill — and, like anything worthwhile, it's better learned with hands-on joy than with theoretical drudgery.
Vino Sans Snobbery: A Charming Illustrated Scratch-and-Sniff Guide to Becoming a Wine Expert
21 Meals With Tons Of Protein And No Meat
1. Bean, Kale, and Egg Stew Between the kidney beans, kale, egg, and cheese, each serving dishes up a solid 28 grams of protein. Get the recipe here. 2. Cashew Noodles with Broccoli and Tofu
29 Healthy Versions Of Your Favorite Comfort Foods
29 Healthy Versions Of Your Favorite Comfort Foods
100 Best Foodies Websites of 2013
10 elegant, inexpensive, homemade holiday gift ideas
Wine-Pairing.png (PNG Image, 1280 × 720 pixels)
Sweet Potato Gnocchi
NoshOnIt | Recipes & Cooking Tips in Your Inbox
17 Life-Saving Thanksgiving Cooking Hacks
Top 25 Delicious Breakfast Hacks | Life Hacks
LaSaGnA TiMpAnO
Well-Girl
Fab It Up: Backyard Bonfire
100 Days of Real Food
Cheesecake Stuffed Strawberries
Banana Hummus Recipe - How to Make Banana Hummus
40 Amazing Grilled Cheese Sandwich Recipes
10 Commandments Of Awesome Hot Chocolate
15 Amazing Ways To Spike Hot Chocolate
The 34 Simple Two-Ingredient Recipes | Crazy Food
Best Steak Marinade in Existence Recipe
Top Green Smoothie Recipes - Simple Green Smoothies
Cheese & Burger Society
Belly-Friendly No Bake "Cheesecake" Bites (Gluten/Casein/Refined Sugar Free)
A cupcake for every day of the month.
31 Fun Treats To Make In A Muffin Tin
Paleo Diet In A Nutshell (Infographic) | DrVita
World's Best Peanut Butter Cookies, Chef Chuck Kerber | Pittsburgh Hot Plate PittsburghHotPlate.Com | Pittsburgh Restaurant Reviews | Food Blog| Cooking Tutorials And Much More | Food | Cooking | Recipes | Food Blog | Pittsburgh
kitchencheatsheet.gif (GIF Image, 900 × 5870 pixels)
Popsicles!
20 brilliant things to make in a jar
2-Minute Chocolate Chip Cookie For One
Veggie Quiche (grain-free, dairy-free, vegetarian, paleo) - Earth Energy Yoga | Earth Energy Yoga
Simple Paleo Veggie Quiche | Kohler Created
Paleo Granola
Thai Beef Lettuce Wraps | Life As A Plate
Juice Recipes - Detox Your Body Naturally | Fitlife.TV
Buffalo Chicken Dip { Tailgating Food for #SundaySupper } - Home Cooking Memories
Spicy Buffalo Cauliflower 'Wings'
34 Insanely Simple Two-Ingredient Recipes
Primal Gluten Free Chocolate Chip Cookies - Elana's Pantry
11 Things You Probably Didn't Know About Popular Snacks
The Best/Worst Times to Eat Fruit
Black Bean and Butternut Squash Burritos
Easy as hell pizza balls by ~1stFrostfirewolf on deviantART
Kitchen Cheat Sheet Guide On Basic Cooking Techniques | Sodapic.com
9 Bento Lunch Ideas - The Bento Beginnings
foodgawker | feed your eyes
TasteSpotting | a community driven visual potluck