Eat
Thai Shrimp Bisque Recipe
Roasted Squash Soup with Turkey Croquettes Recipe
Chicken Barley Soup with Walnut Pesto Recipe
Yes, I'm jumping on this bandwagon…weeeee!
Personal Pan Cauliflower Pizza Crust (Dairy-Free)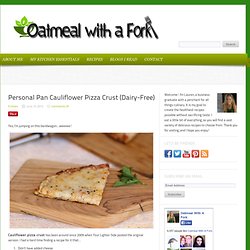 Winter is coming, the harvest is here, and if you want to pack your freezer full of ready to eat, or ready to cook foods, now is the time!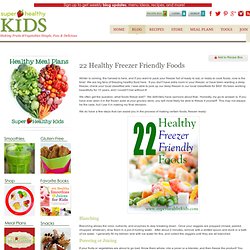 22 Healthy Freezer Friendly Foods | Healthy Ideas for Kids
Hot Cranberry Spinach Salad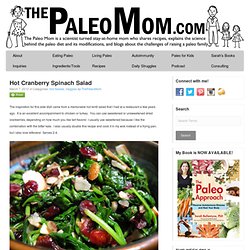 The inspiration for this side dish came from a memorable hot lentil salad that I had at a restaurant a few years ago. It is an excellent accompaniment to chicken or turkey. You can use sweetened or unsweetened dried cranberries, depending on how much you like tart flavors!
28 Simple & Natural Ways to Detox your Body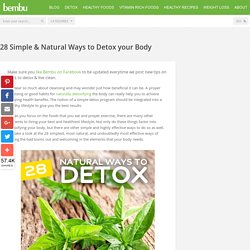 Make sure you like Bembu on Facebook to be updated everytime we post new tips on ways to detox & live clean. We hear so much about cleansing and may wonder just how beneficial it can be. A proper cleansing or good habits for naturally detoxifying the body can really help you to achieve amazing health benefits. The notion of a simple detox program should be integrated into a healthy lifestyle to give you the best results. Just as you focus on the foods that you eat and proper exercise, there are many other elements to living your best and healthiest lifestyle. Not only do these things factor into detoxifying your body, but there are other simple and highly effective ways to do so as well.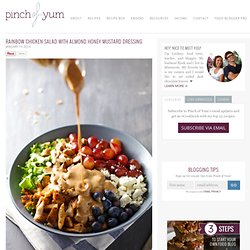 One thing I love: this dressing, which I am still licking off my fingers as I type this.
Rainbow Chicken Salad with Almond Honey Mustard Dressing
Salad Dressing | Rebel Dietitian, Dana McDonald, RDRebel Dietitian, Dana McDonald, RD
26 Food Swaps To Make You Healthier
by Maria Popova "No one decides what you are going to have for dinner, what's your favorite ice cream, and what flavor fluoride you take at the dentist, so why would you let someone else tell you what to drink?" As a lover of activity books for grown-ups and all things Wendy MacNaughton, I was instantly smitten with The Essential Scratch and Sniff Guide to Becoming a Wine Expert (public library) — a delightful kid-style board book about a grown-up topic, written by expert winemaker Richard Betts, one of the world's fewer than 200 Master Sommeliers, illustrated by MacNaughton and designed by Crystal English Sacca. Unlike the air of snobbery that often surrounds vino culture, the approach Betts takes is all about swinging the cellar door open and inviting us to savor the everyday wonders of this beloved yet surprisingly unassuming beverage. The ability to do that, however, is a skill — and, like anything worthwhile, it's better learned with hands-on joy than with theoretical drudgery.
Vino Sans Snobbery: A Charming Illustrated Scratch-and-Sniff Guide to Becoming a Wine Expert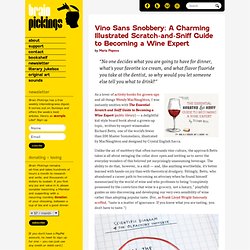 21 Meals With Tons Of Protein And No Meat
29 Healthy Versions Of Your Favorite Comfort Foods
29 Healthy Versions Of Your Favorite Comfort Foods
100 Best Foodies Websites of 2013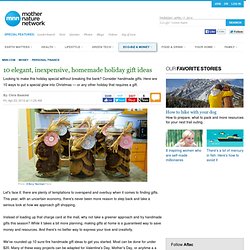 10 elegant, inexpensive, homemade holiday gift ideas
Let's face it: there are plenty of temptations to overspend and overbuy when it comes to finding gifts. This year, with an uncertain economy, there's never been more reason to step back and take a serious look at how we approach gift shopping. Instead of loading up that charge card at the mall, why not take a greener approach and try handmade gifts this season? While it takes a bit more planning, making gifts at home is a guaranteed way to save money and resources. And there's no better way to express your love and creativity.
Wine-Pairing.png (PNG Image, 1280 × 720 pixels)
Sweet Potato Gnocchi
I quickly emailed my recipe for homemade gnocchi to Jill last week, certain she could master a version made with sweet potatoes. I knew I had given the task to the right woman because after two attempts, she's made a version of sweet potato gnocchi that looks absolutely perfect.
NoshOnIt | Recipes & Cooking Tips in Your Inbox
17 Life-Saving Thanksgiving Cooking Hacks
Top 25 Delicious Breakfast Hacks | Life Hacks
I went to see tUnE-yArDs on Monday night with some friends, and as always we wanted to cook a meal that somehow related to the show we were heading to. Sometimes this is hard to do, but other times it seems to come naturally. Finding culinary inspiration in Merrill's lyrics seemed like it would be tough, but my sister knew what she wanted to make without hesitation. "How about something layered, because of all the vocal and instrument layering in the music?" From there we worked together to come up with this deep, colorful, and multi-flavored lasagna version of a timpano.
LaSaGnA TiMpAnO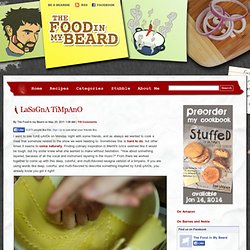 Well-Girl
Fab It Up: Backyard Bonfire
100 Days of Real Food
Cheesecake Stuffed Strawberries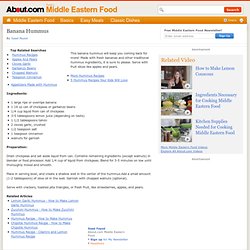 Ingredients: 1 large ripe or overripe banana1 16 oz can of chickpeas or garbanzo beans1/4 cup liquid from can of chickpeas3-5 tablespoons lemon juice (depending on taste)1 1/2 tablespoons tahini2 cloves garlic, crushed1/2 teaspoon salt1 teaspoon cinnamonwalnuts for garnish Preparation: Drain chickpeas and set aside liquid from can. Combine remaining ingredients (except walnuts) in blender or food processor. Add 1/4 cup of liquid from chickpeas.
Banana Hummus Recipe - How to Make Banana Hummus
40 Amazing Grilled Cheese Sandwich Recipes
10 Commandments Of Awesome Hot Chocolate
15 Amazing Ways To Spike Hot Chocolate
The 34 Simple Two-Ingredient Recipes | Crazy Food
Best Steak Marinade in Existence Recipe
Top Green Smoothie Recipes - Simple Green Smoothies
Details Cilantro-Mango Detox Immunity Boosters Cilantro Limeade Immunity Boosters Join the 21-Day Cleanse! Seasonal
Cheese & Burger Society
Well as a lot of you might already know, with the help of a bunch of amazingly generous folks, our Kickstarter was a huge success. (For those of you who don't know what I'm talking about.....just watch this.) Needless to say, after a crazy 17 day push I was more than a little bit worn out! In fact, it's taken me almost two weeks to sort out all my plans and get the "post-kickstarter" balls rolling.
Belly-Friendly No Bake "Cheesecake" Bites (Gluten/Casein/Refined Sugar Free)
A cupcake for every day of the month.
31 Fun Treats To Make In A Muffin Tin
Paleo Diet In A Nutshell (Infographic) | DrVita
World's Best Peanut Butter Cookies, Chef Chuck Kerber | Pittsburgh Hot Plate PittsburghHotPlate.Com | Pittsburgh Restaurant Reviews | Food Blog| Cooking Tutorials And Much More | Food | Cooking | Recipes | Food Blog | Pittsburgh
World's Best Peanut Butter Cookies
kitchencheatsheet.gif (GIF Image, 900 × 5870 pixels)
Popsicles!
20 brilliant things to make in a jar
2-Minute Chocolate Chip Cookie For One
Veggie Quiche (grain-free, dairy-free, vegetarian, paleo) - Earth Energy Yoga | Earth Energy Yoga
Simple Paleo Veggie Quiche | Kohler Created
Paleo Granola
Thai Beef Lettuce Wraps | Life As A Plate
Juice Recipes - Detox Your Body Naturally | Fitlife.TV
Buffalo Chicken Dip { Tailgating Food for #SundaySupper } - Home Cooking Memories
Spicy Buffalo Cauliflower 'Wings'
34 Insanely Simple Two-Ingredient Recipes
Primal Gluten Free Chocolate Chip Cookies - Elana's Pantry
11 Things You Probably Didn't Know About Popular Snacks
The Best/Worst Times to Eat Fruit
Black Bean and Butternut Squash Burritos
Easy as hell pizza balls by ~1stFrostfirewolf on deviantART
Kitchen Cheat Sheet Guide On Basic Cooking Techniques | Sodapic.com
9 Bento Lunch Ideas - The Bento Beginnings
foodgawker | feed your eyes
TasteSpotting | a community driven visual potluck