Future
The Harvard Food Law and Policy Clinic has several slots available each summer for summer interns. The Food Law and Policy Clinic aims to increase access to healthy foods, prevent diet-related diseases such as obesity and type 2 diabetes, and assist small and sustainable farmers and producers in breaking into new commercial food markets. The Food Law and Policy Clinic is part of Harvard Law School's Legal Services Center, located in the Jamaica Plain neighborhood of Boston.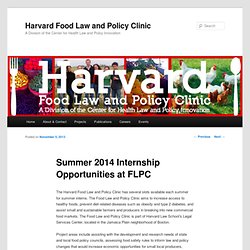 Summer 2014 Internship Opportunities at FLPC | Harvard Food Law and Policy Clinic
What To Do With A Law Degree, Careers for Lawyers, Types of Lawyers, Leaving Law, - JD Careers Out There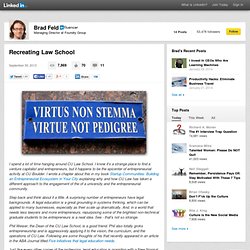 I spend a lot of time hanging around CU Law School. I know it's a strange place to find a venture capitalist and entrepreneurs, but it happens to be the epicenter of entrepreneurial activity at CU Boulder. I wrote a chapter about this in my book Startup Communities: Building an Entrepreneurial Ecosystem in Your City explaining why and how CU Law has taken a different approach to the engagement of the of a university and the entrepreneurial community. Step back and think about it a little.
Recreating Law School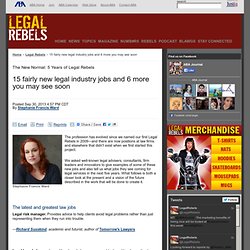 15 fairly new legal industry jobs and 6 more you may see soon
The New Normal: 5 Years of Legal Rebels Stephanie Francis Ward The profession has evolved since we named our first Legal Rebels in 2009—and there are now positions at law firms and elsewhere that didn't exist when we first started this project.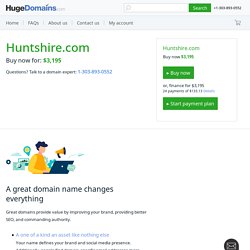 Hey Recruiters, stop acting like it is 2003
Its 2013 and most of you are still trying the find the right hires like it is 2003. Gone are the days when you can spend 15 seconds on a resume. On the contrary, candidates spend less than 15 seconds trying to understand your company. The best talent gets to choose companies and you have to be sufficiently attractive for them to even consider you. Every single recruiter out there should be a storyteller. These days, many job postings are attracting almost no qualified applicants at all.The fact is, the vast majority of people are happy with their current job.
Millennials Need To Learn These 14 Rules
Workaholics "Today's workplace doesn't tolerate slackers," says Gen Y career expert Dan Schawbel in his new book "Promote Yourself: The New Rules For Career Success." In a rapidly changing economy, young people either rise to the top or don't survive. To navigate the new workplace, Schawbel says millennials need to master a new set of rules that aren't taught in school. Advances in technology, the rise of social media, and 24/7 connectivity mean young people have to promote themselves and take ownership of their careers in ways that previous generations wouldn't or couldn't have imagined. Based on interviews and original research from Schawbel's Gen Y research firm Millennial Branding, he reveals the new rules of the modern workplace that young people must learn to get ahead.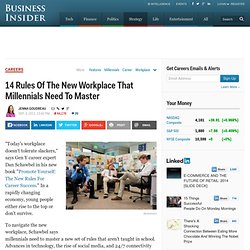 How to Write a Convincing E-mail
Initial networking contacts and requests for informational interviews are best sent as email messages. You may email or handwrite your thank-you notes, depending on your preference. Sample Networking Email Date: November 15, 2011 Subject: Informational Interview Request from HLS Student
Sample Networking Emails and Thank You Notes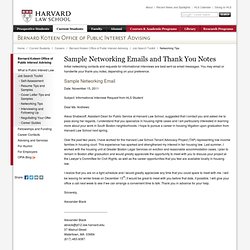 So You Want a Career in Food Policy? A Few Tips | Appetite for Profit
Seems like I've been getting more emails lately from strangers asking me for career advice. While I am flattered anyone thinks I have something to offer in this regard, I find it difficult to take time to answer such broad questions like, Should I go to law school or get a public health degree? How did you get into this work? Where can I find jobs in food policy? Or, from an actual email from an undergrad after a recent talk: "What advice could you give me regarding what my next internship/career/research directions could be?"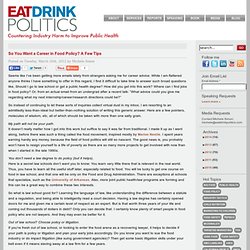 The 3 Keys to Charisma
Want to Work in the White House? - By Rosa Brooks So, you want to be a political appointee in the Obama administration's second term? With cabinet leadership turning over at State and DOD, half the people I know are wondering how to get their feet in the door. (The other half are wondering if anyone will be willing to pay their salaries when they finally leave their current jobs in the administration). But despite the many eager job candidates, there's not much honest or useful information available on how to find administration jobs.
Throw Out Your Resume
This means that they're interested in you, they want to talk to you, hear about your experiences and see what you're like face to face. Yes, it's cliche…but relax, be yourself. You shouldn't have to practice behavioural based questions in the mirror the night before, you'll probably psych yourself out. I recently received an e-mail sent to my business address that began with the salutation "Dear Ms. Anne," — the kind of greeting that suggested that the rest of the note would offer me riches from some recently deceased Estonian cousin I didn't know I had. It continued, "I know you have no idea who I am, however, I will try to keep this as short and to the point as possible" — words destined to cause a further sinking feeling about what was to come. But in the seconds I skimmed the note, a few words jumped out at me and I was intrigued. In three short paragraphs, Zanele Mutepfa, a junior at Portland State University in Oregon, told me that she was an immigrant Zimbabwean-born orphan and youth advocate who aspired to be a television talk show host.
Make a Stranger Believe in You - Anne Kreamer
Ranking The Go-To Law Schools
Realize that everyone's grades can improve each semester by honing study strategies. Students who did well can do even better. Students who ended up in the middle of the class can improve. And students whose grades placed them on academic probation can turn things around. Changes in study habits can mean not only higher grades in May, but also less stress during the semester and greater retention of material. Ask yourself the following questions to evaluate your study habits.
ADVICE FROM THE INSIDE | Law Student Division
2012 | Candidate Project
The New Lawyer; cool, custom infographic telling us it's only getting more competitive and how to deal with it.
College Admission Essay Writing and Editing, Personal Statement Help
Law School Personal Statement Samples Law School Personal Statement Articles Take a deep breath… By now you are probably well into the complications of applying to law school, which, as you probably well know, is more competitive than ever. Your law school applications and transcripts are going to need to be ready to go at least a month before the school's deadline.
Law Grads Face a Brutal Job Market
Updated June 25, 2012 10:18 a.m. ET Members of the law-school class of 2011 had little better than a 50-50 shot of landing a job as a lawyer within nine months of receiving a degree, according to a Wall Street Journal analysis of new data that provides the most detailed picture yet of the grim market for law jobs. Under pressure from disillusioned graduates and some professors, the American Bar Association for the first time released a tally of the previous year's graduates who have secured full-time, permanent jobs as lawyers. Until recently, the ABA required law schools to report only general data about how their graduates fared, such as how many were employed full-time or part-time in any kind of job, whether or not it required a law degree.
How To Write A Law School Personal Statement
Ezra Reese focuses his practice on political law and nonprofit tax law. He counsels clients on campaign finance issues for federal and state elected officials, political parties, other political organizations, trade associations and issue organizations. He also represents public charities and nonprofit organizations with respect to Internal Revenue Service restrictions, in particular those regarding lobbying and political activities. He also counsels organizations on issues relating to lobbying disclosure and ethics issues, including the regulation of gifts to and travel by Members of Congress and employees and officials of Executive Branch agencies. He has represented clients before the Federal Election Commission, before the Internal Revenue Service, and in federal court on campaign finance and nonprofit tax issues. Related Employment
Perkins Coie - Professionals - Ezra W. Reese
The Value of a Visit | Law School Expert
Sample Law Essay, Law School Personal Statement
legal_education
No, Entering Law School Is Not a Smart Way to Deal with the Terrible Job Market
Law School Applications: 5 Reasons Why You Shouldn't Rush Them in by October
Best Law School Rankings | Law Program Rankings
Best schools for public service | the National Jurist
Simone Fortunini Creates Google Analytics Resume
How to Make a Career in Public Service
The 25 Best Jobs Of 2012
What I Learned About Surviving Graduate School - Do Your Job Better
2012 | Candidate Project
5 Advanced Degrees Still Worth the Debt - Kiplinger