Food & Drink
Brown Butter Double Fudge Chocolate Chip Cookie Dough Cookies. Little bit of a mouthful there.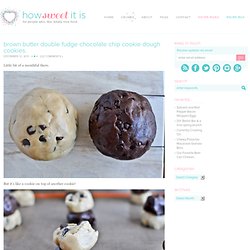 But it's like a cookie on top of another cookie! Yeah. Like total dirty cookie on cookie action. Except these ones down below wanted to try a few different positions. Grilled Smore Brownie. How To Make Perfect Brownies. I've tried lots of brownie recipes: Boxes, scratch, frosted, plain, nuts, chips, fudge … Each of them has something to like, but depending on my mood I might want a change of pace.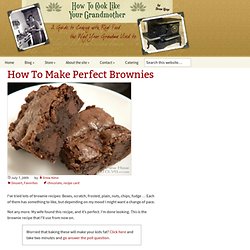 Not any more. My wife found this recipe, and it's perfect. Let's Go Pocoyo ! -Giving Loula a Bath (S01E19) Parmigiano Panko Herb Encrusted Chicken Breasts. This is my version of Italian Fried Chicken.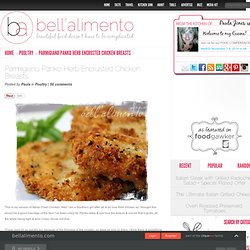 Well I am a Southern girl after all & do love fried chicken so I thought this would be a good marriage of the two! I've been crazy for Panko lately & just love the texture & crunch that it gives, all the while being light & airy! Crazy I know, but true. Avocado Fries. Oh dear.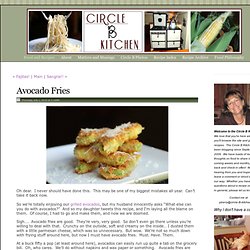 I never should have done this. This may be one of my biggest mistakes all year. Boy-Approved Spiked Pasta (Spaghetti with Vodka Cream Sauce) My boyfriend P has a busy, active job and is often too busy to eat a big lunch, if any lunch at all.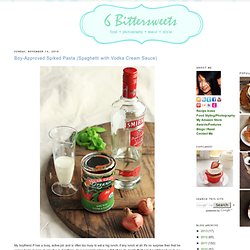 It's no surprise then that he comes home hungry at only 5 p.m. For those days especially, I have a list of go-to meals that can be whipped up in no time. And while P's sweet enough to try almost anything I cook, I reserve this list for only the dishes he gets excited about. Chief among them is this fabulous spaghetti alla vodka. 10 Tasty Mug Cakes That You Can Make in Just Minutes. By bellalimento | I'm sure you've heard of cakes that you make in a microwave in MINUTES.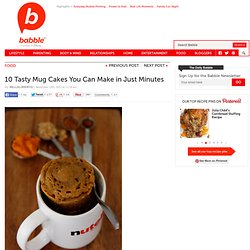 I have to admit the first time I saw a recipe for one I was skeptical. I mean how can you make a cake in just a few minutes in the microwave? So I set out to test the theory. Apple Pies & Jo In the Kitchen. I know, I've made a few pies lately.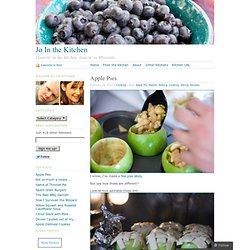 But see how these are different? Look at how adorable these are! I mean, come on. Broccoli parmesan fritters. Last week, it was pointed out to me that among the 750 recipes in the archives, there is but a single recipe that utilizes broccoli.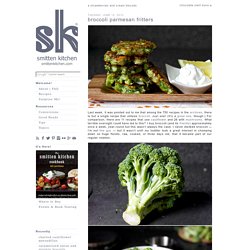 Just one! (It's a great one, though.) Crash Hot Potatoes | The Pioneer Woman Cooks. Man, do I love Australia.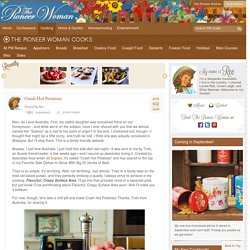 First, my oldest daughter was conceived there on our honeymoon…and while we're on the subject, have I ever shared with you that we almost named her "Sydney" as a nod to her point of origin? In the end, I chickened out, though—I thought that might be a little corny, and truth be told, I think she was actually conceived in Brisbane. How to Make Cake Pops: 15 steps (with pictures) Edit Article Edited by Cgabiyoyo, Girly99, Nicole Marie, Flickety and 62 others Cupcakes might be delicious;but cake pops are delicious and a lot more fun!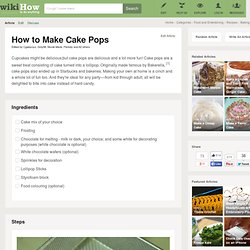 Rudolph cake pops. I've been wanting to try Bakerella's cake pops that I am seeing everywhere and thought adding some to teacher gifts would be a good excuse! I did them kind of "upside-down" as I envisioned adding little tags and plopping them down individually onto desks (like in the front office) to stand up on their own. I used red M&M's for the noses and little pearl sprinkles with food marker for eyes. I have to admit these are kind of addictive to make ... and eat. What a fun way to eat a bite of cake without a mess. Chocolate-Stuffed Red Velvet Cupcakes. How to Make Marshmallow Fondant. This time I decided to make it with those mini fruit flavored marshmallows. I had to sort them by colour first. I figured they would add a little bit of flavor to the fondant so I wouldn't have to add much flavoring oil.
I use gel colours to dye my fondant but regular food colouring will work too. You won't be able to get really dark colours without making your fondant sticky, but for lighter colours you can just even it out with more icing sugar. I also had lemon oil and coconut flavoring on hand.. oh la la the value brand (which still works fine). Moist Chocolate Cake. There's something to be said for a cake that you can whip up at 9 o'clock on a Friday night, after a serious doozy of a week, when you need some baking therapy that requires little to no brain power.
By the time this past weekend hit, I think anything requiring technique or poise in the kitchen would have had induced some kind of cerebral short circuiting – I imagine there would have been sparks, probably some twitching and likely even drool. Okay fine, so there might have been drool anyway. Actually, when the cake emerged, there was probably drooling and clapping. Lemon-Blueberry Yogurt Loaf. Lemon-Blueberry Yogurt Loaf Zingy Lemon-Blueberry Yogurt Loaf made with freshly squeezed lemon juice, lemon zest, yogurt and plump blueberries is lightly brushed with a lemon syrup then drizzled with a lemon glaze. Bursting with lemony flavor and fresh blueberries, this melt in your mouth will leave you begging for more. Food Pyramid Submissions. Spring Flower Lollipops. Happy first day of spring! To celebrate I've made a special treat for you with colorful spring flowers. I've been enamored with edible flowers ever since making candied rose petals earlier this year.
By doing a little research (that includes taste-testing) I've found that just because a flower is non-poisonous, doesn't mean it is also yummy. Braided Spaghetti Bread & The official blog of Americas favorite frozen dough. Dinner time. Cinnamon Roll Pancakes | RecipeGirl.com. The Infamous Jacques Torres Chocolate Chip Cookies. - StumbleUpon.
---