Responsive
The MailChimp Pattern Library is a byproduct of our move to a responsive, nimble, and intuitive app.
Pattern Library | MailChimp
embedresponsively.com
It's pretty common to set max-width: 100% on images in fluid layouts, so that they adapt to fit their container: When given room to breath, it'll take up as much space as it needs: And when restricted to a smaller container (e.g. a narrow screen), it'll automatically scale down to fit:
Don't Squash Me: Using min-width on Fluid Images | Blog | Stu Cox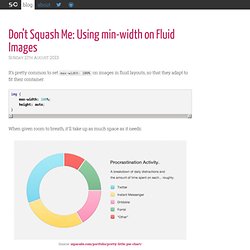 Responsive Measure is a simple script that allows you to pass in a selector (ideally the container where your primary content will go) which generates the ideal font size needed to produce the ideal measure for your text.
Responsive Measure: A jQuery plugin for responsive typography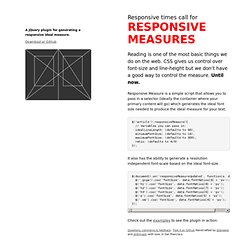 Making the design to be responsive is very easy as shown in my Responsive Design in 3 Steps tutorial, but maintaining the elements to look aesthetically balanced on all breakpoint layouts is an art.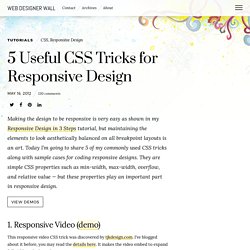 Responsive Design: Streamlining Your Process | Dolody
This Guide is most relevant to Sencha Touch, 1.x. Sencha.io Src helps you dynamically resize images for the ever increasing number of mobile screen sizes.
How to use src.sencha.io | Learn | Sencha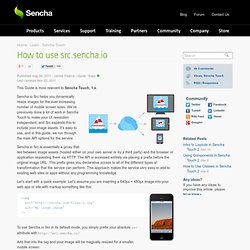 foodsense
Jeremy first raised his concern (about iPhone viewport scaling) and later by Andreas. My early view was stated here. Since this issue was raised, I have been trying to find ways to work around this problem.
A fix for iPhone viewport scale bug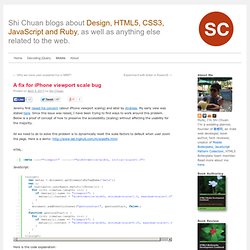 Recently I set out to build a responsive thumbnail gallery. I expected it to take me a few minutes, but in reality it took me a few hours to work through. We'll walk through a similar process today to help you get your mind wrapped around how it works. One major component of mastering responsive design is to figure out how to approach specific tasks and adjust to problems as they arise within the context of larger projects. One day you'll be working on a project and will need a responsive gallery and you'll remember this post on that very topic.
How to Build a Responsive Thumbnail Gallery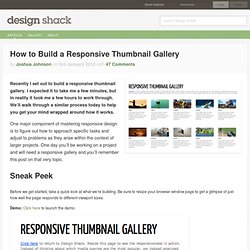 8 Responsive jQuery Slider Plugins | Resources
Whether you're already a pro at creating responsive web sites or your just learning what it's all about, it's good to have some scripts handy that you can easily integrate into your site. We all know how popular image and content sliders are now, and for good reason. So we decided to round up some jQuery slider plugins that are already responsive – meaning they will adapt to the size of their container.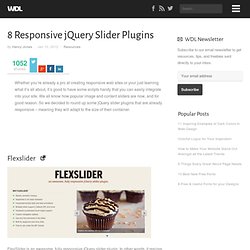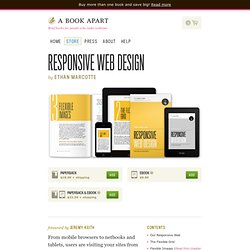 foreword by Jeremy Keith From mobile browsers to netbooks and tablets, users are visiting your sites from an increasing array of devices and browsers. Are your designs ready? Learn how to think beyond the desktop and craft beautiful designs that anticipate and respond to your users' needs. Ethan Marcotte will explore CSS techniques and design principles, including fluid grids, flexible images, and media queries, demonstrating how you can deliver a quality experience to your users no matter how large (or small) their display.
While I was coding the Elemin Theme (a responsive WordPress theme that I recently designed), one of the challenges that I faced was to make the embedded videos elastic. Using the max-width:100% and height:auto trick works with native HTML5 video tag, but it doesn't work with embed code using iframe or object tag. After hours of experimenting and Googling, I finally found a trick on how to achieve this.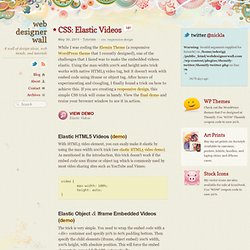 joshje/Responsive-Enhance - GitHub