Responsive (Web) Design
The Sparkbox Responsive Design Process
$( function()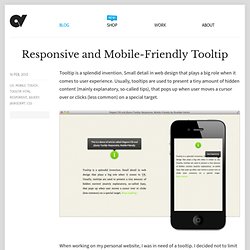 Responsive and Mobile-Friendly Tooltip · Osvaldas Valutis
Free Responsive Wireframe [PSD File]
The web is a wonderfully-mysterious thing, full of strangeness and entertainment and actual resources at times.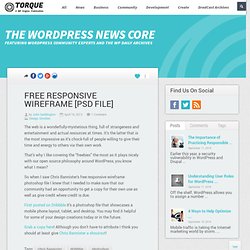 In this overview you will find the most useful and popular articles we have published on Smashing Magazine on Responsive Web Design. Design Process In The Responsive Age You cannot plan for and design a responsive, content-focused, mobile-first 1 website the same way you've been creating websites for years—you just can't. If your goal is to produce something that is not fixed-width and serves smaller devices just the styles they require, why would you use a dated process that contradicts those goals? I'd like to walk you through some problems caused by using old processes with responsive design.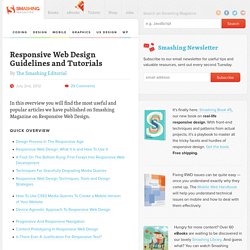 Useful and popular articles published on Smashing Magazine on Responsive Web Design by angelahoatwork Oct 22
This was inspired by, and based on @lensco's excellent Simple Responsive Design Test Page. It lets you view any webpage in multiple screen sizes, simulating the viewport of different devices. After getting such a positive response to my original script, I thought I'd expand on it a little. Since people are obviously targeting different device screen sizes with their projects, the form below now lets you generate a custom bookmarklet that displays only those device sizes you're interested in. A big thanks to Alaska Airlines for the delayed flight that made this possible, and the really boring project that I know I should be working on, but can't find the motivation. Urgh.
Responsive Design Test Bookmarklet - BenjaminKeen.com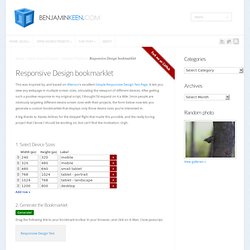 In this exclusive excerpt from Responsive Web Design with HTML5 and CSS3, Ben Frain explains how to create fluid layouts by converting pixel-based grids to proportions. Requires: Text editor, browser Project Time: 1-2 hours
Tutorial: Create fluid layouts with HTML5 and CSS3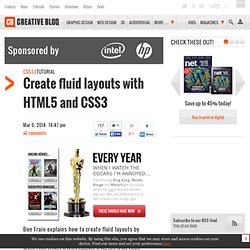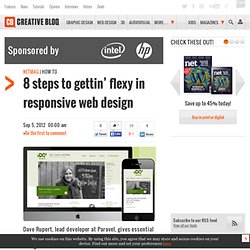 Five steps to gettin' flexy in responsive web design
Dave Rupert, lead developer at Paravel, gives essential tips and tricks on becoming flexible in responsive web design. For Paravel, the most difficult and interesting aspect of responsive web design has been the flexible nature of it.
UX Booth: How to design a mobile responsive web
Whether you're a beginner or a seasoned web professional, creating responsive designs can be confusing at first, mostly because of the radical change in thinking that's required. As time goes on, responsive web design is drifting away from the pool of passing fads and rapidly entering the realm of standard practice.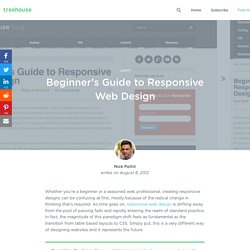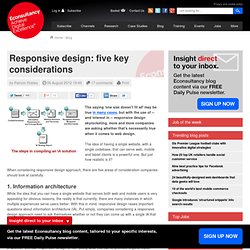 Responsive design: five key considerations
The saying 'one size doesn't fit all' may be true in many cases, but with the use of -- and interest in -- responsive design skyrocketing, more and more companies are asking whether that's necessarily true when it comes to web design.
Off Canvas What Now?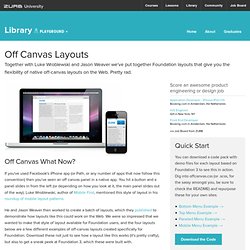 Adapting Ourselves to Adaptive Content | IA Summit 2012 | New Orleans, LA
For years, we've been telling designers: the web is not print. You can't have pixel-perfect layouts. You can't determine how your site will look in every browser, on every platform, on every device.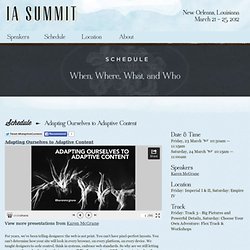 Multiscreen Patterns | precious, strategic design & visual language
Author: Christophe Stoll Date: 26. May 2011
Responsive web design term is related to the concept of developing a website design in a manner that helps the lay out to get changed according to the user's computer screen resolution. More precisely, the concept allows for an advanced 4 column layout 1292 pixels wide, on a 1025 pixel width screen, that auto-simplifies into 2 columns. Also, it suitably fixes on the smartphone and computer tablet screen.
Responsive web design is one of the hottest topics among designers and developers right now.
20 Amazing Examples of Using Media Queries for Responsive Web Design