Actualités
l'idiot du village | géopolitique, chaos et idiotie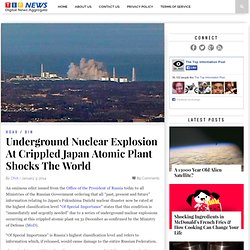 An ominous edict issued from the Office of the President of Russia today to all Ministries of the Russian Government ordering that all "past, present and future" information relating to Japan's Fukushima Daiichi nuclear disaster now be rated at the highest classification level "Of Special Importance" states that this condition is "immediately and urgently needed" due to a series of underground nuclear explosions occurring at this crippled atomic plant on 31 December as confirmed by the Ministry of Defense (MoD). "Of Special Importance" is Russia's highest classification level and refers to information which, if released, would cause damage to the entire Russian Federation. The Fukushima Daiichi nuclear disaster was a catastrophic failure at the Fukushima I Nuclear Power Plant on 11 March 2011.
Underground Nuclear Explosion At Crippled Japan Atomic Plant Shocks The World
Le Syndicat Agricole | le journal hebdomadaire agricole et rural - Le Syndicat Agricole
This 11 minute video shows us everything we need to know about Fukushima
Le Nouvel Observateur - Actualités en temps réel, Info à la Une
In the early nineteen-hundreds, Cornelius Vanderbilt IV, the great-great-grandson of the railroad and steamship tycoon, saw the heirs and heiresses he lived among as "dull, uninteresting, hopelessly mediocre people." Seeking excitement, Vanderbilt enlisted in the First World War (supposedly he became a driver when a general asked if any of his men could handle a Rolls Royce); once discharged, he decided to try to hack it as a newsman. With the advantage of money, Vanderbilt could afford film equipment in a time when cameras were still a luxury; with the advantage of name, he got to places most reporters couldn't go.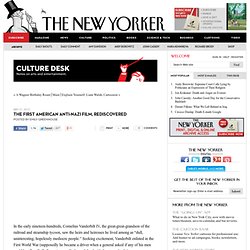 The First American Anti-Nazi Film, Rediscovered
Physiothérapie Equine et Canine
BRUSSELLS TRIBUNAL
Cairn.info - Accueil
REALfarmacy.com | Healthy News and Information
Washington Post: Breaking News, World, US, DC News & Analysis
Le Kiosque aux Canards - Webzine sur la toile depuis 2007, le Kiosque aux Canards développe son point de vue sur l'actualité, la société, la politique et la culture, en marge des médias traditionnels. Il ne s'agit pas de promouvoir l'information telle qu'
Le Monde diplomatique
Challenges.fr - Toute l'actualité de l'économie en temps réel
BBC - Homepage
ALCA - FTAA - ZLEA - Site Officiel de la Zone de libre-échange des Amériques (ZLEA)
BE: Cours des fonds|Fonds belges|OPCVM|ISA|ETF|Fonds offshore|fonds pension d'érpagne|Branche 23
BEL 20 Cours des actions Euronext en ligne avec Fortuneo
Profits At High, Wages At Low
Qandisha | Magazine collaboratif féminin
Mother Jones | Smart, Fearless Journalism
HoaxBuster - Vérifier l'information en circulation sur le web
Suite101
THUMP | The world's newest authority on electronic everything
LeCongolais v2.7
euronews | actualité internationale et européenne, les infos en direct sur euronews
NPR : National Public Radio : News & Analysis, World, US, Music & Arts : NPR
Le Grand Soir
Bourse : Cours de bourse en temps réel sur Actions, Indices, Forex, Matieres Premieres - Zonebourse.com
À la une | titrespresse.com - Belgique
Yahoo! Actualités - Toute l'actualité en France et dans le monde
Annamedia
Magazine Vanity Fair : Actualités, Enquêtes, Culture, Style et Art de vivre | Vanity Fair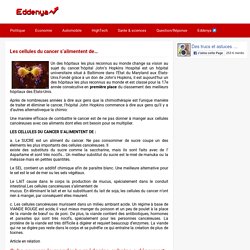 Les cellules du cancer s'alimentent de...
Les cellules du cancer s'alimentent de...
Wired.com
Engadget
The Verge
TechCrunch
the free news source
Latest news, sport and comment from the Guardian
The Times | UK News, World News and Opinion
Explosion sur une péniche à Huy (vidéo) liège Un homme de 56 ans aurait tenté de se suicider. Mis en ligne Fusillade Porte de Ninove: «Bruxelles vaut plus qu'un non-débat et des clichés» cartes blanches Yamila Idrissi, parlementaire bruxelloise SP.A, estime que la fusillade a été une occasion de plus pour «cracher sur Bruxelles». Carte blanche Mis en ligne La Porte de Ninove n'est pas une zone de non-droit, insiste la bourgmestre de Molenbeek Michelle Martin en route vers l'Italiearticle bloqué belgique La complice de Marc Dutroux a une semaine pour convaincre un couvent situé près de Florence de l'accueillir.
actu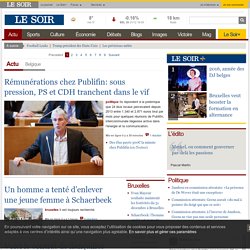 Comprendre c'est déjà agir
Toute l'actualité en direct - photos et vidéos avec Libération
Actualité à la Une
La Une
Toute l'actualité belge et internationale