Movies, Culture, and Women
Eating Bugs and Testicles: A Woman's Journey Into Macho Food Culture - Laura Shapiro. Kelsey Dake Anything That Moves: Renegade Chefs, Fearless Eaters, and the Making of a New American Food Culture By Dana Goodyear Riverhead I had a terrible time trying to read Dana Goodyear's new book.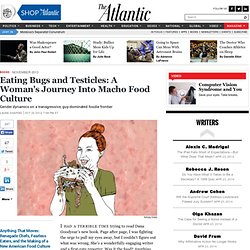 Page after page, I was fighting the urge to pull my eyes away, but I couldn't figure out what was wrong. She's a wonderfully engaging writer and a first-rate reporter. Fuck the High Road: The Upside of Sinking to Their Level. Share AP Photo.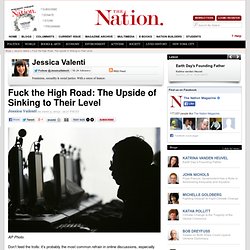 Don't feed the trolls: it's probably the most common refrain in online discussions, especially when dealing with misogynists in feminists conversations. The idea is that the best way to deal with sexists is to starve of them of the attention they're so clearly desperate for. Besides, we think, why sink to their level? Woody Allen. Mr.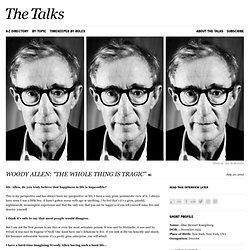 Allen, do you truly believe that happiness in life is impossible? This is my perspective and has always been my perspective on life. I have a very grim, pessimistic view of it. I always have since I was a little boy; it hasn't gotten worse with age or anything. Why Gender Equality Stalled. In 1963, most Americans did not yet believe that gender equality was possible or even desirable.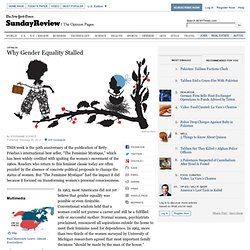 Conventional wisdom held that a woman could not pursue a career and still be a fulfilled wife or successful mother. Normal women, psychiatrists proclaimed, renounced all aspirations outside the home to meet their feminine need for dependence. In 1962, more than two-thirds of the women surveyed by University of Michigan researchers agreed that most important family decisions "should be made by the man of the house."
It was in this context that Friedan set out to transform the attitudes of women. Arguing that "the personal is political," feminists urged women to challenge the assumption, at work and at home, that women should always be the ones who make the coffee, watch over the children, pick up after men and serve the meals. Lauren Greenfield Photography - Girl Culture intro. The Loves of Lena Dunham by Elaine Blair. Girls a television series on HBO created by Lena Dunham There are many reasons to love Lena Dunham's HBO television show Girls, and some of them have nothing to do with sex, but I'm going to begin with the sex scene in the second episode that most critics have mentioned and described with some amount of repugnance or lament.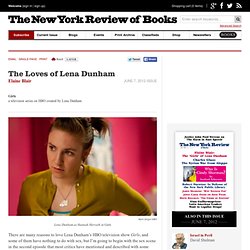 It's one of the most complicated and intelligent sex scenes I've seen. The Age of Hipster Sexism. Last week the Obama campaign released an ad by Lena Dunham.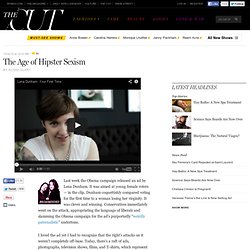 It was aimed at young female voters — in the clip, Dunham coquettishly compared voting for the first time to a woman losing her virginity. It was clever and winning. Conservatives immediately went on the attack, appropriating the language of liberals and slamming the Obama campaign for the ad's purportedly "weirdly paternalistic" undertone. I loved the ad yet I had to recognize that the right's attacks on it weren't completely off-base. Why Women Aren't Funny. From the John Springer Collection/Corbis.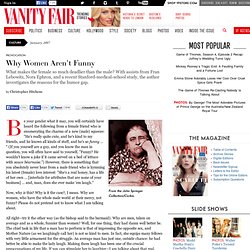 Be your gender what it may, you will certainly have heard the following from a female friend who is enumerating the charms of a new (male) squeeze: "He's really quite cute, and he's kind to my friends, and he knows all kinds of stuff, and he's so funny … " (If you yourself are a guy, and you know the man in question, you will often have said to yourself, "Funny? He wouldn't know a joke if it came served on a bed of lettuce with sauce béarnaise.
") Who Says Women Aren't Funny? It has become a supply-and-demand issue: the supply of good-looking female comedians is growing, and the industry demands that they keep growing prettier.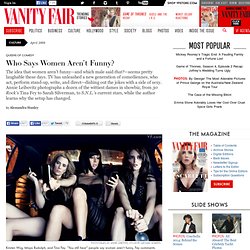 Chelsea Handler, the host of Chelsea Lately, a talk show on E! , has long legs, short skirts, low-cut shirts, and puffy blond hair—her look is Beverly Hills bimbo, with a Borscht Belt mouth. "With television, it's just expected that every person be better-looking," Fey explains. "In the 90s, it seemed like every person on a sitcom—think of the cast of Friends—was just really foxy.
I know our show and The Office have normal people. Mindy Kaling: "Flick Chicks" A few years ago, I sat down for a meeting with some executives at a movie studio that I will call Thinkscope Visioncloud.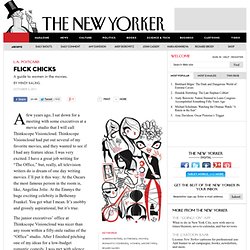 Thinkscope Visioncloud had put out several of my favorite movies, and they wanted to see if I had any feature ideas. I was very excited. I have a great job writing for "The Office," but, really, all television writers do is dream of one day writing movies. I'll put it this way: At the Oscars the most famous person in the room is, like, Angelina Jolie. At the Emmys the huge exciting celebrity is Bethenny Frankel. Why "Choice Feminism" is an Illusion (With Bonus "Lost" Analogy)
So I was looking at "Hot Chicks of Occupy Wall Street," which is so blatantly sexist I got bored trying to write about it.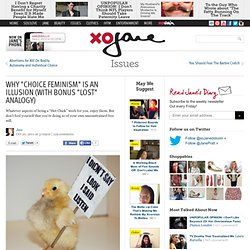 The site's slogan is "The Sexy Side of Protesting Corruption," but it might as well be "Come On Down, Boys, Some Boobs Are Here!" If you were concerned that people at the Occupy Wall Street protests might accidentally focus more on economic inequality than on whether they'd like to bang you, well, apparently you did not have to worry about that. On the front page currently is a note from one of the Hot Chicks. What Really Makes Katniss Stand Out? Peeta, Her Movie Girlfriend : Monkey See. Hide captionJennifer Lawrence and Josh Hutcherson in Catching Fire. Lionsgate Jennifer Lawrence and Josh Hutcherson in Catching Fire.
[General Hunger Games/Catching Fire information below; no huge surprises revealed.] Love hurts. Who's to blame? by bookslut editor. Psyched OutLove hurts. Who's to blame? Margaret Fuller looked around her Cambridge social circle and found her suitors lacking. The gentlemen of Cambridge looked at Margaret Fuller and found her lacking as well. This was, of course, late in the 19th century. She was not what you would call traditional marriage material. Health - Alice Dreger - The Olympic Struggle Over Sex. Even as it hopes to clarify the difference between male and female athletes, a new rule from the International Olympic Committee inadvertently stirs the waters. A set of Olympic rings hangs from London's Tower Bridge. (viks2/Flickr) What is sport ultimately for? That fundamental philosophical question lies behind the debate over what to do with women athletes who were raised as girls but whose bodies seem to be unusually masculine.
Laurie Penny | Contemporary Feminism - Feminism Is An Incomplete Revolution. The European: Feminists sometimes get a bad reputation in the media. Why? Penny: I think there is always going to be a lot of anger when the members of any privileged group have the perception that they are threatened. Whenever I hear that feminism needs to re-brand itself I always wonder who we're supposed to be doing that for – because the point of any equality movement isn't to get all the people with more privilege and power than you to love and accept you.
Lindsey Mead Russell: 10 Things I Want My Daughter To Know Before She Turns 10. Grace is rounding the curve to ten. I am not sure how this is possible. I feel ever more aware of her girlhood and looming adolescence, and of all the things I want her to know, as if I could somehow instill values and beliefs into her, like pressing a penny into soft clay. The Lazy Stereotyping of Executive Women: A Case Study. Magazine - Why Women Still Can't Have It All. On the Intersection of Race & Feminism: A Conversation With Neesha Meminger and Ibi Zoboi. 'The Finkbeiner Test' Why Men Fail. The Myth of Male Decline. If Men Could Menstuate. A Message To Women From A Man: You Are Not "Crazy" 'Django' an unsettling experience for many blacks. Ridley Scott's Trojan Horse Career - Hollywood Prospectus Blog. White Girl Apathy Is Killing Culture. All the Condescending Terms Being Used to Describe Undecided Women Voters - Politics.
Good Evening, It's An Honor To Be Used As A Political Prop By My Husband's Campaign. ENGB1 Gender. The Redemption of Sinead O'Connor - Michael Agresta. Vocal fry: "creeping in" or "still here"? Vocal fry or creaky voice in young American women, on Lexicon Valley. Why Women Aren't Crazy.
---