Movies, Culture, and Women
Kelsey Dake
Eating Bugs and Testicles: A Woman's Journey Into Macho Food Culture - Laura Shapiro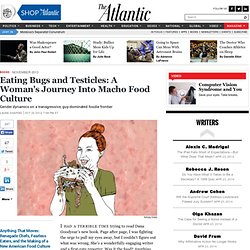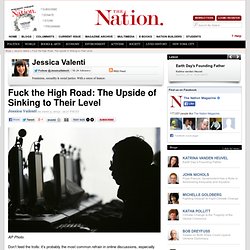 AP Photo.
Fuck the High Road: The Upside of Sinking to Their Level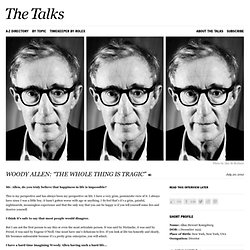 This is my perspective and has always been my perspective on life. I have a very grim, pessimistic view of it. I always have since I was a little boy; it hasn't gotten worse with age or anything. I do feel that's it's a grim, painful, nightmarish, meaningless experience and that the only way that you can be happy is if you tell yourself some lies and deceive yourself. But I am not the first person to say this or even the most articulate person.
Woody Allen
Why Gender Equality Stalled
In 1963, most Americans did not yet believe that gender equality was possible or even desirable. Conventional wisdom held that a woman could not pursue a career and still be a fulfilled wife or successful mother.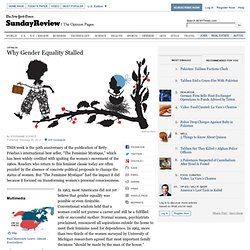 Lauren Greenfield Photography - Girl Culture intro
The Loves of Lena Dunham by Elaine Blair
Mark Seliger/HBO Lena Dunham as Hannah Horvath in Girls There are many reasons to love Lena Dunham's HBO television show Girls , and some of them have nothing to do with sex, but I'm going to begin with the sex scene in the second episode that most critics have mentioned and described with some amount of repugnance or lament. It's one of the most complicated and intelligent sex scenes I've seen. The fact that it's part of a funny, winsome, half-hour television show makes it all the more astonishing and exhilarating a thing to see.
Last week the Obama campaign released an ad by Lena Dunham.
The Age of Hipster Sexism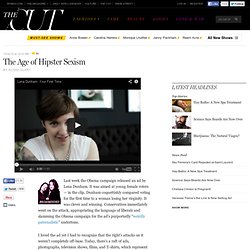 From the John Springer Collection/Corbis. B e your gender what it may, you will certainly have heard the following from a female friend who is enumerating the charms of a new (male) squeeze: "He's really quite cute, and he's kind to my friends, and he knows all kinds of stuff, and he's so funny … " (If you yourself are a guy, and you know the man in question, you will often have said to yourself, "Funny? He wouldn't know a joke if it came served on a bed of lettuce with sauce béarnaise. ") However, there is something that you absolutely never hear from a male friend who is hymning his latest (female) love interest: "She's a real honey, has a life of her own … [interlude for attributes that are none of your business] … and, man, does she ever make 'em laugh."
Why Women Aren't Funny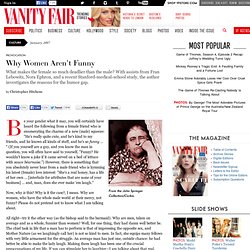 Who Says Women Aren't Funny?
"Maybe pretty women were always funny but only now decided to go into comedy," argues Patricia Marx, a humorist who in the 1970s became one of the first woman writers on The Harvard Lampoon. "Maybe pretty women weren't funny before because they had no reason to be funny," she says. "There was no point to it—people already liked you." It has become a supply-and-demand issue: the supply of good-looking female comedians is growing, and the industry demands that they keep growing prettier. Chelsea Handler, the host of Chelsea Lately, a talk show on E!, has long legs, short skirts, low-cut shirts, and puffy blond hair—her look is Beverly Hills bimbo, with a Borscht Belt mouth.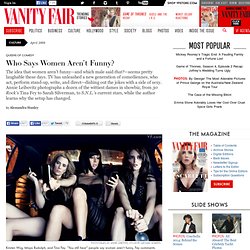 Mindy Kaling: "Flick Chicks"
A few years ago, I sat down for a meeting with some executives at a movie studio that I will call Thinkscope Visioncloud. Thinkscope Visioncloud had put out several of my favorite movies, and they wanted to see if I had any feature ideas. I was very excited. I have a great job writing for "The Office," but, really, all television writers do is dream of one day writing movies. I'll put it this way: At the Oscars the most famous person in the room is, like, Angelina Jolie. At the Emmys the huge exciting celebrity is Bethenny Frankel.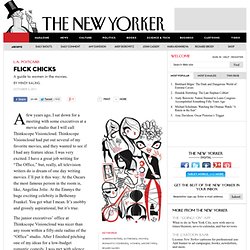 Why "Choice Feminism" is an Illusion (With Bonus "Lost" Analogy)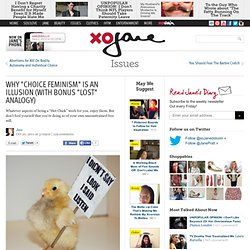 So I was looking at " Hot Chicks of Occupy Wall Street ," which is so blatantly sexist I got bored trying to write about it. The site's slogan is "The Sexy Side of Protesting Corruption," but it might as well be "Come On Down, Boys, Some Boobs Are Here!" If you were concerned that people at the Occupy Wall Street protests might accidentally focus more on economic inequality than on whether they'd like to bang you, well, apparently you did not have to worry about that. On the front page currently is a note from one of the Hot Chicks.
Love hurts. Who's to blame? by bookslut editor
Psyched Out Love hurts. Who's to blame? Margaret Fuller looked around her Cambridge social circle and found her suitors lacking. The gentlemen of Cambridge looked at Margaret Fuller and found her lacking as well. This was, of course, late in the 19th century. She was not what you would call traditional marriage material.
The second episode of The Newsroom opens with Will McAvoy ( Dumb and Dumbe r 's Jeff Daniels, according to Wikipedia) sitting in his home office studying the names, faces, and backgrounds of his new staff—a sign of a growing dedication to them despite his outward hostility. Good for him! That's great! Nice guy! I, however, will continue referencing Wikipedia each time I want to know one of those morons' names.
Everything Every Female Character Did During Episode Two of 'The Newsroom'
Even as it hopes to clarify the difference between male and female athletes, a new rule from the International Olympic Committee inadvertently stirs the waters. A set of Olympic rings hangs from London's Tower Bridge. (viks2/Flickr) What is sport ultimately for? That fundamental philosophical question lies behind the debate over what to do with women athletes who were raised as girls but whose bodies seem to be unusually masculine.
Health - Alice Dreger - The Olympic Struggle Over Sex
Laurie Penny | Contemporary Feminism - Feminism Is An Incomplete Revolution
The European: Feminists sometimes get a bad reputation in the media.
Lindsey Mead Russell: 10 Things I Want My Daughter To Know Before She Turns 10
Grace is rounding the curve to ten. I am not sure how this is possible. I feel ever more aware of her girlhood and looming adolescence, and of all the things I want her to know, as if I could somehow instill values and beliefs into her, like pressing a penny into soft clay.
The Lazy Stereotyping of Executive Women: A Case Study
Magazine - Why Women Still Can't Have It All
On the Intersection of Race & Feminism: A Conversation With Neesha Meminger and Ibi Zoboi
'The Finkbeiner Test'
Why Men Fail
The Myth of Male Decline
If Men Could Menstuate
A Message To Women From A Man: You Are Not "Crazy"
'Django' an unsettling experience for many blacks
Ridley Scott's Trojan Horse Career - Hollywood Prospectus Blog
White Girl Apathy Is Killing Culture
All the Condescending Terms Being Used to Describe Undecided Women Voters - Politics
Good Evening, It's An Honor To Be Used As A Political Prop By My Husband's Campaign
The Redemption of Sinead O'Connor - Michael Agresta
Vocal fry: "creeping in" or "still here"?
Vocal fry or creaky voice in young American women, on Lexicon Valley
Why Women Aren't Crazy