Short films
(notes on) biology. Fat. Animated Short Film | Arethemost.com. This one freaky video took a guy four years to make, it's worth it. Sometimes people do incredible things when they follow a dream.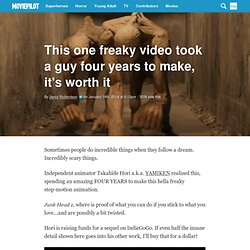 Incredibly scary things. Independent animator Takahide Hori a.k.a. YAMIKEN realised this, spending an amazing FOUR YEARS to make this hella freaky stop-motion animation. Junk Head 1, where is proof of what you can do if you stick to what you love...and are possibly a bit twisted. Hori is raising funds for a sequel on IndieGoGo. The Flying Man – Super Hero or Serial Killer? | Geeky Brew. What if Superman was not such a nice guy?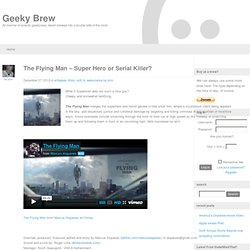 Creepy and somewhat terrifying. The Flying Man merges the superhero and horror genres in this short film, where a mysterious silent being appears in the sky, and dispenses justice and collateral damage by targeting and killing criminals in any number of inventive ways. The Saga Of Biorn. 5 Epic Sci-Fi Movies You Can Watch In Under 10 Minutes. #2.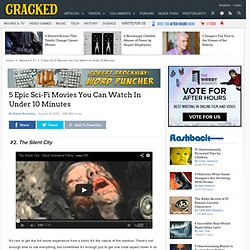 The Silent City It's rare to get the full movie experience from a short. Swf/Caravan_Palace_Rock_It_For_Me.swf. Awesome $300 13-minute superhero epic puts Hollywood to shame. Is is really possible to be blown away by a superhero movie with a budget of only $300?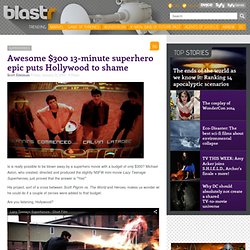 Michael Aston, who created, directed and produced the slightly NSFW mini-movie Lazy Teenage Superheroes, just proved that the answer is "Yes! " His project, sort of a cross between Scott Pilgrim vs. MOVE. Amazing Underrated Obscure Bizarre Films PART 11 list. I really dig this IMDB plot summary, it paints a mysterious picture to get you interested while not giving away anything crucial, it's like a good trailer: A psychiatrist, Richard Burton, investigates the savage blinding of six horses with a metal spike in a stable in Hampshire, England.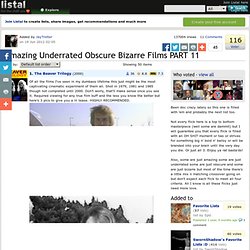 The atrocity was committed by an unassuming seventeen-year-old stable boy named Alan Strang, the only son of an opinionated but inwardly-timid father and a genteel, religious mother. As Dysart exposes the truths behind the boy's demons, he finds himself face-to-face with his own. Address Is Approximate. Backwater Gospel Is One Of The Most Disturbing Yet Awesome Animated Movies I've Seen I Awhile [Video. In the time before our industrial revolution when cowboys ruled the plains, every town had an undertaker.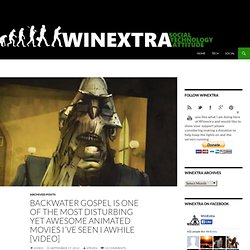 It was a lousy job somebody had to do it. But what if one day the Undertaker arrived and just waited, and waited. How long would the people of the town be able to hold out wondering who was suppose to die? And more importantly why is the Undertaker sitting at the center of town …. waiting. Backwater Gospel is an incredible animated short movie that answers that question but you can be assured the Undertaker wins in the end but the road to that point isn't pretty. Animated shorts: 10 Must Watch Short Films. Animated shorts are great way to refresh your mind.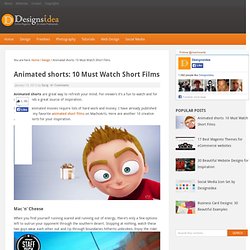 For viewers it's a fun to watch and for creative minds a great source of inspiration. Even short animated movies require lots of hard work and money. I have already published 15 best and my favorite animated short films on MachoArts. Here are another 10 creative animated shorts for your inspiration. Mac 'n' Cheese. Yoann Lemoine. R'ha – A Short Sci-Fi Film That Could Make Hollywood Jealous [Video] What if, instead of man versus robots it was an alien life form that was attacked by the robotic life that they had created?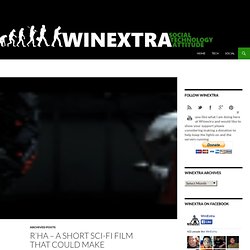 This is the premise behind an awesome short science fiction film called R'ha that was directed and animated by 22-year-old Kaleb Lechowski and I gotta tell you Kaleb could teach Hollywood a thing or two. R'ha is definitely one of those short films that should have the big budget boys drooling and bidding like crazy to get their hands on this film and the talented Kaleb. UPDATE: As we hoped for it seems that R'ha has been picked up by Hollywood. 5 Badass New Sci-Fi Movies You Can Watch on Your Lunch Break. It's rare these days to come out of a theater gushing about a new science fiction movie.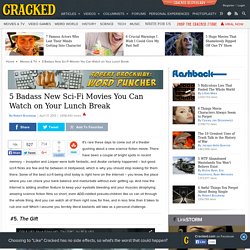 There have been a couple of bright spots in recent memory -- Inception and Looper were both fantastic, and Avatar certainly happened -- but good sci-fi flicks are few and far between in Hollywood, which is why you should stop looking for them there. Some of the best sci-fi being shot today is right here on the Internet -- you know, the place where you can check your bank balance and masturbate without ever getting up. Imagination. Make your own Hitler video. Adorable Crayon Dragon Comes To Life, Goes On Adventures. By Jill Pantozzi | 5:44 pm, May 14th, 2012 Here's the short version of what happens in this video: 1.)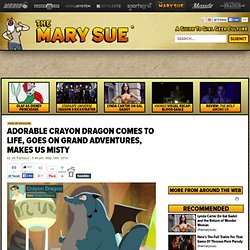 Woman draws dragon. 2.) Dragon comes to life. 3.) You cry tears of joy. Nudity Probable. Mac 'n' Cheese, An Amped Up Drug Fueled Animated Short. Gallery | My Pet Skeleton // RUIN Post-Apocalyptic CGI Short. Home of the Twisted Films of PES. PESfilm's Channel. Game Over by PES. Video Pick: Stop-Motion Spaghetti | Underwire. Stop-motion filmmaker known as "Pes" turns candy corn into flames and bubble wrap into boiling water in his latest short, "Western Spaghetti.
" Pes takes everyday objects like Post-it Notes, a Rubik's Cube and dollar bills and morphs them into key ingredients for a very unconventional meal in the clip (embedded). "The 'western' refers to this endless supply of worthless, disposable modern junk that populates so much of our world," said Pes in an e-mail conversation.
Viral Video: This 'Fresh Guacamole' Will Blow Your Mind | Underwire. Grenades, baseballs and other bizarre ingredients get sliced and diced to make "Fresh Guacamole," a surreal new short film that might have you wondering if you need to get your meds adjusted. It's the latest bit of amazing animation to pop up on YouTube from the writer/director known as Pes, who boiled water with candy corn in 2008 viral smash "Western Spaghetti." With "Fresh Guacamole," the crazy-inventive Pes and his animation partner Dillon Markey pack plenty of visual puns into a trippy clip that puts regular cooking shows to shame. As YouTube commenter kripposoft says, "I picked the wrong day to try acid."
Why the Panda is Black and White. This is a superbly created piece of animation which captures the imagination. The world is monochrome until an invisible hand starts to color it in. Unfortunately, one animal is asleep and misses the chance to be painted... Surprisingly, this is in fact an advert for French kid's channel TiJi. While we normally wouldn't embed adverts like this in to Kuriositas, our French readers are such a small minority that this could not be mistaken for a plug for the channel, so we let it slip in. This is awesome News, Videos, Reviews and Gossip - io9. The Good: AMAZING effects and character design! The battle droids actually *looked* like devices built for live combat situations—heavily-armoured, heavily-ARMED, and just...heavy!
The Bad: 1) WHEN will people finally drop the completely stupid "careful withdrawal of consciousness from virtual environment" trope? Table 7 - short film. EN TUS BRAZOS. Awesome Montage Takes Heart-Warming Look at '25 Years of Pixar. By Ethan Anderton March 29, 2011Source: YouTube Recently we've featured some cool video montages highlighting the work of Christopher Nolan and some of cinema's finest opening title sequences. Now we have yet another fantastic look back at a niche in motion pictures as the folks at Go Into the Story (via SlashFilm) recently found this amazing montage titled 25 Years of Pixar.
The video lovingly looks back at Pixar's work from the infancy of their short films in the 80's all the way up to their forthcoming sequel Cars 2 which hits theaters this summer. If you love Pixar as much as I do, then you'll love this fond look back into the past and may even have a few tears to wipe away. YouTube usuer NkMcDonalds put together these scenes from Pixar's expansive filmography (his list of music for the montage can be found here), and it really reminds you just how impressive and consistently fantastic their films have been. Alma, a short film.
---