Pinterest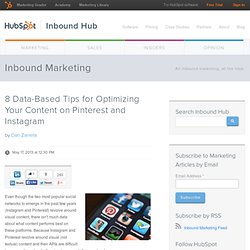 8 Data-Based Tips for Optimizing Your Content on Pinterest and Instagram
Even though the two most popular social networks to emerge in the past few years (Instagram and Pinterest) revolve around visual content, there isn't much data about what content performs best on these platforms.
Board Deck: A Pinterest Group Board Directory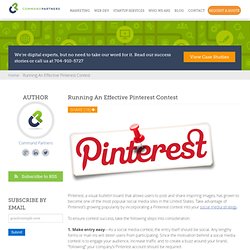 Running An Effective Pinterest Contest | Command Partners
Pinterest, a visual bulletin board that allows users to post and share inspiring images, has grown to become one of the most popular social media sites in the United States. Take advantage of Pinterest's growing popularity by incorporating a Pinterest contest into your social media strategy . To ensure contest success, take the following steps into consideration: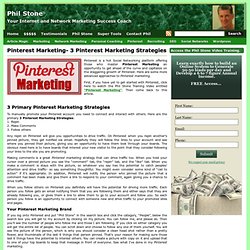 Pinterest is a hot Social Networking platform offering those who master Pinterest Marketing an opportunity to get ahead of the curve and capitalize on the staggering growth of Pinterest. Here are some more advanced approaches to Pinterest marketing .
Pinterest Marketing- 3 Pinterest Marketing Strategies
It may not be as popular as Facebook or Twitter, but this virtual pinboard service is attracting plenty of eyeballs.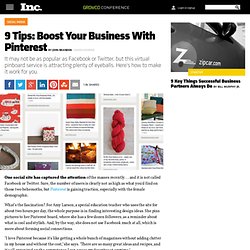 9 Tips: Boost Your Business With Pinterest
blog.hubspot.com/Portals/249/docs/ebooks/howtousepinterestforbusiness_april.pdf
Facebook is dominant as a source of traffic for online retailers , and shoppers who enter retail sites via Facebook browse more pages and make more total purchases, but shoppers driven to those sites via Pinterest spend more money, according to an analysis of nearly 700 million shopping sessions on leading U.S. retail sites by ecommerce personalization provider RichRelevance . Key findings from the study by RichRelevance include: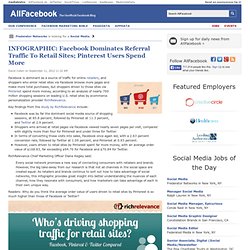 INFOGRAPHIC: Facebook Dominates Referral Traffic To Retail Sites; Pinterest Users Spend More
Being from San Francisco, I've always had a soft spot for the underdog small business or high street boutique, and coming from a social media background, I love to stay on top of new ways social can help this market segment. In the past, we've looked into how Pinterest can be used for link building and blogger outreach , as well as some of the big players getting involved with the new niche social network. But can Pinterest still even be considered niche?
How small businesses can use Pinterest for a content marketing boost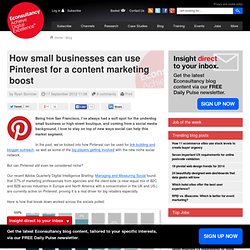 http://www.socialmediaexaminer.com/26-tips-for-using-pinterest-for-business/
Pinterest drives more sales than Facebook: stats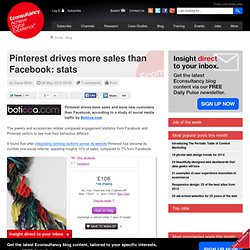 Pinterest drives more sales and more new customers than Facebook, according to a study of social media traffic by Boticca.com .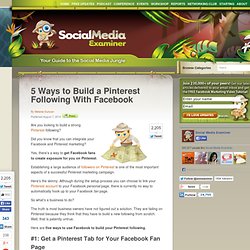 Are you looking to build a strong Pinterest following? Did you know that you can integrate your Facebook and Pinterest marketing?
5 Ways to Build a Pinterest Following With Facebook
Want to make your business pinworthy? Then take some tips from the proven tactics used by these top Pinterest retailers, based on research by Pinsights in 2Q2012 .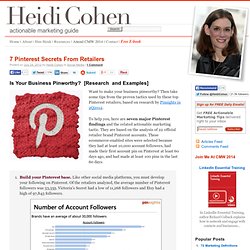 7 Pinterest Secrets From Retailers
Pinterest Webinar
Pinterest is rocking the social media world… And, more importantly, it's selling tons of stuff and putting profits in people's pockets right and left.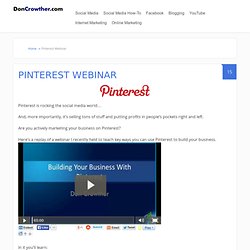 Five Must-Have Pinterest Tools for Content Marketers
In this article, you'll learn how to... Track and optimize your marketing efforts on Pinterest Create pins for words and receive alerts when your content is pinned
5 Ways to Get Your Infographic to Go Viral
EXCLUSIVE POST - A recent study revealed that Pinterest , the latest social networking site to take the social media world by storm, is now driving more traffic to websites and blogs than YouTube, Google+ and LinkedIn combined.
How To Create a Pinteresting Healthcare Social Media Strategy
Can Local Businesses Jump On The Pinterest Train?
It's the 'new' social network everyone is talking about – and if you're a local business owner, it could be a strong addition to your online marketing strategy. For the past few years, marketers have stressed the need for local businesses to leverage social networks like Facebook and Twitter to drive engagement with existing and potential customers. Now Pinterest , the visual scrapbook network that allows users to "pin" images and video they want to share from across the web, is becoming part of the conversation for a number of reasons:
Just when you thought you had your social media strategy and web presence under control, yet another social networking site is becoming mainstream. Six months ago it was Google+, now it's Pinterest and it is gaining momentum in popularity as well as relevance in organic search. Pinterest is a social photo sharing website that has also been described as an online pin board.
8 SEO Benefits of Pinterest in your Web Presence | SEO Evolution Blog
How to Get a Boatload of People to Pin Your Products to Pinterest
Why Small Businesses Should Fall in Love with Pinterest | OrangeSoda
Add Pinterest to Facebook – 2 Easy Steps
Why Business Should Take an Interest in Pinterest
How To Use Pinterest For Local SEO
Pinterest: Link Building & SEO Strategies
The Marketer's Guide to Pinterest