Pinterest & Marketing
Pinterest Consultant share 33 tools to help you maximize your Pinterest results! If you're not leveraging Pinterest for your business you are definitely missing out on a real gold mine.
Pinterest: 33 Tools To Help You Maximize Results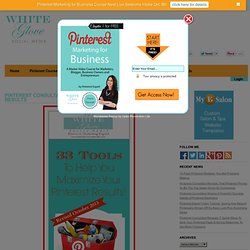 7 deadly marketing mistakes on Pinterest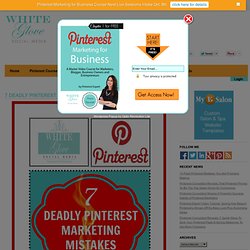 7 Deadly Pinterest Marketing Mistakes Are you using Pinterest for business? Are you doing it the "right" way?
Heidi Cohen | October 1, 2012 | Comments in Share Pinterest's dramatic rise as the visual social media mecca for content makes it a critical component of your 2013 social media and content marketing plans.
Pinterest: 5 Tactics for This Visual Social Media Mecca
Mary Lisbeth D'Amico | November 14, 2012 | Comments in Share In a further indication that Pinterest is courting brands, the company announced today that organizations can now sign up for their own business accounts, or convert their existing user accounts to business accounts.
Pinterest Welcomes Brands With Business Accounts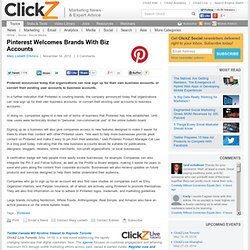 8 Ways to Expand Your Pinterest Presence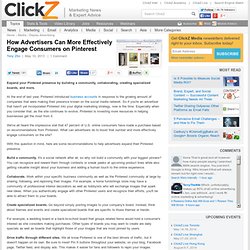 Tony Zito | May 10, 2013 | 1 Comment
New Pinterest Research Shows Which Images Get the Most Engagement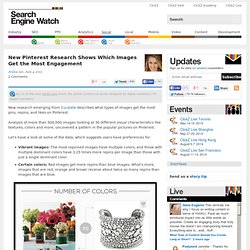 New research emerging from Curalate describes what types of images get the most pins, repins, and likes on Pinterest.
Pinterest Analytics: The Ultimate Guide to Tracking Your Site's Performance on Pinterest
How to Get More Pinterest Exposure With Less Work
Would you like to get free exposure across thousands of people's Pinterest pages?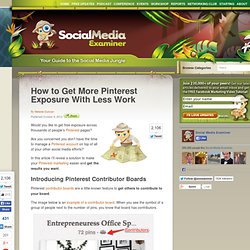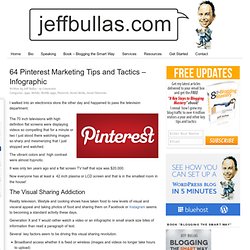 I walked into an electronics store the other day and happened to pass the television department.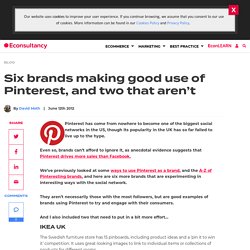 Six brands making good use of Pinterest, and two that aren't
Pinterest has come from nowhere to become one of the biggest social networks in the US, though its popularity in the UK has so far failed to live up to the hype.
by Alexandra Samuel | 9:35 AM March 2, 2012 Pinterest is the social media darling of the month, growing madly and reported to be driving more traffic to third-party sites than Google+, YouTube and LinkedIn put together. Think of Pinterest as a hybrid between a photo-sharing service like Flickr and a social bookmarking service like delicious: on Pinterest, you "pin" images the way you bookmark URLs with Delicious.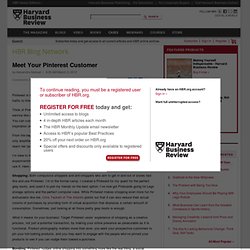 Meet Your Pinterest Customer - Alexandra Samuel
There's nothing quite like Pinterest when it comes to eye candy.
How Pinterest Boosted Jetsetter's Traffic by 150%
by Alexandra Samuel | 9:40 AM May 11, 2012 Pinterest surged into the spotlight earlier this year when it was revealed that it drives more web traffic than YouTube, Google+ and LinkedIn combined. What's so compelling about a website that lets you make virtual bulletin boards of "pinned" images, observers wondered, and does this service now belong in the pantheon of must-use social tools like Facebook and Twitter? Perhaps most important, marketers are asking, is this something that will drive revenue? Not long after the Pinterest spike, my employer, Emily Carr University, and research firm Vision Critical recruited 500 Pinterest users from the U.S., Canada, U.K., and Australia, to talk about their pinning habits. The results: Pinterest users reported a surprisingly high correlation between pinning and subsequent purchasing: more than 1 in 5 Pinterest users has pinned an item that they later purchased.
Moving Customers from Pinning to Purchase - Alexandra Samuel
Using Pinterest Yet? 13 Tips for Gaining Business Exposure for Your Clients
As public relations practitioners, we need to be ahead of the curve and make sure that our clients appear on appropriate social networking sites in order to gain brand awareness and exposure.
Two days ago I told you Why Women Are the Most Powerful Brand Ambassadors In the World.
Why Brand Managers Need to Take an Interest in Pinterest
If your brand isn't on Pinterest, you could be missing out on a growing stream of potential customers.
Pinterest Marketing and Information Forums