Interesting Photos
Kidbleach - because kids see horrible stuff, too. Heard you like eevee. Why do you reject it, master? Stefano Unterthiner Photography : Animals Face to Face | COLT + RANE - StumbleUpon. Stunning city photographs | #365 & From up North | Design inspiration & news. - StumbleUpon. - StumbleUpon. We're all mad here. | LOLdrugs. It might sound funny, but there are ways to get free weed if you don't have money.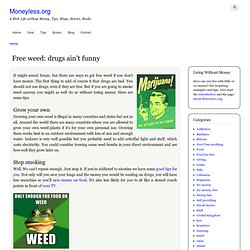 The first thing to add of course it that drugs are bad. You should not use drugs, even if they are free. - StumbleUpon. Incredible Wildlife Photography | Peachy Green - StumbleUpon. Wildlife — By Stephanie on January 11, 2010 at 10:58 am Canada goose protects her young Ever have one of those moments when you think to yourself, "Boy, I wish I had my camera?!"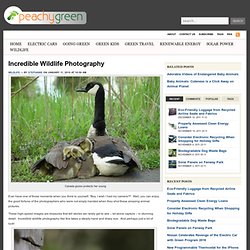 Top 5 Cute and Cudly Exotic Pets | Animals Look. Posted 3 years ago / Views: 15,377 Are you looking for an exotic pet that will really catch the attention of your friends and family?
Do you want a pet that you are certain no one else you know will have? Top 20 Sweetest Loving Animals | Wild Domestic Animals Look Stories and Photos. Posted 7 months ago / Views: 26,315 It's really cute to see others being in love, but it's more than amazing to see these animals loving and caring each other so much.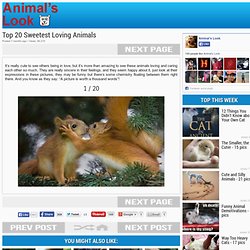 They are really sincere in their feelings, and they seem happy about it, just look at their expressions in these pictures, they may be funny but there's some chemistry floating between them right there. And you know as they say: "A picture is worth a thousand words"! - StumbleUpon. Portraits of Dogs as They Shake Off Water - StumbleUpon. - StumbleUpon. Cute Puppies, Cute Kittens, Cute Animals | The Daily Cute. Baby chameleons photo | one big photo - StumbleUpon. Random photo Submit your photo Stumble Thru animal photography.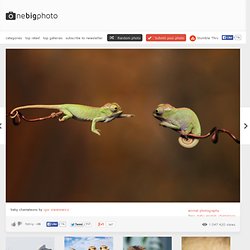 Most Amazing Time Lapse Video of Milky Way Ever Made. Seriously. | ShutterSalt - StumbleUpon. Animals don't care about racism. 32 Pictures That Will Make You Say Awwwwwwww - StumbleUpon. 10 Examples of Incredible Starry Night Sky Photography, and a How-To Video | ShutterSalt - StumbleUpon. - StumbleUpon. Crystal River - The most beautiful river on earth [Pics] - StumbleUpon. Cano Cristales - Crystal River.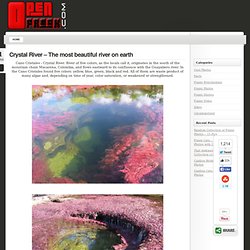 River of five colors, as the locals call it, originates in the south of the mountain chain Macarena, Colombia, and flows eastward to its confluence with the Guayabero river. In the Cano Cristales found five colors: yellow, blue, green, black and red. All of them are waste product of many algae and, depending on time of year, color saturation, or weakened or strengthened. Share on Tumblr. National Geographic Photo Contest 2011 - Alan Taylor - In Focus - The Atlantic - StumbleUpon. National Geographic is currently holding its annual photo contest, with the deadline for submissions coming up on November 30.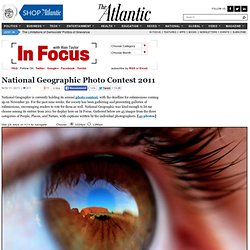 For the past nine weeks, the society has been gathering and presenting galleries of submissions, encouraging readers to vote for them as well. National Geographic was kind enough to let me choose among its entries from 2011 for display here on In Focus. Gathered below are 45 images from the three categories of People, Places, and Nature, with captions written by the individual photographers. [45 photos] Use j/k keys or ←/→ to navigate Choose: - StumbleUpon. - StumbleUpon. - StumbleUpon. - StumbleUpon. - StumbleUpon. - StumbleUpon. 174; - Online Photo and Video Hosting. StumbleUpon. Dog-time-perception-1.jpg from howstuffworks.com. Notice - StumbleUpon. The drawings of Leonardo da Vinci - StumbleUpon. GENTRY - StumbleUpon. Dear Photograph - StumbleUpon. Bad Control - Remarkable Beauty of Long Exposure Photography. Histoires drôles de jouets | La boite verte - StumbleUpon. Painting Intoxicated at 100 MPH (10 pieces) - My Modern Metropolis - StumbleUpon. It's almost as if Alexandra Pacula paints what she sees while driving drunk at 100 mph.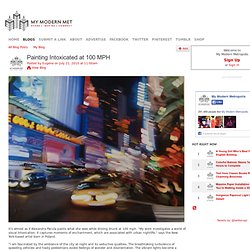 "My work investigates a world of visual intoxication; it captures moments of enchantment, which are associated with urban nightlife," says the New York-based artist born in Poland. "I am fascinated by the ambiance of the city at night and its seductive qualities. The breathtaking turbulence of speeding vehicles and hasty pedestrians evoke feelings of wonder and disorientation. The vibrant lights become a magical landscape with enticing opportunities and promises of fulfillment.
" Bad Control - Awesome Photoshop Colorized Photos - StumbleUpon. 22 Incredible Photos of Faraway Places - My Modern Metropolis - StumbleUpon. Thailand Chances are you already know Steve McCurry as the man who took one of the most iconic photos of our time.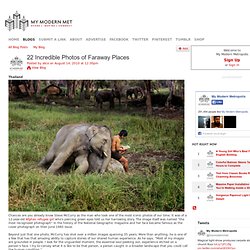 It was of a 12-year-old Afghan refugee girl who's piercing green eyes told us her harrowing story. The image itself was named "the most recognized photograph" in the history of the National Geographic magazine and her face became famous as the cover photograph on their June 1985 issue. Beyond just that one photo, McCurry has shot over a million images spanning 35 years. Still life: Bent objects & OWNI.eu, News, Augmented - StumbleUpon. UPDATE: The Return of Bent Objects Wires transform these objects from inanimate to hilarious works of art.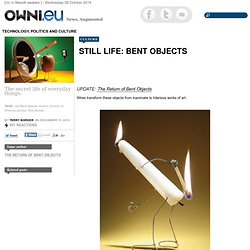 Little polish girl McDonalds as Sculpture Materials. The Fine Art of Dogs (15 photos) - My Modern Metropolis - StumbleUpon. British photographer Tim Flach sees animals in a completely different way. Having completed postgraduate studies at St. Martins School of Art London, Flach shoots stylized animal portraits that look more like fine art than framed shots of your puppy. Commercially trained as a professional photographer for over 25 years, Flach's conceptual style has been shaped by his background not just in photography but in, curiously, painted sculptures. PARIS - panorama | © gillesvidal - photographe - StumbleUpon. - StumbleUpon. Stair-slide-for-kids.jpg from dornob.com. Pictures of the day: 24 January 2012. Christian Redongo surfs a wave with a rainbow in the background, in Teahupoo, Tahiti, French Polynesia. This award-winning picture shows land and sea linked by a rainbow. The surfer may have been left wondering whether a pot of gold could be under his board at the bottom of the ocean. 26-year-old photographer, Zak Noyle from Honolulu, Hawaii, scooped the Surfer Magazine 2011 best photo of the year competition for this picture.
Castle in Fog. - StumbleUpon. - StumbleUpon. - StumbleUpon. - StumbleUpon. These 50 Photos Will Blow you Away - StumbleUpon. 4:08 PM | SOUTHERN HIGHLANDS WEDDING PHOTOGRAPHY | SOUTHERN HIGHLANDS WEDDING PHOTOGRAPHER & Wollongong Wedding Photography // ALMA photography // Sydney | Wollongong | Macarthur | National Wedding & Portrait Photography - StumbleUpon. - StumbleUpon. Plitvice Lakes National Park, Croatia | Beautiful Places to Visit - StumbleUpon. WWF &Life Grows On& photo competition Photos | WWF &Life Grows On& photo competition Pictures. 7 hours..
---