Farm
Understanding Nutrient Deficiencies And Symptoms In Your Hydroponic Plants. Why hydroponics nutrients must be used rather than regular plant fertilizer Although soil fertilizers can be used with some, temporary effectiveness in hydroponic gardening, they tend to stop working and result in poor plant health and even death if continually used instead of the appropriate hydroponics nutrients.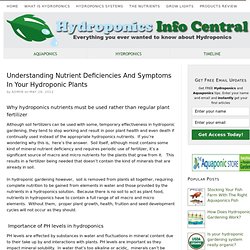 If you're wondering why this is, here's the answer. Soil itself, although most contains some kind of mineral nutrient deficiency and requires periodic use of fertilizer, it's a significant source of macro and micro nutrients for the plants that grow from it. This results in a fertilizer being needed that doesn't contain the kind of minerals that are already in soil. In hydroponic gardening however, soil is removed from plants all together, requiring complete nutrition to be gained from elements in water and those provided by the nutrients in a hydroponics solution. For New Farmers - For New Farmers. New farmers may be new to farming, or they may have grown up on a farm.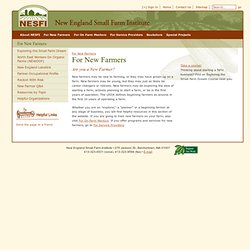 New farmers may be young, but they may just as likely be career changers or retirees. New farmers may be exploring the idea of starting a farm, actively planning to start a farm, or be in the first years of operation. The USDA defines beginning farmers as anyone in the first 10 years of operating a farm. Whether you are an "explorer," a "planner" or a beginning farmer at any stage of business, you will find helpful resources in this section of the website. If you are going to train new farmers on your farm, also visit For On-Farm Mentors. Beginning Farmer and Rancher Opportunities | Center for Rural Affairs. Introduction | Linking | Financing | Successful Strategies New farmers are quickly becoming a rarity, and these days, it can be hard to get started.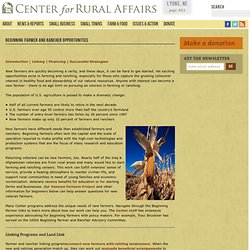 Yet exciting opportunities exist in farming and ranching, especially for those who capture the growing consumer interest in healthy food and stewardship of our natural resources. An Updated List of Herbs and Vegetables That You Can Grow on Shadier Balconies. Over the past year I have been collecting edible plants that will thrive with less than shade and partial shade.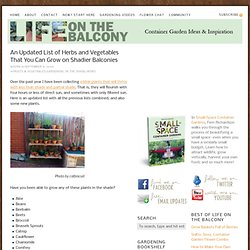 That is, they will flourish with four hours or less of direct sun, and sometimes with only filtered sun. Here is an updated list with all the previous lists combined, and also some new plants. Photo by catbiscuit. Hops Direct - Rhizomes. How to landscape a hillside slope to stabilize and control erosion. Planting grass on a slope does not stop erosion.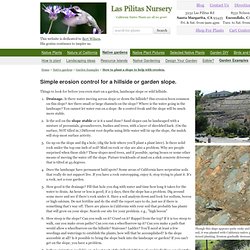 Erosion studies have consistently shown that slopes that were seeded with grass have GREATER EROSION than anything other than bare ground. (Even dead sticks beat grass!). Just because the world is full of ignoramuses, you do not have to do what they do. Don't seed slopes with grass. Hops - www.anjalifarm.com. Anjali farm has grown a small amount of Willamette and Cascade Hops for over 10 years on the farm mainly as a medicinal flower but last year we planted 50 more Cascade and 30 Sterling Rhizomes because of the growing interest in local hops from Vermont Breweries and Homebrewers.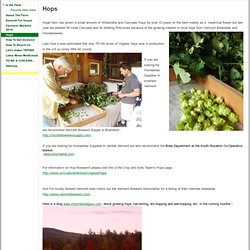 Last Year it was estimated that only 75-100 acres of Organic hops was in production in the US so every little bit counts . If you are looking for Homebrew Supplies in southern Vermont we recommend Microbe Brewers Supply in Brattlebro . If you are looking for Homebrew Supplies in central Vermont we also recommend the Brew Department at the South Royalton Co-Operative Market. Weighing Up A Vegetable Garden On The Roof. | Aquaponics Global. If you are considering building a vegetable garden on the roof, you will first have to consider the structural integrity of the building.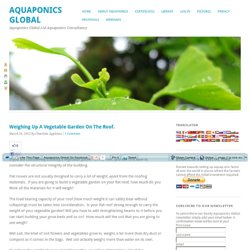 Flat rooves are not usually designed to carry a lot of weight, apart from the roofing materials. If you are going to build a vegetable garden on your flat roof, how much do you think all the materials for it will weigh? The load bearing capacity of your roof (how much weight it can safely bear without collapsing) must be taken into consideration. Massachusetts | %blog title% Job: Crew Leaders at Many Hands Farm Corps, Massachusetts, 2014 Many Hands Farm Corps is located in Amherst, MA.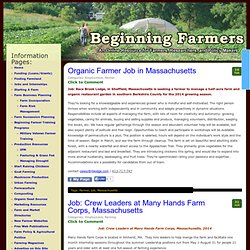 They hire leaders to help mange the farm and facilitate one month internship sessions throughout the summer. Floriculture - Greenhouse Management Guidesheets. Incoming Graduate Student Joshua Craver Wins $10,000 AFE Ecke Scholarships Read More » Purdue Horticulture - 2014 LED Open House Video Take a tour of the LED sole-source and supplemental lighting research being performed at Purdue University with Dr.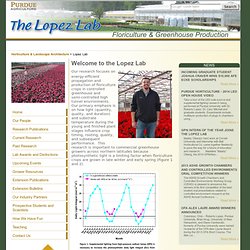 Roberto Lopez, Dr. Cary Mitchell and graduate students. Extension Greenhouse Crops & Floriculture Program | UMass Amherst. Fact Sheets on Business Management | UMass Extension Greenhouse Crops & Floriculture Program | UMass Amherst. Job: Greenhouse Manager at Top Sprouts in Massachusetts. Top Sprouts is a start-up company based in Boston, MA.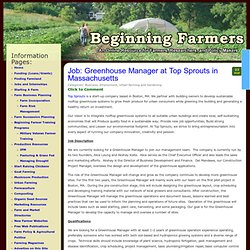 We partner with building owners to develop sustainable rooftop greenhouse systems to grow fresh produce for urban consumers while greening the building and generating a healthy return on investment. Our vision is to integrate rooftop greenhouse systems to all suitable urban buildings and create local, self-sustaining economies that will Produce quality food in a sustainable way; Provide new job opportunities; Build strong communities; and Lessen our environmental footprint. At Top Sprouts, we strive to bring entrepreneurialism into every aspect of running our company-innovation, creativity and passion. Job Description We are currently looking for a Greenhouse Manager to join our management team. Jobs and Internships in Farming, Food, and Agriculture. Whether you're looking for a farm job, internship or apprenticeship, or if you're looking to post an opportunity, beginningfarmers.org can help. Posting Jobs and Internships: For more information on how to post a farm job or internship on beginningfarmers.org, go to the aptly named "How to Post a Farm Job or Internship Page."
Seeking Jobs and Internships: There are always new opportunities being posted here at beginningfarmers.org. Jobs and internships are posted on our homepage, each as a separate blog post, as they come in. Check back often for new postings and become a fan on facebook to see selected updates. Additional Resources: Beginningfarmers.org seeks to be a resource for employers and job seekers alike. Maine Organic Farmers and Gardeners Association > Agricultural Services. MOFGA is the first organization in the country to provide technical assistance specific to organic farming and gardening. Our Agricultural Services staff provides farming, gardening and marketing assistance to growers in Maine and beyond. We assist seasoned organic growers, help new organic farmers get started and educate conventional farmers concerning the benefits of organic methods. Whether you're growing acres of vegetables, producing organic milk or planting your first garden, we are here to help you succeed!
Classes | Recirculating Farms Coalition. Interested in learning more about how recirculating farms work, or want to be a farmer? Below is a list of classes offered around the United States (including in the U.S. Virgin Islands). Do you know about a class that's not listed here? Seed Germination Database - Perennials - A to C. Seed Germination Database - Perennials A to C Jump to alpha letter: | B | C | D to N | O to Z | Acaena buchananii, caesiiglauca, fissistipula, inermis, magellanica, microphylla, myriophylla, novae-zelandiae, and saccaticupula , Sow at 18-22ºC (64-71ºF) for 2-4 wks, move to -4 to +4ºC (24-39ºF) for 4-6 wks, move to 5-12ºC (41-53ºF) very slow germinator, Acantholimon acerosum, albanicum, armenum, bracteatum, dianthifolium, glumaceum, kotschyanum, and ulicinum , Sow at 20ºC (68ºF), if no germination in 3-4 wks, move to -4 to +4ºC (24-39ºF) for 2-4 wks Acantholimon seeds germ. better after storage Acanthus hungaricus (balcanicus) , Soak 1-2 days, Sow at 18-22ºC (64-71ºF) for 2-4 wks, move to -4 to +4ºC (24-39ºF) for 4-6 wks, move to 5-12ºC (41-53ºF) for irregular germination.
FARM:shop - FARM: About. Futurefarmers is a group of artists and designers working together since 1995. We are artists, researchers, designers, farmers, scientists, engineers, illustrators, people who know how to sew, cooks and bus drivers with a common interest in creating work that challenges current social, political and economic systems.
Our design studio serves as a platform to support art projects, an artist in residency program and our research interests. Futurefarmers works across many media. This studio has evolved as a means to support Futurefarmers art practice and fellow protagonists in the road to positive change. We enjoy creating platforms for collective learning and engagement. UMass Extension - Gardening. I.H.T. Special Report - Business of Food - Fish Farms, With a Side of Greens. Fish Farmacy, LLC - University of Arizona Controlled Environment Aquaponics Greenhouse. Affnan's Aquaponics. Guide to Farming | Northeast Beginning Farmers. ATTRA - National Sustainable Agriculture Information Service.
Extension Agriculture and Landscape - UMass Extension Agriculture and Landscape. Organic at Cornell. Fruit Advisor. Peterson Pawpaws | Facts. America's Oldest Fruit Tree. Foraging Pictures, Photos, Wild Edible Plants & Mushroom Images. Pueblo Boston - Orchard. Northeast Permaculture Seed Bank.
---