Free Web activism
News, Augmented » Un blackout des géants du Web contre SOPA ? - Revue du web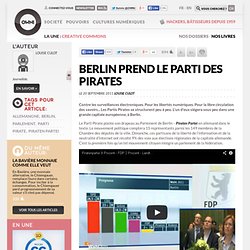 Contre les surveillances électroniques. Pour les libertés numériques. Pour la libre circulation des savoirs...
Berlin prend le parti des pirates
If you sometimes find yourself needing an open wireless network in order to check your email from a car, a street corner, or a park, you may have noticed that they're getting harder to find. Stories like the one over the weekend about a bunch of police breaking down an innocent man's door because he happened to leave his network open, as well as general fears about slow networks and online privacy, are convincing many people to password-lock their WiFi routers. The gradual disappearance of open wireless networks is a tragedy of the commons , with a confusing twist of privacy and security debate. This essay explains why the progressive locking of wireless networks is harmful — for convenience, for privacy and for efficient use of the electromagnetic spectrum. We will need a political and technological "Open Wireless Movement" to reverse the degradation of this indispensable component of the Internet's infrastructure.
Why We Need An Open Wireless Movement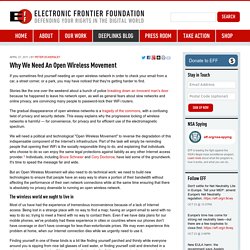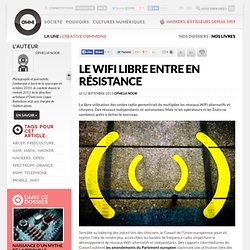 La libre utilisation des ondes radio permettrait de multiplier les réseaux WiFi alternatifs et citoyens. Des réseaux indépendants et autonomes. Mais ni les opérateurs ni les États ne semblent prêts à lâcher le morceau. Sensible au lobbying des industriels des télécoms, le Conseil de l'Union européenne pourrait rejeter l'idée de rendre plus accessibles les bandes de fréquence radio, empêchant le développement de réseaux WiFi alternatifs et indépendants.
La Direction centrale du renseignement intérieur (DCRI) part en guerre contre les Anonymous. Jeudi, deux membres supposés étaient mis en examen dans le cadre d'une enquête sur "Greenrights" ; une opération numérique visant notamment les serveurs d'EDF. Nous nous sommes entretenus en exclusivité avec Pierrick Goujon, l'un de ces soi-disant Anonymous que la DCRI a arrêté. Pierrick Goujon, photographié à OWNI (cc Claire Berthelemy) Ce vendredi, OWNI a longuement rencontré Pierrick Goujon, 29 ans, connu sur les réseaux sous le pseudo de Triskel. Il est soupçonné par la Direction centrale du renseignement intérieur (DCRI) d'être un membre des Anonymous – même si ce mouvement militant se caractérise par l'absence totale de hiérarchie, de structures et de cartes de membres.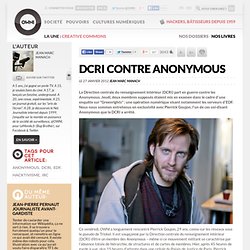 France 2 vs. Anonymous
Les Anonymous, première forme d'intelligence collective ?
Julian Johnsson: Le hacker devient Trendy