Tutorial
30 Amazing Photoshop Tutorials That You Can't Missed. With so many designs and photo manipulation software in the market, one can easily get confuse with all these choices.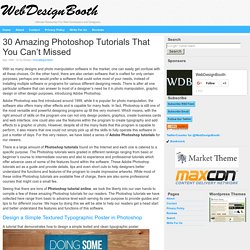 On the other hand, there are also certain software that is crafted for only certain purposes, perhaps one would prefer a software that could solve most of your needs, instead of installing multiple software or programs for various different designing needs. There is after all one particular software that can answer to most of a designer's need be it in photo manipulation, graphic design or other design purposes, introducing Adobe Photoshop. How to Make a Highly-Textured Site Layout in Photoshop. In this tutorial, we'll create a textured site layout by layering multiple images.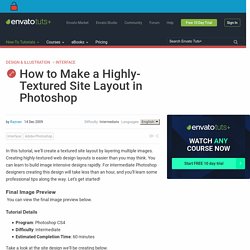 Creating highly-textured web design layouts is easier than you may think. You can learn to build image intensive designs rapidly. For intermediate Photoshop designers creating this design will take less than an hour, and you'll learn some professional tips along the way. Let's get started! Create a Gnarly Snowboarding Themed Web Design. Get your Photoshop shred on and follow this step by step overview of building a snowboarding themed website layout.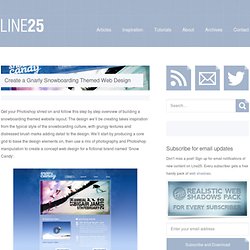 The design we'll be creating takes inspiration from the typical style of the snowboarding culture, with grungy textures and distressed brush marks adding detail to the design. We'll start by producing a core grid to base the design elements on, then use a mix of photography and Photoshop manipulation to create a concept web design for a fictional brand named 'Snow Candy'. Ideas, Research and Sketches A good place to start any design project is in your sketchbook. Before opening up Photoshop, I took the time to jot down some keywords and create a brand persona for Snow Candy. How to Create a Vector Illustration and Prepare it for Micro-Stock Sale. There are numerous micro-stock websites that vector designers can design for and make consistent earnings through.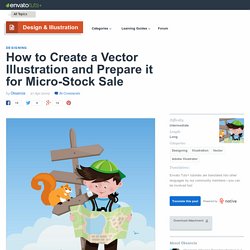 Envato runs a few stock sites, such as Graphic River, which you may be interested in participating in. You may find the article on Freelance Switch about making money through selling your work on stock sites enlightening as well. There are some great tips in that article. I have quite a bit of experience working with Shutterstock and iStockphoto. This tutorial details a professional workflow for creating vector illustrations and prepping the artwork for these sites.
Create a Cute Panda Bear Face Icon. Lately, I have been working on some children illustrations, creating some über cute creatures.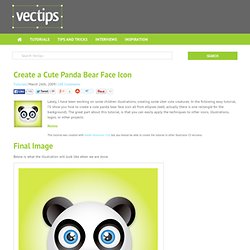 In the following easy tutorial, I'll show you how to create a cute panda bear face icon all from ellipses (well, actually there is one rectangle for the background). The great part about this tutorial, is that you can easily apply the techniques to other icons, illustrations, logos, or other projects. How to Use Illustrator Pathfinder Palette | Illustrator Atoms | Illustrator Tutorials, Tips and Articles. Illustrator offers us great tools to create simple shapes, but how can we merge two shapes into one?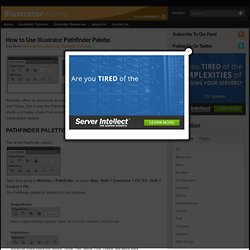 Relax, that is why the Pathfinder palette exists. The Pathfinder palette offers us options to create a complex shape from several single shapes. Also, it offers many other shape-manipulation options. This is the Pathfinder palette: Open it by going to Window > Pathfinder, or press (Mac: Shift + Command + F9 / PC: Shift + Control + F9). Craft a Dramatic Vector Landscape Environment. This tutorial will show the intermediate Adobe Illustrator artist how to make a dramatic landscape environment.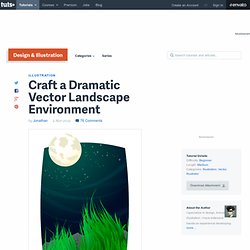 You should have a basic understanding of Adobe Illustrator tools before you begin this tutorial, as the tutorial moves at a rapid pace. Republished Tutorial Every few weeks, we revisit some of our reader's favorite posts from throughout the history of the site. This tutorial was first published in July of 2008. 35 (More) Adobe Illustrator Cartoon Character Tutorials. With competitions growing on day by day, companies are striving to keep their brands on top of the food chain in order to gain themselves more exposure and making it easier for people to remember their existence.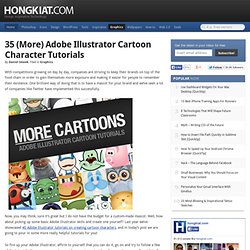 One brilliant way of doing that is to have a mascot for your brand and we've seen a lot of companies like Twitter have implemented this successfully. Now, you may think, sure it's great but I do not have the budget for a custom-made mascot. Well, how about picking up some basic Adobe Illustrator skills and create one yourself? 30+ Tutorials That Will Teach You Illustrator.
Logo Design Process and Walkthrough for Vivid Ways. This post was originally published in 2009 The tips and techniques explained may be outdated.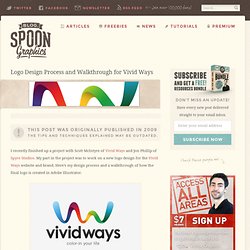 I recently finished up a project with Scott McIntyre of Vivid Ways and Jon Phillip of Spyre Studios. My part in the project was to work on a new logo design for the Vivid Ways website and brand. Here's my design process and a walkthrough of how the final logo is created in Adobe Illustrator. Vivid Ways is a new blog focusing on the topic of personal development and colourful living, it aims to inspire and encourage readers through ideas and tips on how to live an amazing life. After some initial correspondence with Scott and Jon via email we had fleshed out some thoughts on the style of the logo and what values would be presented through it.
Design Tutorials - Photoshop, Illustrator & InDesign | Computer Arts Magazine. Computer Arts is the magazine for people who believe design matters, and has been inspiring and informing graphic designers and illustrators since 1995.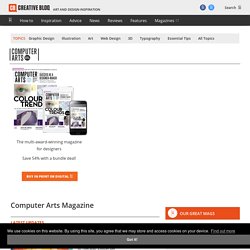 With both a deluxe print edition and a fully-interactive, bespoke iPad edition, Computer Arts brings you behind-the-scenes access to cutting-edge design projects, in-depth analysis and incisive opinions from the design world's thought leaders, plus the very best new work from the global design community. Whether it's a shift in creative thinking or a change to the business of design, you can rely on Computer Arts to bring you detailed analysis of the pivotal events. We'll introduce you to the industry's most exciting trailblazers as well as highlighting the world's freshest new talent, digging deep to discover what makes each of them special. 20 High Quality Photoshop Web Design Tutorials | Tutorials.
---