Tutorial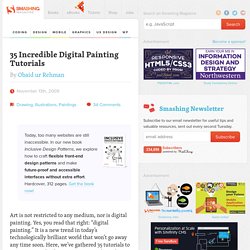 Art is not restricted to any medium, nor is digital painting. Yes, you read that right: "digital painting." It is a new trend in today's technologically brilliant world that won't go away any time soon. Here, we've gathered 35 tutorials to inspire you to display your creativity through digital painting. We hope you like this collection. Kindly share your comments about it with us.
These sexy, beauty and glamour Photoshop tutorials are carefully handpicked to help you learn Photoshop essential and advanced technique. You'll find here portrait retouching and digital make up Photoshop tutorials, special photo effects, painting tutorials, a lot of Photoshop techniques to spice up usual photos and make them look sexier. Also covered techniques used in advertising, fashion magazines to give photos glamour look. Surprise you girlfriend with unique photos made by you with the help of this Photoshop tutorials and have fun. Drawing a sexy and beautiful woman Photoshop tutorial Do you need to make sexy and beautiful woman drawing looks like stylish vector art?
Making Of 'Equilibrium' by Henning Ludvigsen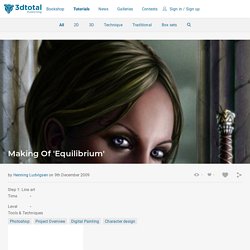 Step 1: Line art I've always been fascinated by realism, and because of this it is really important to me that the base line-art sketch has got proper proportions. I usually use the old trick by putting a grid on top of a reference photo I've shot, and then I copy the same grid onto a blank canvas and start drawing grid by grid from what I see on the reference photo.
Making Of 'What a Shame' by Sara Biddle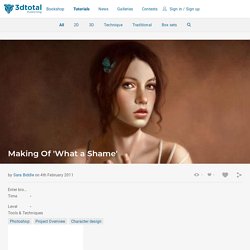 Hello, I'm Sara Biddle. I'm a 23 year-old, self-taught digital painter. In this "Making Of" article, I'd like to walk you through the steps in the creation of my image "What a Shame" and share with you some of my thoughts and ideas along the way. It all started when I found a story outline that I had written previously, hidden away in an unused desk drawer. The story consisted of a girl who had everything she could ever ask for in life.
Tutorials - Free Source of 3D Tutorials on 3DTotal.com Ltd