Arte plástico y visual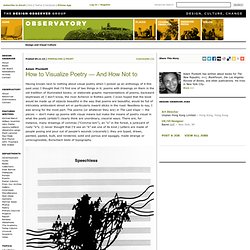 How to Visualize Poetry — And How Not to
Having known next to nothing about visual poetry when I picked up an anthology of it this past year, I thought that I'd find one of two things in it: poems with drawings on them in the old tradition of illuminated books; or elaborate graphic representations of poems, backward ekphrases of, I don't know, the river Acheron in Rothko paint. I even hoped that the book would be made up of objects beautiful in the way that poems are beautiful, would be full of intricately ambivalent street art or particularly inward sticks in the road. Needless to say, I was wrong for the most part. The poems (or whatever they are) in The Last Vispo — the pieces — don't make up poems with visual means but make the means of poetry visual in what the poets (artists?) clearly think are unordinary, visceral ways.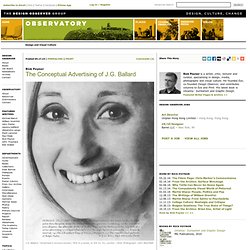 The Conceptual Advertising of J.G. Ballard
J.G. Ballard, "Advertiser's Announcement," first in a series, in Ark no. 42, London, 1968. Photograph: John BlomfieldFrom 1967 to 1970, the British author J.G. Ballard published a series of disturbing conceptual ads in several periodicals at his own expense. The five "Advertiser's Announcements," as he called them, have been part of discussion about Ballard since they were reproduced as a set in Re/Search no. 8/9 in 1984, with a brief statement by the writer.
3-D Is The Next Wave In Tattoo Design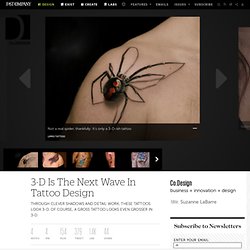 Perhaps 3-D is best suited to the grotesque. As anyone who's seen Jackass 3D knows, it can be the gross, the unpleasant, and the visually painful that ultimately become the most visceral when given the 3-D treatment. Italian tattoo studio Lippo Tattoo seems to take that side: The studio creates mock 3-D tattoos using shadows and perspectives, and the most affecting of them are sort of ... grisly. Lippo Tattoo uses one particular technique where the skin appears to be peeling like wallpaper that can reveal something almost Magritte-esque, like a blue sky with fluffy white clouds or something more anatomically accurate (yet still shocking) like blood and raw flesh.
REGINA SILVEIRA
The True Inner Beauty of Fishes | Science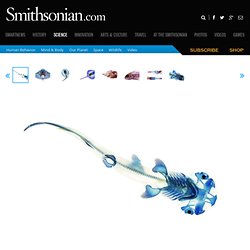 The skills that make a good biologist are not unlike those that make a good artist. "A desire to understand detail, you focus on how things work. These things are qualities that good poets and good biologists share," says Adam Summers, a biologist at the University of Washington's Friday Harbor Labs and consultant on Finding Nemo. Summers draws on his talents as a biologist and a photographer for "Cleared: the Art of Science,"an exhibition now at the Seattle Aquarium.
Simon Stålenhag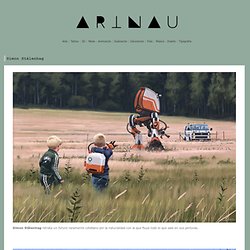 Jörn Grothkopp Las nubladas, suaves, borrosas, sutiles, delicadas, veladas pinturas de Jörn Grothkopp. Anthony Mastromatteo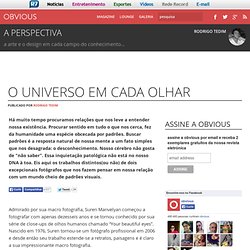 o universo em cada olhar
Há muito tempo procuramos relações que nos leve a entender nossa existência. Procurar sentido em tudo o que nos cerca, fez da humanidade uma espécie obcecada por padrões. Buscar padrões é a resposta natural de nossa mente a um fato simples que nos desagrada: o desconhecimento. Nosso cérebro não gosta de "não saber".
The Monster Engine: Children's Drawings Painted Realistically
Dave Devries takes sketches of monsters drawn by children purely from their imagination and renders them realistically giving them a truly devilish look. His collection of drawings and paintings form a 48-page book "The Monster Engine". Devries would project a child's drawing with an opaque projector, and then faithfully trace each line. Applying a combination of logic and instinct, he then paint the image as realistically as he can using primarily acrylic, airbrush, and colored pencil.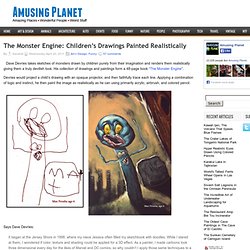 works
Artista crea impresionantes obras utilizando su pierna como lienzo
Jody Steel, es una talentosa joven de 19 años de edad, con sede en Boston, quien crea impresionantes obras utilizando su pierna como lienzo. "Realmente comencé porque, sinceramente, yo no tenía ningún papel alrededor. Estaba dibujando mucho en clase, y la gente comenzó a darse cuenta… Soy muy pálida y mi piel es casi equivalente a papel".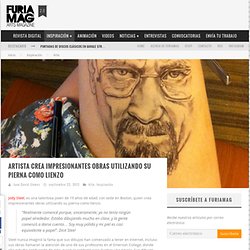 hello
Las heridas del paisaje americano: fotos aéreas de granjas industriales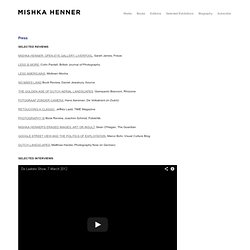 Press - Mishka Henner
MISHKA HENNER: OPEN-EYE GALLERY, LIVERPOOL, Sarah James, Frieze LESS IS MORE, Colin Pantall, British Journal of Photography LESS AMERICAINS, Midtown Mocha NO MAN'S LAND Book Review, Daniel Jewsbury, Source THE GOLDEN AGE OF DUTCH AERIAL LANDSCAPES, Giampaolo Bianconi, Rhizome FOTOGRAAF ZONDER CAMERA, Hans Aarsman, De Volkskrant (in Dutch)
Javier Zabala
Jonathan Bartlett
Þrándur Þórarinsson, Laugavegi 51, 4.-19. apríl 2009 Listamaðurinn sem flotaforingi 45x50 SELD Flugumýrarbrenna 240x180 Grettir ber nautið 70x90
Þrándur Þórarinsson: Laugavegi 51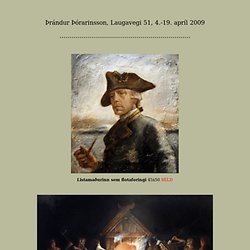 Portfolio | Saatchi Online
jan feindt
Nas fotos, os peixes de Ryusuke Fukahori são bonitos, mas se você puder ver um de seus aquários ao vivo poderá tomar um susto ou ficar de queixo caído. Perceberá que não são peixes de verdade, mas pinturas fascinantes que ganham vida pelas mãos deste extraordinário artista japonês. © Ryusuke Fukahori (foto de Dominic Alves). Três períodos foram de grande importância na vida de Fukahori: 1973, quando veio ao mundo, na província japonesa de Aichi; 1995, quando se graduou pela Aichi Prefectual University of Fine Arts and Music; e, finalmente, 2000, quando, ao passar por uma crise sobre sua visão artística, buscou inspiração no que seria a fonte de grande inspiração: o peixinho dourado que possuía há mais de 7 anos. Desde então, tornaram-se inseparáveis na vida e no trabalho.
Ryusuke Fukahori e seus peixes dourados
Christy Lee Rogers
CoSM, Chapel of Sacred Mirrors 2013 Year In Review The mission of the Chapel of Sacred Mirrors, CoSM, is to build an enduring sanctuary of visionary art to inspire every pilgrim's creative path and transmit the values of love and evolutionary wisdom. 2013 was the tenth anniversary of CoSM's Full Moon Ceremonies that began in Brooklyn in 2003. Many thousands of people have come out for these inspirational gatherings over the years, with increasing attendance from both international and Hudson Valley guests.
Alex Grey
Shaden: Gallery
My name is Stanislav Stankovskiy. I was born in 1985 in Saint Petersburg. I photograph in multiple genres but staged photography attracts me the most. I trust my intuition, and philosophy.
Stas Stankovskiy on Behance
Irving Harper: Works in Paper – Sight Unseen
Chrystal Chan
Gallery | Miss Christine Wu
JAW Cooper Illustration
djorkaeff
Peter Lindbergh ›› official website
japanese-inspired illustrations from longyan-based creatvie TANSE
8 | 56 Pages Of Brutal Beauty From Moebius And A Legendary Filmmaker
Shapes of Conscious
Macromedia Flash Player Not Current
PechaKucha 20x20
Explorar os limites: as "combinações" de Robert Rauschenberg