Technology Lesson Plans
Curriculum Ideas
Now that I have a connection to the Internet, what do I do with it? This is a great question that is asked hundreds of times at conferences and in school faculty meetings. Common statements range from I don't have time to do one more thing to where do I go for examples? This page is dedicated to examples of how the Web can be used in the classroom.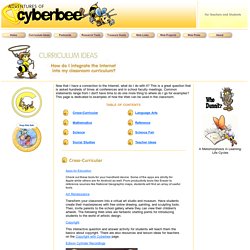 Computer Teaching Lesson Plans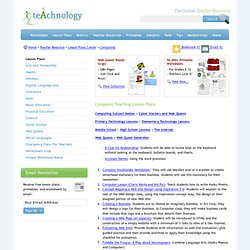 Web Quests Ready-to-go! - 340+ Pages - Just Click and Print! View Collection 50,000+ Printable Worksheets - For Grades K-12 - Teachers Love It! View Now...
Lesson Plans - Science and Technology
The Lesson Plans Page - Computer & Internet Lesson Plans, Computer Ideas, & Internet Activities, Teacher Resources, educator, education resources, printables, worksheets, thematic units
The Elizabethan theatre explained by *Willy* Shakespeare Subject: Computers & Internet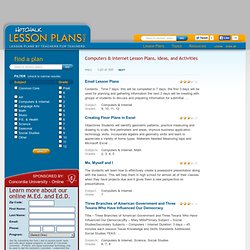 Technology Lesson Plans K-5 Computer Lab
Tech Lesson of the Week: Technology lesson plans
EducationWorld offers a huge selection of technology lesson plans for all grade levels. Telltale Ts Students use technology to investigate and present information on a variety of animals visited during a trip to the zoo. Engaging English Students use technology to effectively present a selection of alliterative phrases that are then used to create an informative wall or ceiling hanging.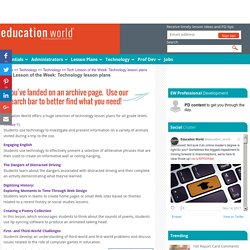 Geography Language arts Ages 11 to 13 5+ 45-minute class periods Mathematics Ages 5 to 10 Ages 11 to 13 5+ 45-minute class periods Language arts Mathematics Ages 11 to 13 5+ 45-minute class periods Mathematics Science Ages 11 to 18 2 to 3 class periods Track your family's water usage During this lesson, students will examine the amount of water their family uses on a typical Saturday and record the information in an Excel 2007 template.
Elementary & Middle School Tech Lesson Plans at Internet 4 Classrooms
Technology Lesson Plans