Technology Lesson Plans
Curriculum Ideas. Now that I have a connection to the Internet, what do I do with it?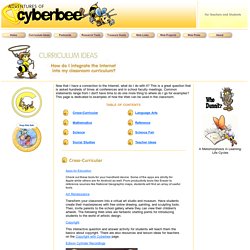 This is a great question that is asked hundreds of times at conferences and in school faculty meetings. Common statements range from I don't have time to do one more thing to where do I go for examples? This page is dedicated to examples of how the Web can be used in the classroom. Computer Teaching Lesson Plans. Web Quests Ready-to-go!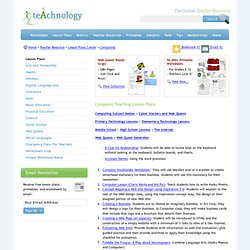 - 340+ Pages - Just Click and Print! View Collection 50,000+ Printable Worksheets - For Grades K-12 - Teachers Love It! View Now... Lesson Plans - Science and Technology. Computer & Internet Lesson Plans, Computer Ideas, & Internet Activities, Teacher Resources, educator, education resources, printables, worksheets, thematic units. Email Lesson Plans Contents Time 7 days: this will be completed in 7 days: the first 3 days will be used for planning and gathering information the next 2 days will be meeting with groups of students to discuss and preparing information for submittal.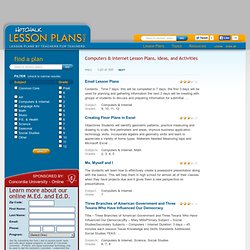 Technology Lesson Plans K-5 Computer Lab. Tech Lesson of the Week: Technology lesson plans. EducationWorld offers a huge selection of technology lesson plans for all grade levels.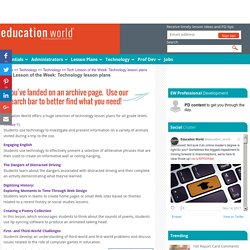 Telltale Ts Students use technology to investigate and present information on a variety of animals visited during a trip to the zoo. Engaging English Students use technology to effectively present a selection of alliterative phrases that are then used to create an informative wall or ceiling hanging. Lesson plans for teachers. Common Core Implementation Kit enables the creation of a Common Core State Standards aligned lesson plan with a few easy clicks.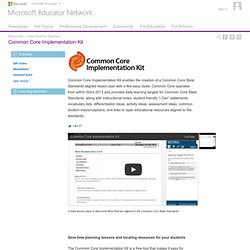 Common Core operates from within Word 2013 and provides daily learning targets for Common Core State Standards, along with instructional notes, student friendly "I Can" statements, vocabulary lists, differentiation ideas, activity ideas, assessment ideas, common student misconceptions, and links to open educational resources aligned to the standards.
Save time planning lessons and locating resources for your students. Elementary & Middle School Tech Lesson Plans at Internet 4 Classrooms. Technology Lesson Plans.
---