Examples
Anyone Can Access Microsoft's Massive Location Database and See Where Your Laptop and Smartphone Have Been. Online Tracking Service That Can't Be Dodged | Epicenter  Researchers at U.C.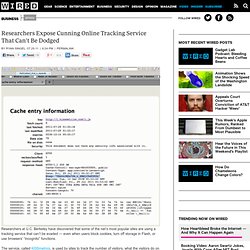 Berkeley have discovered that some of the net's most popular sites are using a tracking service that can't be evaded — even when users block cookies, turn off storage in Flash, or use browsers' "incognito" functions. The service, called KISSmetrics, is used by sites to track the number of visitors, what the visitors do on the site, and where they come to the site from — and the company says it does a more comprehensive job than its competitors such as Google Analytics. Nude pics in email hacked and put on Facebook. Augmented Reality. (Before you read all this, as interesting as it is – I realise many of you are busy so I kindly created a "if you read nothing else, read this" section at the bottom – I won't be offended if you skip ahead :) A new form of technology is about to take the world by storm.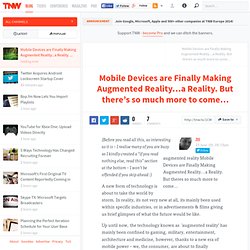 In reality, its not very new at all, its mainly been used within specific industries, or in advertisements & films giving us brief glimpses of what the future would be like. Up until now, the technology known as 'augmented reality' has mainly been confined to gaming, military, entertainment, architecture and medicine, however, thanks to a new era of mobile power – we, the consumer, are about to finally experience what sci-fi movies have teased us with for decades.
Twitter joke trial: Paul Chambers to take appeal to high court | Law. The case of a man convicted of "menace" for threatening to blow up an airport in a Twitter joke is to go to appeal at the high court.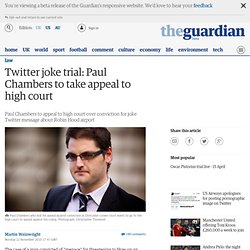 A senior human rights lawyer will lead a three-strong legal team for Paul Chambers, a former accounts manager in the motor trade, whose conviction in the so-called "Twitter joke trial" has become an international cause celebre. Dismissed as a foolish prank by almost everyone involved, including police officers and airport security staff, the 140-character threat has landed Chambers, 27, with a criminal conviction and fines and costs totalling over £3,000. Fitbit users are unwittingly sharing details of their sex lives with the world - TNW Industry. Heard of Fitbit?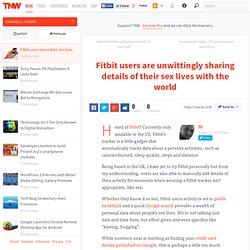 Currently only available in the US, Fitbit's tracker is a little gadget that automatically tracks data about a person's activities, such as calories burned, sleep quality, steps and distance. Being based in the UK, I have yet to try Fitbit personally but from my understanding, users are also able to manually add details of their activity for moments when wearing a Fitbit tracker isn't appropriate, like sex. Whether they know it or not, Fitbit users activity is set to public by default and a quick Google search provides a wealth of personal data about people's sex lives. Casey the Punisher scores victory against bullies. Cellphones Track Your Every Move, and You May Not Even Know.
---