Examples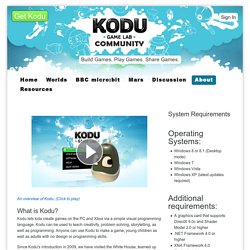 Kodu lets kids create games on the PC and XBox via a simple visual programming language. Kodu can be used to teach creativity, problem solving, storytelling, as well as programming. Anyone can use Kodu to make a game, young children as well as adults with no design or programming skills. Join our community, and discover games created by others and share your game at KoduGameLab.com.
GameMaker: Studio caters to entry-level novices and seasoned game development professionals equally, allowing them to create cross-platform games in record time and at a fraction of the cost! In addition to making games development 80 percent faster than coding for native languages, developers can create fully functional prototypes in just a few hours, and a full game in just a matter of weeks. Key Features GameMaker: Studio Feature Comparison Older versions of GameMaker Looking for GameMaker for Windows or GameMaker for Mac?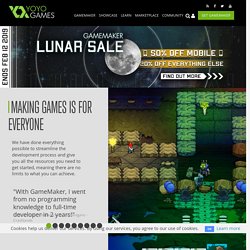 E-Learning Software and Authoring Tools | Articulate Rapid eLearning
Adobe® Presenter 9 software makes it easy to create professional-quality videos by capturing both yourself and your screen with a few clicks. Turn passive content into video presentations, product demonstrations, training videos, and more on your own, right at your desktop. Edit your videos with a simple four-button interface. Get feedback by including quizzes and surveys.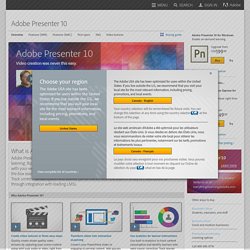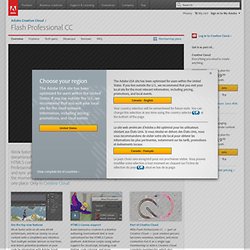 The Adobe USA site has been optimized for users within the United States. If you live outside the U.S., we recommend that you visit your local site for the most relevant information, including pricing, promotions, and local events. United States Canada - English
Learn what you need to get started with Lectora Inspire e‑Learning software Languages Supported Lectora Inspire is available in the following languages: English French German Spanish Swedish Chinese Brazilian Portuguese System Requirements Make sure you meet the following system requirements before you install Lectora: Intel® or AMD® class processor 500MB free RAM 1.1GB free hard disk space for the application Microsoft .NET Framework 4.0 SP1 (required to install Camtasia Studio® and Flypaper™) Lectora runs on the following operating systems: Microsoft Windows XP Microsoft Windows Vista® Microsoft Windows 7 Microsoft Windows 8