Speaking
Discourse markers list. Discourse Markers - Linking Your Ideas in English. Some words and phrases help to develop ideas and relate them to one another.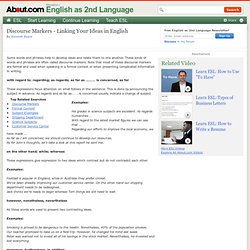 These kinds of words and phrases are often called discourse markers. Note that most of these discourse markers are formal and used when speaking in a formal context or when presenting complicated information in writing. with regard to; regarding; as regards; as far as ……… is concerned, as for. Free English Conversation Lesson Plans - Beginner Intermediate and Advanced. Free English conversation lesson plans for beginning, intermediate and advanced level of English learning in ESL EFL classes as well as business English classes.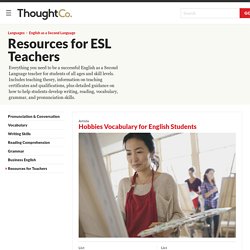 Each lesson provides an introduction, step by step teaching guidelines and printable student worksheets. Teachers Share Conversation Lesson Plans for the ESL / EFL ClassroomESL teachers share their best conversation lesson plans with other English teachers from around the world. ESL Debate LessonsThis lesson plan is based on the idea that having students support opinions that are not necessarily their own during debates can help improve students fluency. In this manner, students pragmatically focus on correct production skills in conversation rather than striving to "win" the argument. For more information on this approach please see the following feature: Teaching Conversational Skills: …
Discourse marker - definition and examples of discourse markers in English. Definition: A particle (such as oh, like, and you know) that is used to direct or redirect the flow of conversation without adding any significant paraphrasable meaning to the discourse.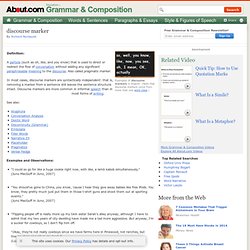 Also called pragmatic marker. In most cases, discourse markers are syntactically independent: that is, removing a marker from a sentence still leaves the sentence structure intact. Lesson04-05. BBC World Service | Learning English | Learn it. Listen to recordings of advanced English students. Advanced English Interviews. Splendid Speaking Interviews >> Interview 3 3: Describing Pictures and Photographs This podcast features an interview with Ekaterina from Bulgaria, who at the time of the interview was preparing for CAE.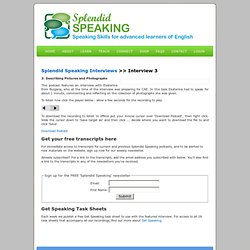 In this task Ekaterina had to speak for about 1 minute, commenting and reflecting on the collection of photographs she was given. To listen now click the player below - allow a few seconds for the recording to play. Improve English fluency skills: learn chunks not just individual words. What are chunks and how can they help improve my fluency in English?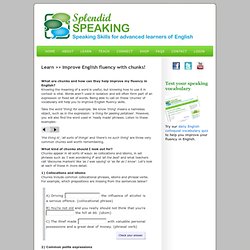 Knowing the meaning of a word is useful, but knowing how to use it in context is vital. Words aren't used in isolation and will often form part of an expression or fixed set of words. Being able to call on these 'chunks' of vocabulary will help you to improve English fluency skills. Take the word 'thing' for example. English conversation skills: Join us at Splendid Speaking on Facebook. This page will introduce our community on Facebook, a place to practise your advanced English speaking skills.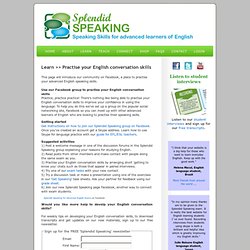 Use our Facebook group to practise your English conversation skills Practice, practice practice! There's nothing like being able to practise your English conversation skills to improve your confidence in using the language. PodOmatic | Podcast - Splendid Speaking - Structuring a Short Talk.
---