Fiction based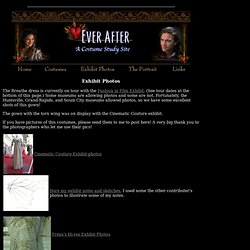 Ever After Costumes
Exhibit Photos The Breathe dress is currently on tour with the Fashion in Film Exhibit. (See tour dates at the bottom of this page.) Some museums are allowing photos and some are not. Fortunately, the Huntsville, Grand Rapids, and Souix City museums allowed photos, so we have some excellent shots of this gown! The gown with the torn wing was on display with the Cinematic Couture exhibit.
Underworld pictures by costumersguide - Photobucket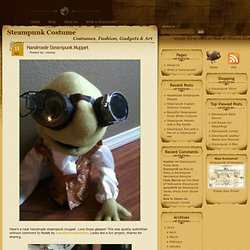 Steampunk Costume
Here's a neat handmade steampunk muppet. Love those glasses! This was quietly submitted without comment to Reddit by makeitpinkmakeitblue. Looks like a fun project, thanks for sharing. [via makeitpinkmakeitblue] Who's going to see Winter Soldier this weekend?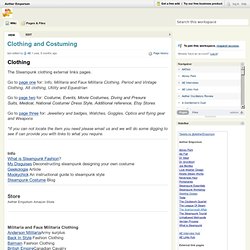 Aether Emporium / Clothing and Costuming
The Steampunk clothing external links pages. Go to page one for: Info, Militaria and Faux Militaria Clothing, Period and Vintage Clothing, Alt clothing, Utility and Equestrian Go to page two for: Costume, Events, Movie Costumes, Diving and Presure Suits, Medical, National Costume/ Dress Style, Additional reference, Etsy Stores
Johanna's Costume Gallery - Such As It Is
The Padawan's Guide
Welcome to Padawan's Guide, a site to help you research and create your own Star Wars costume, whether you are looking for something simple, or obssessively accurate! If you are looking for information on other movie costumes, please visit the CostumersGuide.com. News & Updates Since I don't have much time to update this site with news these days, I'm trying out Facebook. It's super easy to share links and photos this way. It's not great for archiving, but then, since this site doesn't use tags or anything, I guess it's not a ton different from these news archives!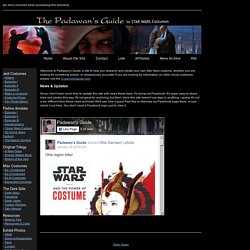 Dressing a Galaxy: The Costumes of Star Wars Exhibit at FIDM Mus
Welcome to LOTR Costume. We hope you enjoy our research project on the Lord of the Rings costumes. When we first saw Peter Jackson's The Lord of the Rings: Fellowship of the Ring, we were amazed by what we saw on the screen. He and his crew have created one of the most complete screen universes of all times recreating the story of a quest to destroy The One Ring.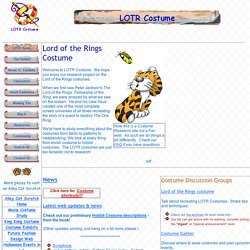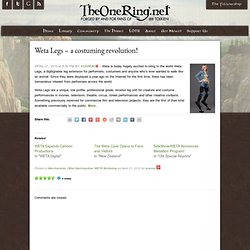 Weta Legs – a costuming revolution! | Hobbit Movie News and Rumo
April 21, 2010 at 8:54 pm by xoanon Weta is today hugely excited to bring to the world Weta Legs, a digitigrades leg extension for performers, costumers and anyone who's ever wanted to walk like an animal. Since they were displayed a year ago on the Internet for the first time, there has been tremendous interest from performers across the world. Weta Legs are a unique, low profile, professional grade, reverse leg stilt for creature and costume performances in movies, television, theatre, circus, street performances and other creative contexts. Something previously reserved for commercial film and television projects, they are the first of their kind available commercially to the public. More..
LotR Costume Gallery
Lord of the Rings Garb
Novelty (Halloween, Special Effect, FX, Theatrical) Lens Reviews Rating: 9.1/10 - 224 reviews These are good contact lenses - but not as crazy/scary as some of the other ones I saw on the site. Depends on your costume. If you need something cheap to make your eyes a cool color, go with these - pretty good price to boot. I was shocked at how bizarre these really looked when I got them on.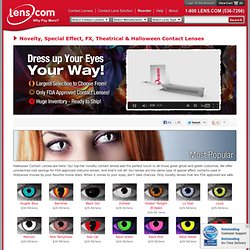 Halloween, Special Effect, FX, Theatrical & Novelty Contact Lenses at Lens.com