Marketing Your Fiction Book
The 5-Minute Guide to Promoting Your Book with Article Marketing. Authors with new books are constantly on the lookout for new ways to market those books.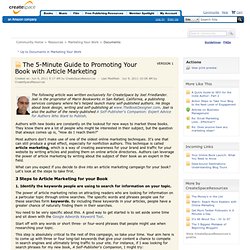 They know there are a lot of people who might be interested in their subject, but the question that always comes up is, "How do I reach them? " Most authors don't make use of one of the oldest online marketing techniques. 5 Keys to Promoting Your Book With a Blog By Julie Isaac. I t's Tuesday and that means it's time for another guest author who is excited to share her knowledge and expertise with you.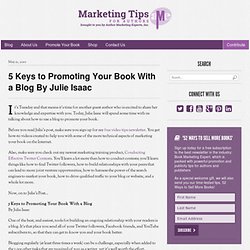 Today, Julie Isaac will spend some time with us talking about how to use a blog to promote your book. Before you read Julie's post, make sure you sign up for my free video tips newsletter. You get how-to videos created to help you with some of the more technical aspects of marketing your book on the Internet. Online Marketing Blog | Internet Marketing Blog. 14 fantastic things we found on the internet this week This round-up covers a whole two weeks' worth of brilliant entertainments, distractions and hijinks that we found on the internet.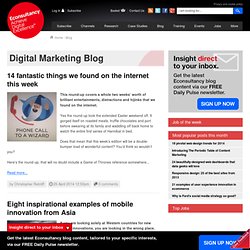 Yes the round-up took the extended Easter weekend off. Promoting Your Book Online. Julien Smith and I are hard at work writing our first book, Trust Agents, about how the social web helps turn relationships into serious business (or some such).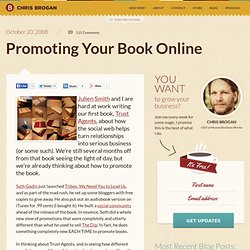 We're still several months off from that book seeing the light of day, but we're already thinking about how to promote the book. Seth Godin just launched Tribes: We Need You to Lead Us, and as part of the mad rush, he set up some bloggers with free copies to give away. He also put out an audiobook version on iTunes for .99 cents (I bought it). Promoting Your Writing. Writing a Book – Marketing And Promotion. Earlier posts in this series:Writing a Book – Finding TimeWriting a Book – DisciplineWriting a Book – Structure Writing a book doesn't stop when you've handed in the last of your edits.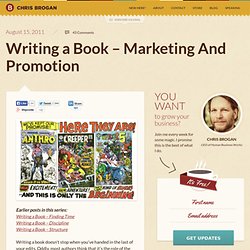 Oddly, most authors think that it's the role of the publisher to market their book, but this is fairly far from the truth. I've worked with two mainstream publishers and one widely-published-author-turned-publisher, and in all cases, they're more like "air support." It's still your job to be the primary marketer of your book. Can We Create The Future Of Indie Marketing & Distribution—Or Is It Already Dead? > Hope for Film. We speak of the need to utilize PMDs (aka Producers of Marketing & Distribution) on Indie/TFF movies these days, but how do these people get trained (not to mention, paid for)?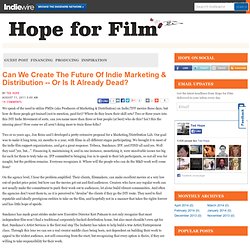 Where do they learn their skill sets? Two or three years into this DIY Indie Movement of sorts, can you name more than three or four people (at best) who do this? Isn't this the missing piece? How come we all aren't doing more to train these folks? 17 Digital Marketing Experts Share Their Top Tips, Tricks, and Tools. With the breadth and depth of social media services out there, it's no wonder that we often find ourselves lost in the vast array of services.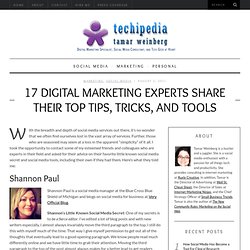 Further, those who are seasoned may seem at a loss in the apparent "simplicity" of it all. I took the opportunity to contact some of my esteemed friends and colleagues who are experts in their field and asked for their advice on their favorite little known social media secret and social media tools, including their own if they had them. Here's what they told me: Shannon Paul. The Smartest Strategy For Selling Your Ebook - A Product Launch. 10 Ways to Market Your Book. The list below briefly describes 10 effective ways to promote - and sell more of - your books.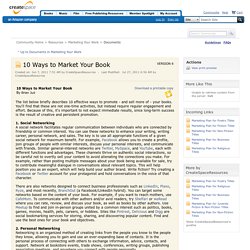 You'll find that these are not one-time activities, but instead require regular engagement and effort. Because of this, it's important to not expect immediate results, since long-term success is the result of creative and persistent promotion. 1. 10 Tips for Building an Engaged Facebook Community. While Facebook is a great platform for connecting with your audience and potential consumers, the social media site is not going to do the job of engaging them for you.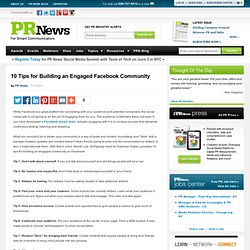 The audience is definitely there, but even if you have developed a Facebook dream team, actually engaging with it is a nonstop process that demands continuous testing, listening and tweaking. What you shouldn't do is drown your community in a sea of posts and content. Inundating your "likes" with a barrage of status updates and content doesn't mean they're going to jump into the conversation by default. In fact, it might alienate them. With that in mind, Monte Lutz, SVP/group head for Edelman Digital, provides 10 tips for building an engaged community on Facebook. Basics of Book Marketing. What lies behind the fantastic success of some of the most high-profile independent authors?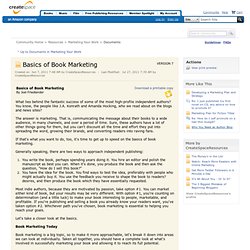 You know, the people like J.A. Konrath and Amanda Hocking, who we read about on the blogs and news sites? The answer is marketing. That is, communicating the message about their books to a wide audience, in many channels, and over a period of time. Sure, these authors have a lot of other things going for them, but you can't discount all the time and effort they put into spreading the word, growing their brands, and converting readers into raving fans.
Free Book Marketing | Best Book Marketing Tools for Authors.
---