Baby
Studio Ainsley | Houston Newborn Maternity Photography - Rates. Diapers. Dandelion Blowing in the Wind Wall Decal Sticker Graphic. NoJo Plum Dandy 6 Piece Set, Plum/Purple: Baby. Purple and Black Kaylee Girls Boutique Baby Bedding - 9 pc Crib Set only $229.99. The 9pc Kaylee baby bedding collection by Sweet Jojo Designs creates a stunning boutique setting for your little fashionista.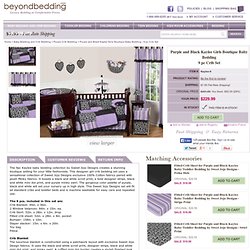 This designer girl crib bedding set uses a sensational collection of Sweet Jojo Designs exclusive 100% Cotton fabrics paired with plush Minky fabrics. It boasts a black and white scroll print, a bold designer stripe, black and white mini dot print, and purple minky swirl. Photo. Fun, eclectic boy's nursery design with blue walls paint color, orange Jenny Lind ...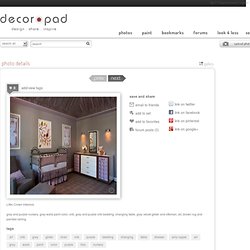 Alice Lane Home Fun gray and orange boy's nursery design with blue walls paint color, orange Jenny ... Wholesome Homemade Baby Food Recipes, Make your baby healthy homemade baby food with our easy baby food recipes, solid food tips, baby nutrition & more! Wholesome baby food.com - Baby food recipes and solid foods for baby website featuring simple Homemade Baby Food Recipes since 2003.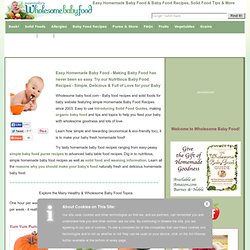 Easy to use Introducing Solid Food Guides, making organic baby food and tips and topics to help you feed your baby with wholesome goodness and lots of love. Learn how simple and rewarding (economical & eco-friendly too), it is to make your baby fresh homemade food! Try tasty homemade baby food recipes ranging from easy-peasy simple baby food puree recipes to advanced baby table food recipes.
Dig in to nutritious, simple homemade baby food recipes as well as solid food and weaning information. Chinese Birth Calendar - Predict Your Babies Gender.
New Baby Checklist - Essential newborn shopping list. Home Baby Checklist Newborn baby shopping list - things you need to buy for your new baby What are the essential items I need to buy for my new baby?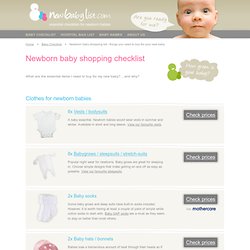 ...and why? A complete list of essentials | The Baby Registry. Children's safety guidelines | Children's safety | Decorating advice. Decorating your kid's bedroom?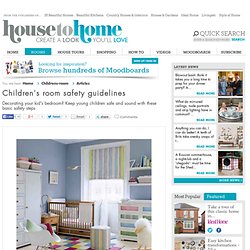 Keep young children safe and sound with these basic safety steps Inspired? Projects | Project Nursery - Part 4. Blog | Project Nursery - Part 2. If there is one piece of baby gear that I feel actual attachment to, it's my Ergobaby carrier.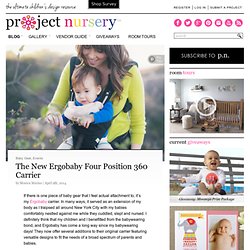 In many ways, it served as an extension of my body as I traipsed all around New York City with my babies comfortably nestled against me while they cuddled, slept and nursed. I definitely think that my children and I benefitted from the babywearing bond, and Ergobaby has come a long way since my babywearing days!
They now offer several additions to their original carrier featuring versatile designs to fit the needs of a broad spectrum of parents and babies. Read More ... The circus fun continues!
---