Baby
DIY Birthday Pinata. Hey DIYers!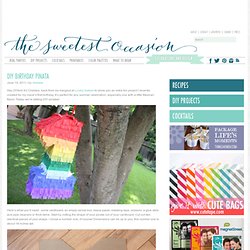 It's Chelsea, back from my hangout at Lovely Indeed to show you an extra fun project I recently created for my niece's first birthday. It's perfect for any summer celebration, especially one with a little Mexican flavor. Today, we're talking DIY pinatas! Here's what you'll need: some cardboard, an empty cereal box, tissue paper, masking tape, scissors, a glue stick, and pipe cleaners or thick twine. Calico: baby legs tutorial. 4 Ways to Keep A Toddler Busy While Caring for a Newborn | Parenting Starts Here. Give your toddler their own cabinet to keep them busy in the kitchen.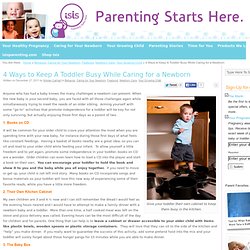 Anyone who has had a baby knows the many challenges a newborn can present. When the new baby is your second baby, you are faced with all those challenges again while simultaneously trying to meet the needs of an older sibling. Arming yourself with some "go-to" activities that promote independence for a toddler will be key for not only surviving, but actually enjoying those first days as a parent of two. 1. SLIME. Don't you LOVE it when your little one is over the moon about an activity you shared together?!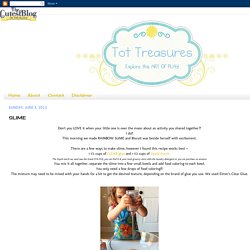 I do!! This morning we made RAINBOW SLIME and Biscuit was beside herself with excitement. There are a few ways to make slime, however I found this recipe works best ~ 1 1/2 cups of CLEAR glue and 1 1/2 cups of liquid starch. The liquid starch we used was the brand STA-FLO, you can find it at your local grocery store with the laundry detergent or you can purchase on amazon. Easy Homemade Playdough Recipe. 7.9K Flares4.0K643.8K120--×7.9K Flares I love doing fun things with my kids, but I don't do stuff as often as I'd like because of time and the mess.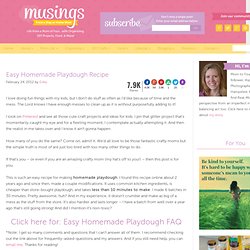 The Lord knows I have enough messes to clean up as it is without purposefully adding to it! 25 Stunning Play Tents to Buy or DIY. By Jaime Morrison Curtis | Every kid loves a small space to call their own.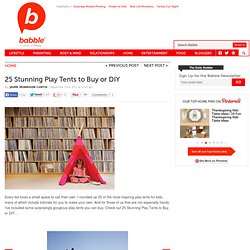 I rounded up 25 of the most inspiring play tents for kids, many of which include tutorials for you to make your own. And for those of us that are not especially handy, I've included some surprisingly gorgeous play tents you can buy. Check out 25 Stunning Play Tents to Buy or DIY… Home Page. Baby Gear, Baby Stuff, Parenting Classes & Childbirth Education - Isis Parenting - Isis Highly Recommended.
Local to you | Local information for families in NW Leics. 197 Netmums like this Explore your local Netmums site, whether you are looking for local Places to Go with your family in NW Leics, a great family event in NW Leics or the best baby & toddler group locally - we can help.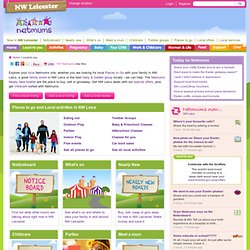 The Netmums Nearly New boards are the place to buy, sell or giveaway. Get NW Leics deals with our special offers, plus get childcare sorted with Netmums. Sing and Sign - The original British baby signing programme. Healthy Children. Services and Treatments at Lulu's Family Cuts at Salon 2323. Cash and checks only, please Adult haircuts: women: $65 men: $50 Children's haircuts: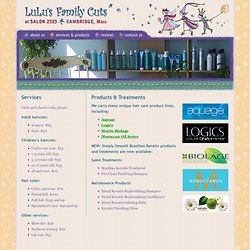 Home. Kids labels | Baby labels | Clothing labels | Mabel's. Smally Scover at Mini Jake Kids NY. Productive Parenting - Activity Library: Preschool Activities, Toddler Activities, Baby Development. Productive Parenting Activity Search Activity Library Activity Categories Skills Learned Activity Library Activities displayed: 124.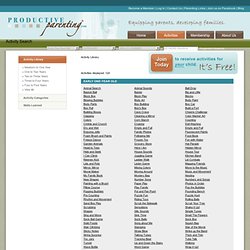 Indoor Gross Motor Activities. Warm weather is already tapering off , rain has been pounding down in many areas but kids still need to move, burn off energy and have fun doing it!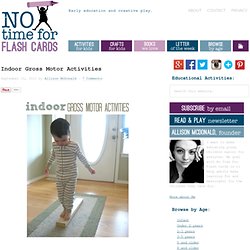 Over the years we've gathered many gross motor activities for preschoolers and all of these can be done rain or shine in your home. The Easy Balance Beam shown above is as simple as can be but offers a million possibilities . We've been pirates, played Simon Says on the beam, even played statue while standing on one leg. This Musical Hearts Game is a wonderful and fun way to incorporate listening, reading and shapes into a gross motor activity. We played this often last winter and can't wait to include my daughter in on the fun now that she is running and jumping too. 5 Sensory Play Ideas for Toddlers | Parenting Starts Here.
A toddler paints bubble wrap in Isis Art Studio class.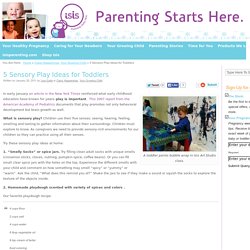 In early January an article in the New York Times reinforced what early childhood educators have known for years–play is important. This 2007 report from the American Academy of Pediatrics documents that play promotes not only behavioral development but brain growth as well. What is sensory play? Children use their five senses: seeing, hearing, feeling, smelling and tasting to gather information about their surroundings. Children must explore to know. Sponge Bomb Bucket Toss. For a FUN time, here's how to make sponge bombs! Begin by cutting up ordinary household sponges into thirds, and wrapping an "ouchless" hair elastic around them…. Tip — Here is a quick video tutorial to demo how QUICK & easy these are to make! Grab a friend and a couple of buckets — each person kneels in front of a bucket filled to the top with water. The object of the game is to hurl the sponge bombs into each other's buckets!
---