Telenovelas_Narrative Structures
Telenovelas Are The New Coveted Marketing Niche. Last week Telemundo premiered the first episode of their web-based telenovela "Mia Mundo".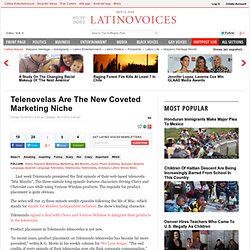 The three-minute long episode features characters driving Chevy and Chevrolet cars while using Verizon Wireless products. The requisite for product placement is quite obvious. The series will run 13 three-minute weekly episodes following the life of Mia--which stands for stands for Modern Independent Achiever, the show's leading character. Por Ella Soy Eva. Abismo de pasión. Ermita de Santa Isabel.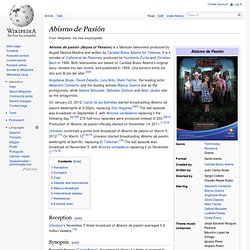 Abismo de pasión (Abyss of Passion) is a Mexican telenovela produced by Angelli Nesma Medina and written by Caridad Bravo Adams for Televisa. It is a remake of Cañaveral de Pasiones, produced by Humberto Zurita and Christian Bach in 1996. Both telenovelas are based on Caridad Bravo Adams's original story, divided into two novels, and published in 1959: Una sombra entre los dos and Al pie del altar.[2][3] Amorcito Corazón. Amorcito Corazón (Darling sweetheart) is a Mexican telenovela produced by Televisa by Lucero Suarez.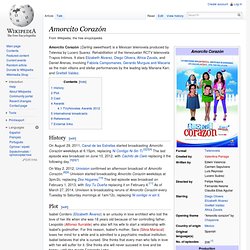 Rehabilitation of the Venezuelan RCTV telenovela Trapos Intimos. It stars Elizabeth Álvarez, Diego Olivera, Africa Zavala, and Daniel Arenas, involving Fabiola Campomanes, Gerardo Murguia and Macaria as the main villains and stellar performances by the leading lady Mariana Karr, and Grettell Valdez. History[edit] La que no podía amar.
La que no podía amar (The One Who Couldn't Love[2]) is a Mexican telenovela produced by José Alberto Castro for Televisa.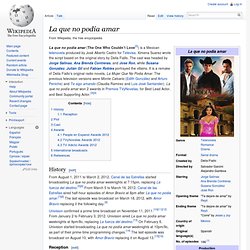 Ximena Suarez wrote the script based on the original story by Delia Fiallo. The cast was headed by Jorge Salinas, Ana Brenda Contreras, and Jose Ron, while Susana González, Julián Gil and Fabian Robles portrayed the villains. It is a remake of Delia Fiallo's original radio novela, La Mujer Que No Podia Amar. The previous television versions were Monte Calvario (Edith González and Arturo Peniche) and Te sigo amando (Claudia Ramirez and Luis José Santander). Corazón Apasionado. Corazón Apasionado(International Title:Passions of The Heart) is a 2011 telenovela produced by Venevisión International, starring Marlene Favela and Guy Ecker as the main protagonists with Susana Dosamantes and José Guillermo Cortines as the main antagonists.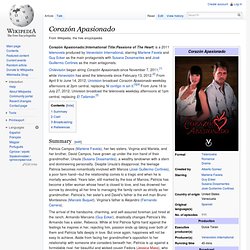 Chilevisión began airing Corazón Apasionado since November 7, 2011,[1] while Venevisión has aired the telenovela since February 13, 2012.[2] From April 9 to June 14, 2012, Univision broadcast Corazón Apasionado weekday afternoons at 2pm central, replacing Ni contigo ni sin ti.[3][4] From June 18 to July 27, 2012, Univision broadcast the telenovela weekday afternoons at 1pm central, replacing El Talismán.[5] Summary[edit] Patricia Campos (Marlene Favela), her two sisters, Virginia and Mariela, and her brother, David Campos, have grown up under the iron hand of their grandmother, Ursula (Susana Dosamantes), a wealthy landowner with a stern and domineering personality.
Un Refugio para el Amor. Un refugio para el amor (Official translation: A Shelter For Love[2]) is a Mexican Spanish-language telenovela produced by Ignacio Sada Madero for Televisa.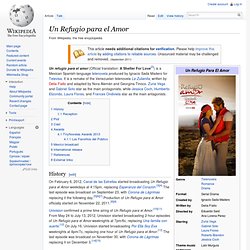 It is a remake of the Venezuelan telenovela La Zulianita, written by Delia Fiallo and adapted by Nora Alemán and Georgina Tinoco. Zuria Vega and Gabriel Soto star as the main protagonists, while Jessica Coch, Humberto Elizondo, Laura Flores, and Frances Ondiviela star as the main antagonists. History[edit] Por Ella Soy Eva. Por Ella Soy Eva (International Title: Me, Her and Eva!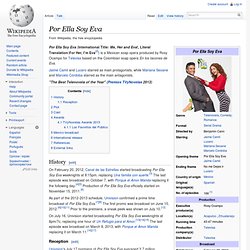 , Literal Translation:For Her, I'm Eva[2]) is a Mexican soap opera produced by Rosy Ocampo for Televisa based on the Colombian soap opera En los tacones de Eva. "The Best Telenovela of the Year" (Premios TVyNovelas 2013) History[edit] On February 20, 2012, Canal de las Estrellas started broadcasting Por Ella Soy Eva weeknights at 8:15pm, replacing Una familia con suerte.[3] The last episode was broadcast on October 7, with Porque el Amor Manda replacing it the following day.[4][5] Production of Por Ella Soy Eva officially started on November 15, 2011.[6]
El Talismán. El Talismán (The Talisman) is a telenovela co-produced by Venevision and Univision Studios, starring Blanca Soto and Rafael Novoa as the main protagonists,[2] and Aarón Díaz, Lola Ponce, and Marcela Mar as the main antagonists.[3] Univision had announced that El Talismán would air on the network as part of the 2011–2012 programming schedule,[4][5] and was confirmed to air in 2012 on November 11, 2011.[6] Though 120 episodes were planned to be produced,[7] the episode count was reduced to a total of 98 due to low ratings.
From January 30 to February 3, 2012, Univision aired El Talismán at 8pm central, replacing one hour of Una familia con suerte,[8] and later at 9pm central from February 6 to March 9, 2012.[9] Though El Talismán was seen by 5 million viewers during its premiere day,[10] viewership declined overtime during its prime time airings. As a result, Univision aired El Talismán at 1pm central from March 12[11][12] to June 15, 2012.[13] Cast[edit] How to write a tv series bible. How to Write a Character Bible. How to Study Characters in the Bible There are a lot of things believers can learn from studying the lives of characters in the Bible such as the Old...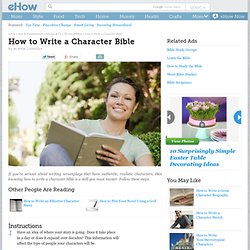 How to Write a Bible Study Guide How to Write a Character Bible. If you're serious about writing screenplays that have authentic, realistic characters, ... Taller telemundo. Google Translate. (6) Abismo de Pasión (Abismo_DePasion) Damian Arango (Damian_Arango) (40) Por Ella Soy Eva (XEllaSoyEva) (2) Por Ella Soy Eva.
---