Fact/Opinion
Media Often Fails to Distinguish Opinions from Facts. Fact or Opinion Quiz. Fact and Opinion. Ned Kelly. Edward "Ned" Kelly (June 1854 or 1855 – 11 November 1880)[1] was an Irish Australian bushranger.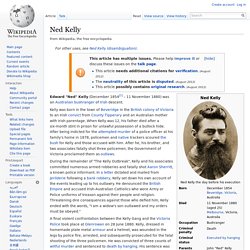 Kelly's legacy is controversial; some consider him to be a murderous villain, while others view him as a folk hero and Australia's equivalent of Robin Hood.[2] A final violent confrontation with police took place at Glenrowan on 28 June 1880. Kelly, dressed in home-made plate metal armour and a helmet, was captured and sent to gaol. He was convicted of three counts of wilful murder[3] and hanged at Old Melbourne Gaol in November 1880. His daring and notoriety made him an iconic figure in Australian history, folklore, literature, art and film. How to Identify Bias | OLE Election Series. When reporter John Stossel announced in 2009 that he was leaving ABC for Fox News, some readers complained about his "bias."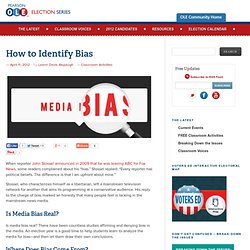 Stossel replied: "Every reporter has political beliefs. The difference is that I am upfront about mine." Stossel, who characterizes himself as a libertarian, left a mainstream television network for another that aims its programming at a conservative audience. His reply to the charge of bias marked an honesty that many people feel is lacking in the mainstream news media. Is Media Bias Real? Top court upholds healthcare law.
Preserving Cabrini-Green's images In the sharp sun of an April afternoon, Nate Lanthrum walks through the remains of Cabrini-Green giving away what he has taken.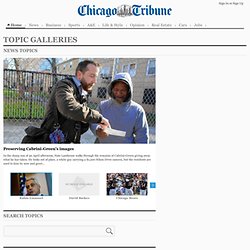 He looks out of place, a white guy carrying a $1,500 Nikon D700 camera, but the residents are used to him by now and greet... Blackhawks thrilled to have Brent Seabrook back Starting with Game 6 Sunday, Brent Seabrook's timeout will be over and the defenseman will be back on the ice — so long as he promises to play nice. Supreme Court Upholds Health Care Law, 5-4, in Victory for Obama. The decision was a victory for Mr.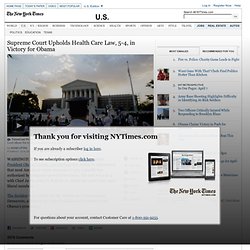 Obama and Congressional Democrats, affirming the central legislative achievement of Mr. Obama's presidency. Supreme Court upholds Obama's health-care law. The decision keeps in place the largest new social program in a generation, a major overhaul of the health-care system that could extend coverage to about 30 million Americans.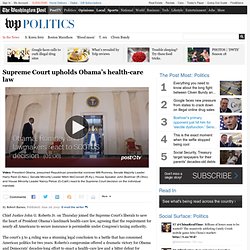 It creates state-run insurance exchanges and eliminates what have been some of the most unpopular insurance practices. The ruling did limit one significant portion of the law, which sought to expand Medicaid to cover millions more poor and disabled people. The program is a joint federal-state effort, and the court said the law's requirement that states rapidly extend coverage to new beneficiaries or lose existing federal payments was unduly coercive. Supreme Court upholds healthcare law as tax measure. WASHINGTON -- The U.S.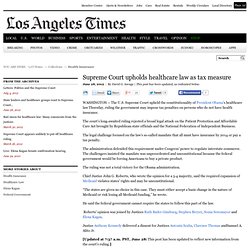 Supreme Court upheld the constitutionality of President Obama's healthcare law Thursday, ruling the government may impose tax penalties on persons who do not have health insurance. The court's long-awaited ruling rejected a broad legal attack on the Patient Protection and Affordable Care Act brought by Republican state officials and the National Federation of Independent Business. The legal challenge focused on the law's so-called mandate that all must have insurance by 2014 or pay a tax penalty. Emotions high after Supreme Court upholds health care law. NEW: Mitt Romney's campaign raises $3.2 million in hours after the rulingPresident Barack Obama calls the ruling a victory for the American peopleThe Supreme Court finds the "individual mandate" is constitutional as a taxThe 2010 Affordable Care Act is the signature legislation of the Obama presidency Washington (CNN) -- The U.S.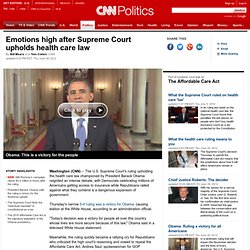 Supreme Court's ruling upholding the health care law championed by President Barack Obama reignited an intense debate, with Democrats celebrating millions of Americans getting access to insurance while Republicans railed against what they contend is a dangerous expansion of government. Thursday's narrow 5-4 ruling was a victory for Obama, causing elation at the White House, according to an administration official.
"Today's decision was a victory for people all over this country whose lives are more secure because of this law," Obama said in a televised White House statement. Supreme Court upholds ObamaCare. The Supreme Court has upheld President Obama's health care overhaul.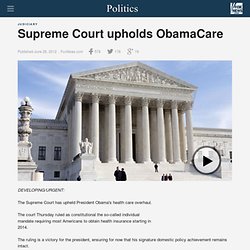 The court Thursday ruled as constitutional the so-called individual mandate requiring most Americans to obtain health insurance starting in 2014. The ruling is a victory for the president, ensuring for now that his signature domestic policy achievement remains intact. Monologue 4. Blabberize.com - Got a picture? Blabberize it! Viewing: Amelia.
---