Fact/Opinion
Media Often Fails to Distinguish Opinions from Facts
Fact or Opinion Quiz
Fact and Opinion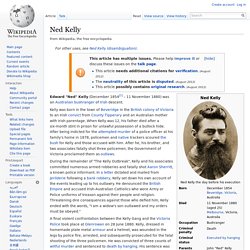 Edward "Ned" Kelly (June 1854 or 1855 – 11 November 1880)[1] was an Irish Australian bushranger. Kelly's legacy is controversial; some consider him to be a murderous villain, while others view him as a folk hero and Australia's equivalent of Robin Hood.[2] A final violent confrontation with police took place at Glenrowan on 28 June 1880. Kelly, dressed in home-made plate metal armour and a helmet, was captured and sent to gaol. He was convicted of three counts of wilful murder[3] and hanged at Old Melbourne Gaol in November 1880. His daring and notoriety made him an iconic figure in Australian history, folklore, literature, art and film.
How to Identify Bias | OLE Election Series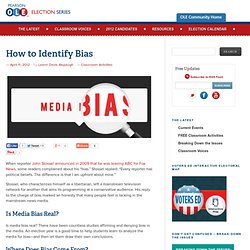 When reporter John Stossel announced in 2009 that he was leaving ABC for Fox News, some readers complained about his "bias." Stossel replied: "Every reporter has political beliefs.
$90 million to U. of C. meant to 'alter the course of cancer' Cancer researchers at the University of Chicago will get a substantial boost Monday, when an international nonprofit plans to announce that the university and five other leading institutions will each receive $90 million to advance new treatments aimed at... Odds and ends: Crabtree's healthy return lifts 49ers The San Francisco 49ers downed the Green Bay Packers 23-20 on Sunday evening on a last-second 33-yard field goal by Phil Dawson. The victory ends the Packers' season and sends the 49ers onto Carolina now to face the Panthers in the divisional...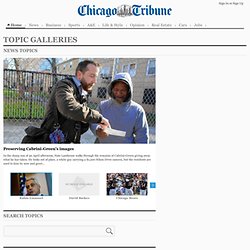 Supreme Court Upholds Health Care Law, 5-4, in Victory for Obama
Supreme Court upholds Obama's health-care law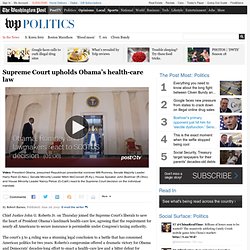 The decision keeps in place the largest new social program in a generation, a major overhaul of the health-care system that could extend coverage to about 30 million Americans.
WASHINGTON -- The U.S.
Supreme Court upholds healthcare law as tax measure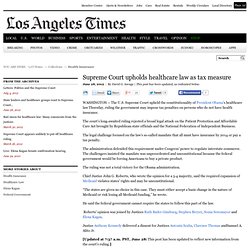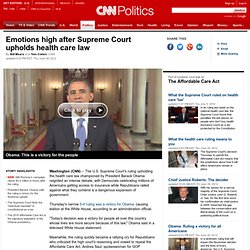 NEW: Mitt Romney's campaign raises $3.2 million in hours after the rulingPresident Barack Obama calls the ruling a victory for the American peopleThe Supreme Court finds the "individual mandate" is constitutional as a taxThe 2010 Affordable Care Act is the signature legislation of the Obama presidency Washington (CNN) -- The U.S.
Emotions high after Supreme Court upholds health care law
Supreme Court upholds ObamaCare
The Supreme Court has upheld President Obama's health care overhaul. The court Thursday ruled as constitutional the so-called individual mandate requiring most Americans to obtain health insurance starting in 2014. The ruling is a victory for the president, ensuring for now that his signature domestic policy achievement remains intact.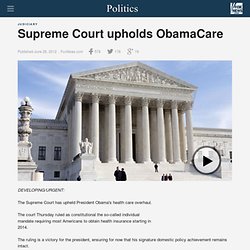 monologue 4
viewing: Amelia