Chinese/Asian Cooking
Smoky Wok - Easy Asian Homecooking Recipes and More. CHINESE STEAMED MEAT BALLS | WHAT TO COOK TODAY? Meat balls are very well-known across various culture.
Chinese meatballs (specifically, a dish common in Shanghai cuisine) are most often made of pork and are usually steamed or boiled, either as-is, or with the addition of soy sauce. There are meatballs called Lion's heads. These can range in size from about 5 cm in diameter to about 10 cm. Custard Cream Buns (Sa-la-pao Sai Cream) Salapao Sai Cream is Chinese Steamed Buns.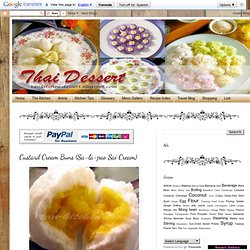 White steamed buns called 'salapao' are a popular snack in Thailand. They are sold at hawker stalls and roadside eateries as well as Chinese restaurants. Fillings for the buns can be savoury or sweet. The sweet buns are often favoured by overseas visitors and are usually available at 7-Eleven stores for around 10 to 15 Baht. Steamed Chinese Lotus Buns Recipe 莲蓉包 (with Photo Tutorial) I am so pleased to present today steamed Chinese lotus paste buns from my humble kitchen - I'm still a little surprised at how good they were since this was my first attempt at making steamed buns or pao/ bao at home, I guess with a bit of determination and a decent recipe, one can't go too far off the mark, yes even for a novice like yours truly.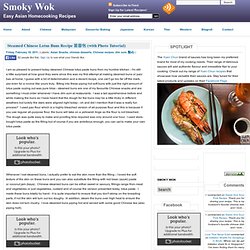 Biting into these piping hot soft buns with just the right amount of lotus paste oozing out was pure bliss - steamed buns are one of my favourite Chinese snacks and are something I must order whenever I have dim sum at restaurants. I was a tad apprehensive before and while making the buns as I have heard that the dough for the buns may be a little tricky in different weathers but luckily the stars were aligned right today - oh and did I mention that it was a really fun process?
Steamed Beef Meatballs Recipe by Southern Crockpot. Serving size Calories 414 Calories from Fat 240 % Daily Value*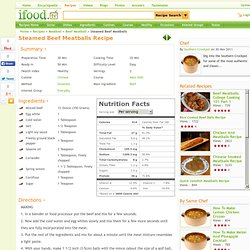 Cooking Porridge, How To Make Porridge, How To Make Congee. Egg Custard Buns Recipe (Lai Wong Bao) A while back a young Vietnamese-American woman emailed about how her boyfriend was in love with a particular kind of steamed bao filled with a buttery yellow filling.
Did I know how to make them? She would be so thrilled to be able to gift him one of his favorite sweets. I felt like the bao competed with her for his affection. I was compelled to help her but did not have time to until now. Chinese Donuts (Yao Tiew) on a Sunday Afternoon. Sunday, May 6, 2007 A lazy day.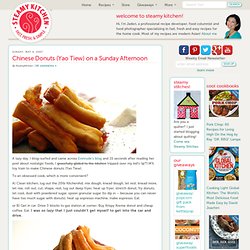 I blog-surfed and came across Evinrude's blog and 15 seconds after reading her post about nostalgic foods, I gracefully glided to the kitchen tripped over my kid's ! @*?
---