Unix
Get flash to fully experience Pearltrees
WHAT is Debian? The Debian Project is an association of individuals who have made common cause to create a free operating system. This operating system that we have created is called Debian . An operating system is the set of basic programs and utilities that make your computer run. At the core of an operating system is the kernel. The kernel is the most fundamental program on the computer and does all the basic housekeeping and lets you start other programs.
Dec 26, 2008 I realize it's a touchy subject, but some of us prefer unmodified Firefox — including the standard Firefox icon — to Debian's Iceweasel alternative. Here's a three-step way to substitute Firefox for Iceweasel on a fresh Lenny install. This procedure assumes you've downloaded and installed the latest Debian Lenny (aka "testing," currently) GNU/Linux distribution, along with its standard GNOME desktop environment. Using Iceweasel for the last time, download Firefox to your home directory. Let's assume the name of the file you downloaded is "firefox-3.0.5.tar.bz2″ (the current version as of this writing).
Home | Licence | FAQ | Docs | Download | Keys | Links Mirrors | Updates | Feedback | Changes | Wishlist | Team PuTTY is a free implementation of Telnet and SSH for Windows and Unix platforms, along with an xterm terminal emulator. It is written and maintained primarily by Simon Tatham .
Name sort - sort lines of text files Synopsis sort [ OPTION ]... [ FILE ]... sort [ OPTION ]... --files0-from=F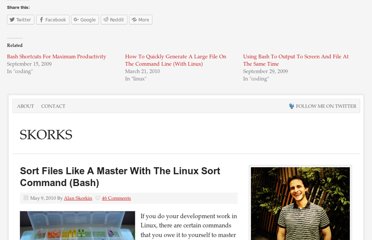 If you do your development work in Linux, there are certain commands that you owe it to yourself to master fully. There are a number of these with the main ones being grep , find and sort . Just about everyone has at least a passing familiarity with these commands, but with most people the knowledge is superficial, they don't even realise how powerful those commands can be. So, if you really put in the effort to master them, not only will you make your own life much easier, but you will also be able to impress all you friends with your elite Linux skills when you pair with them :).