Iraq
Mortality in Iraq Associated with the 2003–2011 War and Occupation: Findings from a National Cluster Sample Survey by the University Collaborative Iraq Mortality Study. Abstract Background Previous estimates of mortality in Iraq attributable to the 2003 invasion have been heterogeneous and controversial, and none were produced after 2006.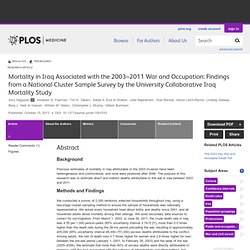 The purpose of this research was to estimate direct and indirect deaths attributable to the war in Iraq between 2003 and 2011. Methods and Findings. Iraq. The project, Iraq on the Regional and International Stage: National Interests and Foreign Policy Determinants and Dynamics, researched the varied foreign policy interests, influences, and actors inside Iraq.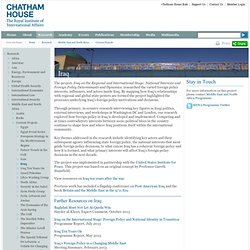 By mapping how Iraq's relationships with regional and global state powers are formed the project highlighted the processes underlying Iraq's foreign policy motivations and decisions. Through primary, in-country research interviewing key figures in Iraqi politics, external interviews, and workshops in Washington DC and London, our research explored how foreign policy in Iraq is developed and implemented. Competing and at times contradictory interests between socio-political blocs in the country continue to shape how and where Iraq positions itself within the international community.
Occasional Papers » Institute for Iraqi Studies. The Institute's first occasional paper–The Hawza under Siege: A Study in Ba'th Party Archive–by 'Abbas Kadhim has just been published.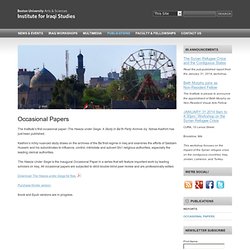 Kadhim's richly nuanced study draws on the archives of the Ba'thist regime in Iraq and examines the efforts of Saddam Hussein and his subordinates to influence, control, intimidate and subvert Shi'i religious authorities, especially the leading clerical authorities. The Hawza Under Siege is the inaugural Occasional Paper in a series that will feature important work by leading scholars on Iraq. Iraq. US "war on terror" - Iraq. Maliki's Iraq: Rape, executions and torture - Human Rights. Baghdad - Heba al-Shamary (name changed for security reasons) was released last week from an Iraqi prison where she spent the last four years.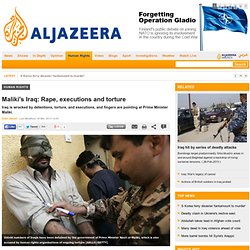 "I was tortured and raped repeatedly by the Iraqi security forces," she told Al Jazeera. "I want to tell the world what I and other Iraqi women in prison have had to go through these last years. It has been a hell. " Heba was charged with terrorism, a fate faced by many Iraqis who are detained by security forces. Maliki's most solemn hour. Some analysts said during the Second Gulf War that al Qaeda would be trading up from Afghanistan if it secured a base in Iraq.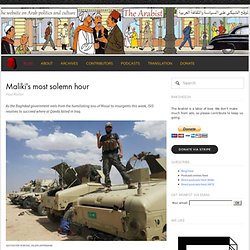 It was a prescient thought, but perhaps premature: between 2007 and 2010, Iraqis by and large rejected that fate for their country and dealt a body blow to the foreign Sunni jihadists who entered the country. But then the Syrian Civil War began. Non-Syrian jihadists entered Syria in numbers - though so too did foreign brigades sponsored by Iran and Hezbollah - and many of the Sunnis among these fighters came from nearby Iraq to fight in solidarity.
US invasion leaves lasting Iraq scars. Iraq more dangerous than a year ago, U.S. review finds. The findings contrast with public statements by U.S. diplomatic and military officials in Iraq and come as Washington awaits a final decision by Iraqi leaders on whether they want U.S. troops to stay in the country beyond the expiration of a three-year security agreement in December.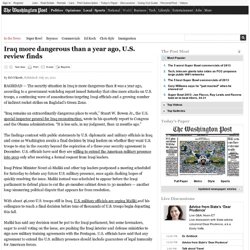 U.S. officials have said they are willing to extend the American military presence into 2012 only after receiving a formal request from Iraqi leaders. Iraqi Prime Minister Nouri al-Maliki and other top leaders postponed a meeting scheduled for Saturday to debate any future U.S. military presence, once again dashing hopes of quickly resolving the issue.
Maliki instead was scheduled to appear before the Iraqi parliament to defend plans to cut the 46-member cabinet down to 30 members — another long-simmering political dispute that appears far from resolution. Iraqi torture victim's tale reveals nation's darker side. Ali was always the least troublesome Methboub son, a dutiful member of the Iraqi family whose saga the Monitor has chronicled since 2002.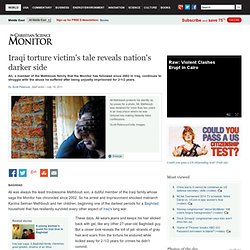 So his arrest and imprisonment shocked matriarch Karima Selman Methboub and her children, beginning one of the darkest periods for a Baghdad household that has resiliently survived every other aspect of Iraq's long war. Skip to next paragraph Subscribe Today to the Monitor Click Here for your FREE 30 DAYS ofThe Christian Science MonitorWeekly Digital Edition These days, Ali wears jeans and keeps his hair slicked back with gel, like any other 27-year-old Baghdadi guy.
Violent Deaths of Iraqi Civilians, 2003–2008: Analysis by Perpetrator, Weapon, Time, and Location.
---