Local Install Needed
Twitter. MindGenius. MindGenius is a mind mapping software application.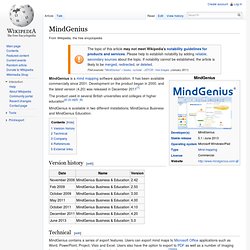 It has been available commercially since 2001. Development on the product began in 2000, and the latest version (4.20) was released in December 2011[1] MindGenius Homepage. MindView. MindView is a computer program, developed and distributed by MatchWare.[1] Classified as mind mapping software, the program is targeted towards professionals and is used to visually brainstorm, organize and present ideas.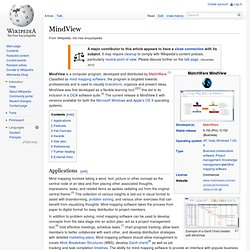 MindView was first developed as a flexible learning tool;[2][3] this led to its inclusion in a DiDA software suite.[4] The current release is MindView 5 with versions available for both the Microsoft Windows and Apple's OS X operating systems. Applications[edit] Mind Mapping Software. Mind Mapping Software as a Productivity Tool Why should I pay for a mind map maker or concept map maker?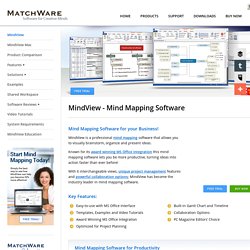 It's simple – you get what you pay for. Using MindView as your mind map creator gives you the industry's best Microsoft Office integration. This ensures ROI for mind mapping users as the re-entering of data is not necessary when compared to traditional brainstorming and whiteboard sessions, which makes you more productive when designing a cognitive map. Professionally Designed export templates allow you to convert your mind map into a polished presentation with the click of a mouse. Visual Mind. Visual Mind is mind mapping software that allows users to capture and organize information in a visual manner.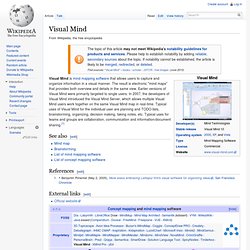 The result is electronic "mind maps" that provides both overview and details in the same view. Earlier versions of Visual Mind were primarily targeted to single users. In 2007, the developers of Visual Mind introduced the Visual Mind Server, which allows multiple Visual Mind users work together on the same Visual Mind map in real-time.
Typical uses of Visual Mind for the individual user are planning and TODO-lists, brainstorming, organizing, decision making, taking notes, etc. Mind Mapping Software. Welcome to Visual Mind Online Store.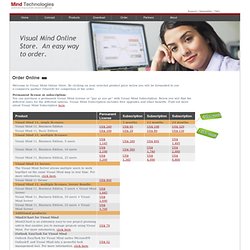 By clicking on your selected product price below you will be forwarded to our e-commerce partner (ShareIt) for completion of the order. Permanent license or subscription: You can purchase a permanent Visual Mind license or "pay as you go" with Visual Mind Subscription. Below you will find the different rates for the different options. Visual Mind Subscription includes free upgrades and other benefits. Find out more about Visual Mind Subscription here. Visual Mind (tm) Web Viewer. Microsoft Visio. Microsoft Visio (/ˈvɪzi.oʊ/ VIZ-zee-oh) (formerly Microsoft Office Visio) is a diagramming and vector graphics application and is part of the Microsoft Office suite.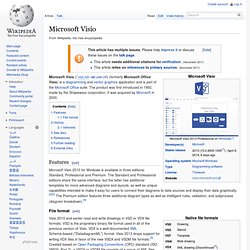 The product was first introduced in 1992, made by the Shapeware corporation. It was acquired by Microsoft in 2000. Features[edit] Microsoft Visio 2010 for Windows is available in three editions: Standard, Professional and Premium. Visio 2010. SmartDraw. SmartDraw is a visual processor used to create flowcharts, organization charts, mind maps, project charts, and other visuals.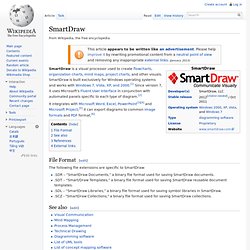 SmartDraw is built exclusively for Windows operating systems and works with Windows 7, Vista, XP, and 2000.[1] Since version 7, it uses Microsoft's Fluent User Interface in conjunction with automated panels specific to each type of diagram.[2] It integrates with Microsoft Word, Excel, PowerPoint[3][4] and Microsoft Project;[5] it can export diagrams to common image formats and PDF format.[6] File Format[edit] The following file extensions are specific to SmartDraw: .SDR – "SmartDraw Documents," a binary file format used for saving SmartDraw documents..SDT – "Smart/Draw Templates," a binary file format used for saving SmartDraw reusable document templates..SDL – "SmartDraw Libraries," a binary file format used for saving symbol libraries in SmartDraw..SCZ - "SmartDraw Collections," a binary file format used for saving SmartDraw collections.
The World's First Visual Processor(tm) Diagram Templates SmartDraw includes more than 70 different kinds of charts, diagrams and other visuals.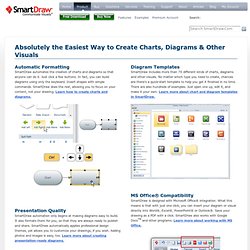 No matter which type you need to create, chances are there's a quick-start template to help you get it finished in no time. There are also hundreds of examples. Just open one up, edit it, and make it your own. Learn more about chart and diagram templates in SmartDraw. 3D Topicscape. A Topicscape is created by importing folders (by Drag-and-drop or menus), importing from other mind mapping software including FreeMind, PersonalBrain and MindManager [2] or by hand with mouse clicks or keyboard shortcuts.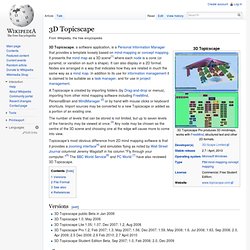 Import sources may be converted to a new Topicscape or added as a portion of an existing one. The number of levels that can be stored is not limited, but up to seven levels of the hierarchy may be viewed at once.[3] Any node may be chosen as the centre of the 3D scene and choosing one at the edge will cause more to come into view.
Versions[edit] Mindmapping, concept mapping in 3D. FreeMind. As with other mind mapping software packages, FreeMind allows the user to edit a hierarchical set of ideas around a central concept.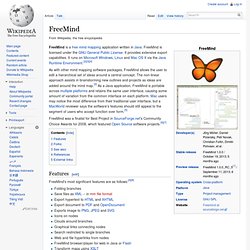 The non-linear approach assists in brainstorming new outlines and projects as ideas are added around the mind map.[2] As a Java application, FreeMind is portable across multiple platforms and retains the same user interface, causing some amount of variation from the common interface on each platform. Mac users may notice the most difference from their traditional user interface, but a MacWorld reviewer says the software's features should still appeal to the segment of users who accept function over form.[5] FreeMind was a finalist for Best Project in SourceForge.net's Community Choice Awards for 2008, which featured Open Source software projects.[6][7] Features[edit]
Main Page. yEd. yEd is a free of charge general-purpose diagramming program with a multi-document interface. yEd can be used to draw many different types of diagrams,[1] including flowcharts, network diagrams, UML diagrams, BPMN diagrams, mind maps, organization charts, and Entity Relationship diagrams. yEd also allows the use of custom vector and raster graphics as diagram elements. yEd loads and saves diagrams from/to GraphML, an XML-based format.
The application can print diagrams including very large diagrams that span multiple pages. Features[edit] yEd - Graph Editor. yEd is a powerful desktop application that can be used to quickly and effectively generate high-quality diagrams. Create diagrams manually, or import your external data for analysis. Our automatic layout algorithms arrange even large data sets with just the press of a button. yEd is freely available and runs on all major platforms: Windows, Unix/Linux, and Mac OS X. XMIND. XMind is a brainstorming and mind mapping software tool developed by XMind Ltd. of Hong Kong. The program is intended to assist users in capturing ideas, organizing various charts, and share them with collaboration. It supports mind maps, Ishikawa diagrams (also called fishbone diagrams or cause-and-effect diagrams), tree diagrams, organization charts, and spreadsheets. It can be used for knowledge management, meeting minutes, task management, and GTD.
XMind claims it can read FreeMind files, but certain .mm files saves from Freeplane or MindMup generate an error on open. XMind Pro can export the mind maps into Microsoft Word, PowerPoint, PDF and Mindjet MindManager documents. Mind Mapping and Storming. CICLI BIOGEOCHIMICI 145 views. Solution Language Tool. Solina Mind Mapping Software Solina Mind Mapping Software is a commercial mind mapping and activity mapping software application developed by Insoft Oy. The tool mimics free hand drawing. Mind maps created in Solina are based on organic mind maps developed by Tony Buzan. Solina Mind Mapping Software is available for Microsoft Windows. Curved, organic topic and subtopic lines are created with a single stroke.
Solution Language Oy - Mind mapping software company.
---