Local Install Needed
Twitter
MindGenius
MindGenius is a mind mapping software application. It has been available commercially since 2001. Development on the product began in 2000, and the latest version (4.20) was released in December 2011 [ 1 ]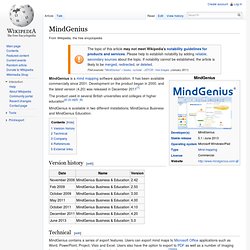 MindGenius Homepage
Download. Good export functionality and Microsoft Office softwate compatibility. No export direct to web. Good local exporting. by djmer1 Jun 24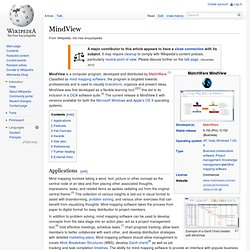 MindView is a computer program, developed and distributed by MatchWare, for easily brainstorming ideas and organizing information using the mind map concept. MindView was first released as OpenMind and marketed as a flexible learning and organizational tool. This has led to its inclusion in a DiDA software suite, along with MatchWare's two other programs, Mediator and ScreenCorder . [ 1 ] It was rebranded as MindView with the release of version 3 in January 2009.
MindView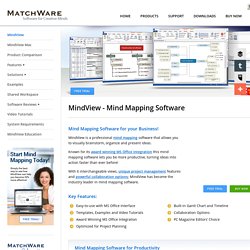 Mind Mapping Software as a Productivity Tool Why should I pay for mind mapping software?
Local install. High end features. Proprietory online data storage. Doesn't look open to web browsers. Clients can download a free viewer. Commercial. by djmer1 Jun 24
Visual Mind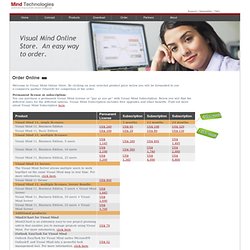 Welcome to Visual Mind Online Store. By clicking on your selected product price below you will be forwarded to our e-commerce partner (ShareIt) for completion of the order.
Mind Mapping Software
Tidy interface. Publish direct to your own server. Publish dynamic charts with opening and closing branches using javascript. Works with pocket mind map and others. by djmer1 Jun 24
Visual Mind (tm) Web Viewer
Microsoft Visio
Microsoft Visio ( pron.: / ˈ v ɪ z i . oʊ / VIZ -zee-oh ) (formerly Microsoft Office Visio ) is a diagramming and vector graphics application and is part of the Microsoft Office suite.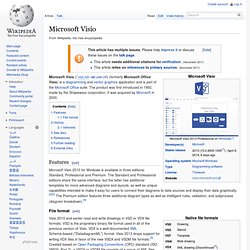 SmartDraw is a visual processor used to create flowcharts , organization charts , mind maps , project charts , and other visuals. SmartDraw is built exclusively for Windows operating systems and works with Windows 7, Vista, XP, and 2000 . [ 1 ] Since version 7, it uses Microsoft's Fluent User Interface in conjunction with automated panels specific to each type of diagram. [ 2 ]
SmartDraw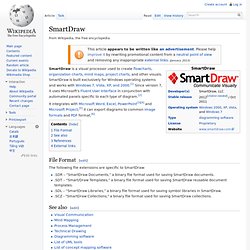 The World's First Visual Processor(tm)
Diagram Templates SmartDraw includes more than 70 different kinds of charts, diagrams and other visuals.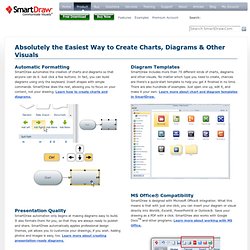 3D Topicscape , a software application, is a Personal Information Manager that provides a template loosely based on mind-mapping or concept mapping .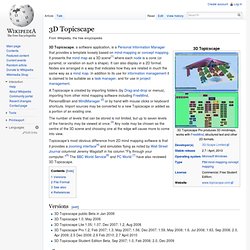 3D Topicscape
I think the idea is excellent but interface a little cluncky and dated. Wold probably try another 3D application if I needed 3D though this is custom designed to manage info which a simple 3-D model maker isn't. by djmer1 Jun 24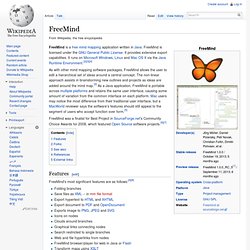 FreeMind is a free mind mapping application written in Java .
FreeMind
Perhaps not the most pretty but this tool exports to many useful web standards like HTML, Java applet, Flash, XHTML and more. Perfect for adding to your web page. by djmer1 Jun 24
yEd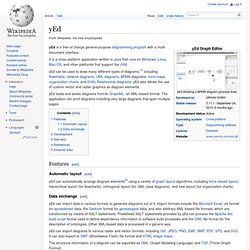 yEd is a free of charge general-purpose diagramming program with a multi-document interface.
yEd is a powerful desktop application that can be used to quickly and effectively generate high-quality diagrams.
Download large jave app and run locally in browser. Crossplatform. by djmer1 Jun 24
XMind is a brainstorming and mind mapping software tool developed by XMind Ltd. of Hong Kong .
XMIND
Need to doqnload the client, Static pictures of charts can be uploaded and people can doenload the XMind file to edit on their own desktop. Can't see any online collaboration. Collaboration via desktop application. by djmer1 Jun 24
Solution Language Tool
Solution Language Tool
Solution Language Oy - Mind mapping software company
Good desktop app. Do auto share. Export statig pages. Looks pretty. Not too difficult. Simple "octopuss" style. by djmer1 Jun 24