PowerPoint
PowerPoint as a mode of knowledge production | Miriam Posner's Blog. I think about PowerPoint a lot, and judging by the reams of blog posts, screeds, and instructional books on the topic, I'm not the only one.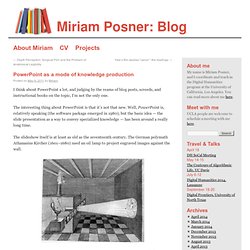 The interesting thing about PowerPoint is that it's not that new. Well, PowerPoint is, relatively speaking (the software package emerged in 1980), but the basic idea — the slide presentation as a way to convey specialized knowledge — has been around a really long time. Presentation Process | Creative Presentations |PowerPoint Diagrams. 20 Ways To Use PowerPoint With Bloom's Taxonomy. I would wager a guess that the majority of teachers uses PowerPoint as a way to present information and lecture in class.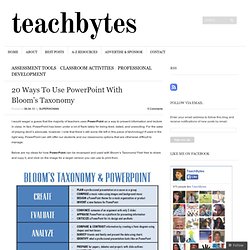 In fact, PowerPoint has been under a lot of flack lately for being tired, dated, and unexciting. For the sake of playing devil's advocate, however, I vote that there's still some life left in this piece of technology! Using PowerPoint Effectively » Richard Rathe, MD - College of Medicine, University of Florida. Welcome to my PowerPoint resource page.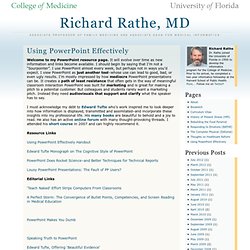 It will evolve over time as new information and links become available. I should begin by saying that I'm not a "Sourpointer". I use PowerPoint almost every week, but perhaps not in ways you'd expect. I view PowerPoint as just another tool–whose use can lead to good, bad, or even ugly results. You Suck At PowerPoint! by @jessedee. Better PowerPoint: What We REALLY Remember From PowerPoint Presentations | Poll Everywhere's BlogPoll Everywhere's Blog. In our never ending quest to make presentations less boring , we've invited Dr.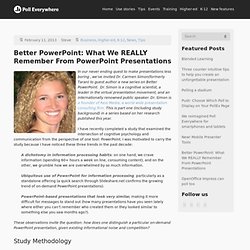 Carmen Simon(formerly Taran) to guest author a new series on Better PowerPoint. Dr. Simon is a cognitive scientist, a leader in the virtual presentation movement, and an internationally renowned public speaker. Dr. Delivering a PPT. The Cafe | Instructional Technology. So I've been dealing with a problem lately.
The problem is with PowerPoint. Now I know that it is a good tool that has many possibilities but recently it has been giving me a headache. And the add ons I own such as Camtasia and Articulate? They've added to the mess. Let me explain. How to give an awesome (PowerPoint) presentation ("Simply Stated" animated whiteboard video). 5 Steps To A PowerPoint Redesign. Sharebar Years ago I felt a certain sense of pride because I didn't know how to use PowerPoint.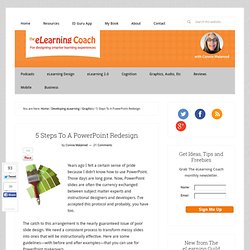 Those days are long gone. Now, PowerPoint slides are often the currency exchanged between subject matter experts and instructional designers and developers. I've accepted this protocol and probably, you have too. The catch to this arrangement is the nearly guaranteed issue of poor slide design. How to Create a Rapid E-Learning Tab in PowerPoint.
A few years back, I was at a workshop where the PowerPoint team was showing some of the new features in the soon-to-be-released PowerPoint 2010.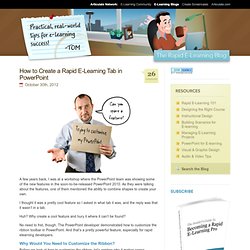 As they were talking about the features, one of them mentioned the ability to combine shapes to create your own. I thought it was a pretty cool feature so I asked in what tab it was, and the reply was that it wasn't in a tab. Huh? Why create a cool feature and bury it where it can't be found? Teaching with PowerPoint. Using PowerPoint (or not) Part 1. Pedagogy & Powerpoint - Centre for Teaching and Learning Services - Concordia University - Montreal, Quebec, Canada. PPT use in teaching. Workshop - Teaching with PPT. How do I teach effectively with PowerPoint? .: etc Knowledge Base. How Do I Teach Effectively with PowerPoint?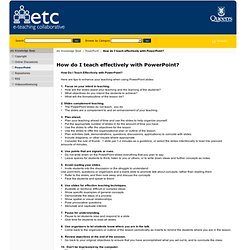 Here are tips to enhance your teaching when using PowerPoint slides: 1. Focus on your intent in teaching.• How will the slides assist your teaching and the learning of the students? Texas Tech University - Teaching, Learning, and Professional Development Center. Prepared by David Forrest See the PDF version Introduction When used thoughtfully, presentation software such as PowerPoint and Keynote (Macintosh) can be very powerful teaching tools.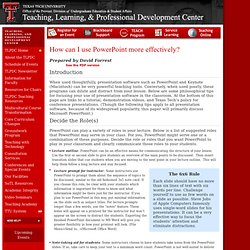 Presenting. Teaching with Technology - Unleashing the Power of PowerPoint. PowerPoint as a tool will not, in and of itself, improve student learning.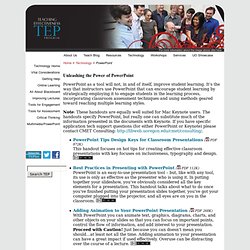 It's the way that instructors use PowerPoint that can encourage student learning by strategically employing it to engage students in the learning process, incorporating classroom assessment techniques and using methods geared toward reaching multiple learning styles. Note: These handouts are equally well suited for Mac Keynote users. Effective Teaching with PowerPoint: A Learning Theory Approach. The 6 Presenter Types: Which one are you? 3 bullets on a slide. 1 slide per minute. Stand Still. Don't fidget, memorize your slides. Now get up in front of a 100 people and do what I just told you. How to use quotes in your presentation – 25+ tips from Six Minutes & me | Remote Possibilities. (Naturally, choose a quote by someone who'll enhance or at least maintain your talk's credibility. For instance, if you're speaking to businesspeople, you might quote Bill Gates or Steve Jobs.)
Recently on the Six Minutes blog, Andrew Dlugan published a great post about using quotes in your presentations. EffectivelyPresentingContent. More Than 100 PowerPoint Tutorials & a Free Template. With as many PowerPoint questions that I get, it's a good thing that over the past year or so the elearning community has created about 300 PowerPoint tutorials. For this post, I decided to pull a bunch of them together so that you have them in one easy list. I also included a free PowerPoint elearning template to celebrate the holidays and a great 2010! Click to download the free PowerPoint template. Presentation Zen. PowerPoint Tips Tutorial – Hidden Shapes | The Cafe. In a previous post, I talked about creating hyperlinks in PowerPoint. Today, I'm going to show you how to create hidden shapes in PowerPoint to then create hyperlinks.
Hidden shapes are useful for creating hyperlinks in PowerPoint because you don't want to make your actual images or text into a hyperlink. It's too easy to forget your hyperlink is there if you need to change the text or image, and it makes it hard to quickly create hyperlinks by copying shapes over and over. The attached video will show you how to create hidden shapes, how to use the Selection Pane in PowerPoint to keep track of your elements on your slides, and will review again how to create hyperlinks.
Life After Death by Powerpoint 2010. STOP! You're Killing Me With PowerPoint! PowerPoint tips, PowerPoint tutorials, PowerPoint techniques. Get a FREE ebook "From Death by PowerPoint to Life by PowerPoint" plus free tips! Privacy policy: We hate spam, too! We don't share information about you with anyone, ever. Use these links to connect with me for more free tips! "You have the best Powerpoint tips and techniques out there. Making Better PowerPoint Presentations. Powerpoint-quick-reference-2010. Turn the snap to grid and snap to object options on or off - Outlook. Don't Let The Experts Tell You PowerPoint Sucks. Elearningpros.
Powerpoint-quick-reference-2007. Pilot study of PPT slide design and students. 5 Easy Tips to Whip Your Slides Into Shape. Creating Silhouettes and Design Elements Using Wordle. 3 Tutorials to Help You Get More Out of PowerPoint's Image Editing. 20 Best PowerPoint Presentation Design Posts for 2012. How to make Interactive Quizzes with PowerPoint. Use triggers to create an interactive slide show in PowerPoint - PowerPoint.
What's Wrong with PowerPoint Templates.
---