Parenting
Get flash to fully experience Pearltrees
I felt as if I were an unwilling accomplice to torture. Echoes of the victim's screams rang off the varnished walls. The door, tight shut though it was, could not block the cries of panic. A baby, alone and imprisoned in a cot. The baby's mother was visibly disturbed, too, pale and tearful.
Warning signs When a college freshman received a C- on her first test, she literally had a meltdown in class. Sobbing, she texted her mother who called back, demanding to talk to the professor immediately (he, of course, declined).
Each minute of every day, we are presented with a choice on how we spend our moments. We can either miss the moments or grasp them. This photo was taken at a time in my life when I was missing the moments and in doing so, I was missing more than life. By sharing my own painful truths when it comes to the distractions of the modern age, I have gained an unexpected insight. In the 18 months this blog has existed, I have been privy to a new distraction confession every single day.
My list of life lessons I want to teach my children. 1. Don't let a day go by without doing something for someone else. It's as easy as holding the door for someone. It makes them happy and makes you happy too. 2. When you're in your twenties - you're still learning and growing. You'll understand in your 30's. 3.
Every time I'm out with my kids -- this seems to happen: An older woman stops us, puts her hand over her heart and says something like, "Oh, Enjoy every moment. This time goes by so fast." Everywhere I go, someone is telling me to seize the moment, raise my awareness, be happy, enjoy every second , etc, etc, etc. I know that this message is right and good. But, I have finally allowed myself to admit that it just doesn't work for me .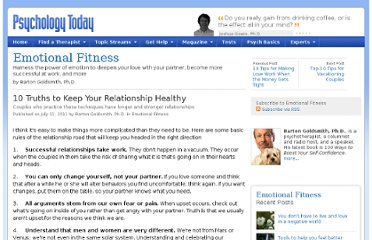 I think it's easy to make things more complicated than they need to be. Here are some basic rules of the relationship road that will keep you headed in the right direction 1. Successful relationships take work. They don't happen in a vacuum. They occur when the couples in them take the risk of sharing what it is that's going on in their hearts and heads.
Dads. Stop breaking your children. Please.
Just to warn you, some of the things I am going to share with you today may make you uncomfortable, but the truth is often just that. Uncomfortable.
Is crying it out hurting your child? If the link between parent and child is strong enough that kids can "catch" their parents' stress , it may stand to reason that babies crave the physical connection that comes with a cuddle. It's something that plenty of parents are more than happy to provide during the day but, when it comes to bedtime , the modern emphasis has been on teaching good sleep habits -- and giving mom and dad a break.